Five brilliant and bracing winter getaways
It can be all too tempting to spend the winter in hibernation, longing for summer sun and planning next year's holidays. However, many popular places really come into their own at this time of year. Whether you're after snowy hikes and spectacular scenery, bustling Christmas markets or crowd-free visits to popular cities, there are plenty of destinations whose winter magic might surprise you. Read on for some of our favourites.
Dublin, Ireland
Ireland's fair city is often not so aptly named during winter, when the days are short and the weather is unpredictable. Nonetheless, visit the vibrant capital in low season and you'll see it come to life with fairy-lit shopping streets, bustling festive markets and lively pubs where the welcome is as warm as the crackling fires. Meandering through cobbled side streets, in and out of galleries and shops will lift your spirits on even the gloomiest of days, and you'll never be far from a delicious pit stop. Keep it traditional with some warming Irish stew or boxty (a stodgy, comforting potato pancake), or make the most of Dublin's cultural diversity by trying something a bit more exotic. Head to Boojum for laid-back Mexican food, Jerusalem for Middle-Eastern fare or Cornucopia for wholesome vegetarian eats.
If you visit during the festive season, make sure to head to one of the main shopping streets – Grafton Street or Henry Street – to absorb the Christmassy atmosphere and marvel at the dazzling lights. Buskers line the streets, providing a merry soundtrack and often encouraging singsong from passers by. The city maintains its liveliness long after the festive period, with a five-day David Bowie festival taking place in January, as well as the country's largest festival of traditional music, Tradfest, showcasing the best of Ireland's toe-tapping music for which it's so fondly known. For a breath of fresh air, venture a little further out to Phoenix Park, which turns into a fairytale scene during winter with moody, leafless trees and the chance to spot deer grazing in the woodland. Whenever you feel a chill in the air, you can always take comfort in the fact you're never too far from your next pint of Guinness. Sláinte.
Stay at: Aberdeen Lodge, Dublin 4, a friendly hotel in a quiet residential area that's well connected to Dublin's buzzing centre.
Dartmoor, Devon
When it comes to visiting Dartmoor in winter, the phrase 'there's no such thing as bad weather – just bad clothing' springs to mind. Bracing walks across snow-covered tors, holding onto your hat as you drink up the scenery from blustery peaks and seeking out the enchanting Dartmoor ponies are just some of the things you might do on the perfect winter's day here. Festive cheer is in plentiful supply, with Christmas fairs, seasonal food festivals and carol concerts all taking place in and around the National Park.
Dartmoor is full of postcard-perfect villages that are even more magical in winter, with the added advantage of being less crowded. Head to foodie Ashburton to wander streets lined with intriguing historic buildings and antique shops, before being lured into artisan bakeries by comforting wafts of fresh bread and pastry. For a spot of shopping, Tavistock is a great bet – the majority of this charming market town's stores are independent, and the bustling Pannier Market is the perfect place to while away an afternoon. Expect delicious local cheeses, luxury chocolates, quirky vintage clothing, Christmas gifts and general bric a brac. Once you're suitably exhausted from exploring everything the area has to offer, pile into a cosy pub – Dartmoor's known for them – and tuck into hearty meals and Devon ales by the fireside.
Stay at: The Hayloft, Ashburton, a cosy self-catering retreat a short stroll from Ashburton. The Annexe, St Raphael, Tavistock, a simple but beautiful space perfectly located for Dartmoor hikes and pub lunches.
Barcelona, Spain
Visiting Barcelona to chase the summer sun might seem like the obvious choice, but winter time in the Catalan capital sees tourists disperse and residents reclaim their city. Its year-round mild climate means you can comfortably wander the streets without needing to pile on the layers, but there's still enough chill in the air to indulge in comforting treats like lentejas (Spanish lentil soup) and pillowy cinnamon churros dipped in suizo (thick, fondant-like hot chocolate). If you do need to warm up, head to the ancient Roman baths in the Gothic Quarter where you can pamper yourself with a variety of hot baths, massages and treatments. If you've ever wanted to bathe in red wine this is the place to do it – they offer vinotherapy, a ritual that involves soaking in Spanish Ribera del Duero wine. It contains high levels of tannins, reported to be powerful antioxidants and great for the skin.
Barcelona takes Christmas seriously, so if you visit in early winter expect a wonderfully festive atmosphere thanks to numerous Christmas markets, spectacular lights and quirky traditions. The long winter nights are the perfect time to catch a flamenco show, or head to the Plaza Catalunya for some open-air ice skating. The festivities continue long after the 25 December, with lively New Year's Eve celebrations throughout the city and the renowned Three Kings Parade marching through the streets on 5 January.
Stay at: Hotel Duquesa de Cardona, Barcelona, an elegant hotel near Las Ramblas with a roof-terrace overlooking the city.
Isle of Skye, Scotland
This remote Scottish island is spectacular at any time of year, but those willing to brave the unpredictable winter climate will be rewarded with incredible beauty and fewer visitors. The same beautiful walking and hiking routes are still waiting to be explored, and the scenery becomes even more dramatic thanks to the changeable weather. Dust off your hiking boots and tackle the walk towards the Old Man of Storr, a huge rock formation that stands high and can be seen for miles around. If you reach the top, you'll enjoy far-reaching views of rolling green hills and rugged coastline.
One of the most famous (and elusive) aspects of the island's scenery are the Northern Lights. Vast areas of unpolluted skies mean that there are nine Dark Sky Discovery Sites on the Isle of Skye, making it one of the best places in the UK to see the Aurora Borealis. Between October and March is the time you're most likely to catch a glimpse of their mesmerising glow, but you'll need to do your research and be prepared for all eventualities – they are, after all, still very rare. Even if you don't manage to catch them, the stargazing opportunities are phenomenal on clear nights and the skies are often awash with dazzling constellations that you'll be able to admire from various points throughout the island.
A memorable trip to Skye isn't all about the outdoors, and winter visits mean more excuses to curl up by roaring fires with a drink in hand and a belly full of comfort food. Head to Portree for cosy harbourside pubs and restaurants serving delicious, locally-produced food. Fishing is one of the island's main industries, so you can expect the freshest seafood around, washed down with local whisky if that's your thing – one of the pubs here sells over 99 varieties.
Stay at: The Crofter's House, Portree, a peaceful cottage with chic interiors five miles outside Portree. Mungo's Den, Portnalong, a quirky little bolthole that makes the perfect base for beautiful walks around Skye.
Chamonix, France
During the winter months, the picturesque Alpine town of Chamonix is transformed into a snowy wonderland that wouldn't look out of place on a Christmas card. The rugged landscape is framed by icy mountains and glittering peaks, and skiers arrive to take to the slopes. Although the Chamonix valley is world-renowned as a skiing resort, there's much more to this area than snowsports. Everything you know and love about France is here: amazing food and wine, rich culture, charming boutiques and chocolatiers. Visit one of the many excellent restaurants – there's one with a Michelin Star – or wander in and out of fromageries in search of tasty samples. For a real taste of the region, we recommend seeking out some raclette – indulgent hot melted cheese scraped off a huge wheel onto everything from potatoes to pickles.
If you're after a more active pace, a helicopter ride is the perfect way to catch some breathtaking scenery of Mont Blanc and the snow-covered Alps. If you prefer your adrenaline rushes a little closer to the ground, head to the Centre Sportif, where there's a swimming pool, a giant waterslide and an ice rink. You're ideally located for day trips too – the colourful town of Annecy is about an hour away, and the tourist office arranges weekly coach trips.
Stay at: Chalet Valhalla, Chamonix, a beautiful chalet with plenty of home comforts, a hot tub and great views of Mont Blanc.
More inspiration…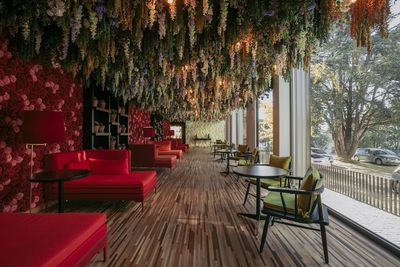 Winter city breaks
Browse our collection of 30 places that make the perfect base for a winter city break, whether you're after bustling festive markets, hearty cuisine or crowd-free streets.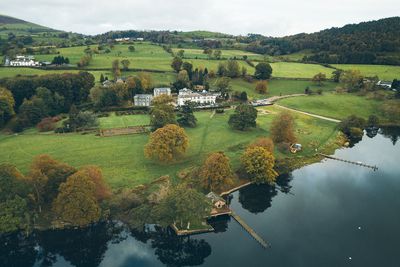 UK National Parks
Stay right in the heart of the UK's National Parks, with our collection of hotels, B&Bs and self-catering places. Get a real feel for the Cairngorms in remote bothies or roam the Lake District from grand old mansions.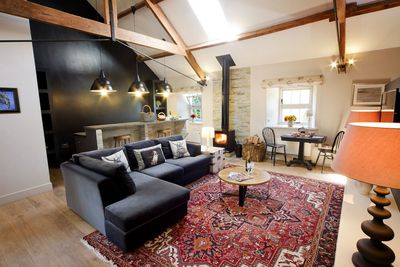 Cosy romantic breaks
View our collection of cosy hideaways great for two, perfect for spending evenings in front of roaring fires with a board game and a bottle of wine.