Four sustainable holidays for 2020
The chilly weather and general post-Christmas lull has many of us dreaming about booking our next trip, but the current climate crisis means it's more important than ever to be mindful of our travel footprint. We've rounded up four flight-free holidays, to help you beat the winter blues with a bit of green travel inspiration.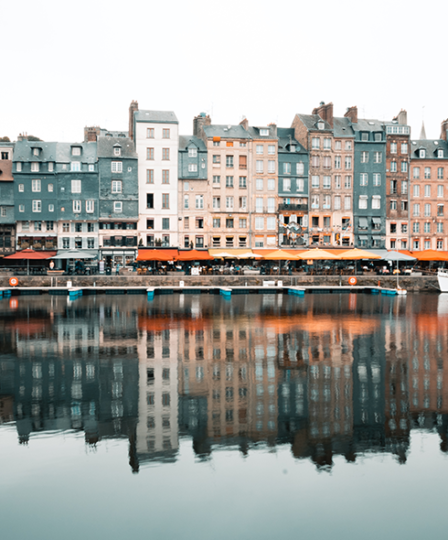 Honfleur via Portsmouth to Caen ferry
Brittany Ferries will soon launch their new 'Honfleur' ferry, which will operate on the Portsmouth to Caen route and promises to be 'the most environmentally-friendly vessel operating on the English Channel' due to its use of liquified natural gas (LNG). From Caen, hop on the bus to get to Honfleur in just over an hour.
The port city of Honfleur is a visual delight, with its famous Vieux Bassin framed by a mishmash of colourful 17th and 18th century houses and photo-worthy views in every direction. During the warmer months, tables and chairs spill out onto the harbourside, making it the perfect spot for some al fresco wining, dining and people-watching. Honfleur's location tucked in-between the Seine and the English Channel means seafood is often the order of the day here – think fresh moules, langoustines and bouillabaisse Honfleuraise.
Charming cobbled streets play host to boutiques, cafés, galleries and museums. For a dose of history, head to the Maritime Museum, which is housed in a beautiful 14th-century church. Alternatively, explore Honfleur's Old Town, lined with half-timbered and old stone houses including the Maisons Satie – birthplace of composer Erik Satie who counted Picasso and Debussy among his friends and collaborators.
Stay at: Les Maisons de Léa, Honfleur, a romantic hotel and cottage with its own spa. Le Cosy, Honfleur, a beautiful apartment in Honfleur's historic centre.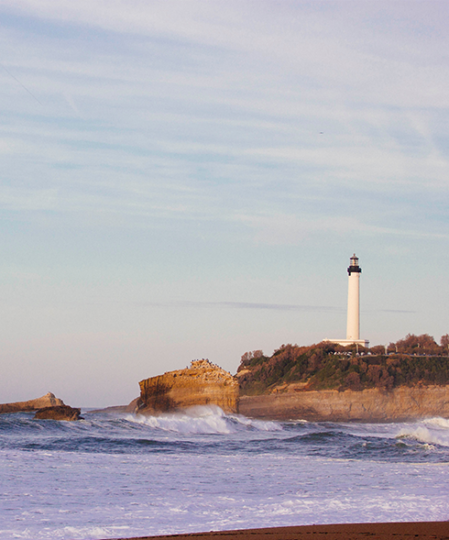 South West France via Eurostar
Travel to Paris via Eurostar, then catch the connecting TGV train to Biarritz. The total journey time is around 11 hours. While flying will get you here quicker, the train journey is incredibly scenic and takes around the same time as the ferry.
Biarritz's golden sands and glittering Bay of Biscay seas are perfect for a day trip. This town wears its history on its sleeve, with grand architecture in elegant squares and boulevards all a nod to its aristocratic heritage. It's easy to maintain a slow pace here, whether it's walking the coastline and feeling the sand between your toes, or watching the sun go down from a headland bar with a glass of wine and some jamón.
There's much more to explore on the South West France coast, including the spectacular Pyrenees and miles of beautiful Basque wilderness. Hop on the bus in Biarritz and you'll reach Anglet in half an hour. Known as 'Little California' for its 11 surfing beaches stretching across 4.5km of pristine sand, it makes the perfect base for days of sunbathing and exploring the Basque country. Bayonne can be reached in a mere 20 minutes via bus, and makes a great day trip. We recommend spending it wandering riverside streets lined with buzzing bars and restaurants, and taking in the beauty of the slender Basque houses. You'll be hard pressed to find somewhere better for satisfying a sweet tooth – it's the historic chocolate capital of France, so we recommend indulging in this as much as possible. Try kanougas, a chocolate and caramel pastry, or the classic Gâteau Basque.
Stay at: Villa etcheBri, Anglet, a friendly B&B with a brilliant pool and sunny terrace. Hôtel Laminak, Arbonne, a stylish hotel just outside Arbonne, ten minutes from Biarritz.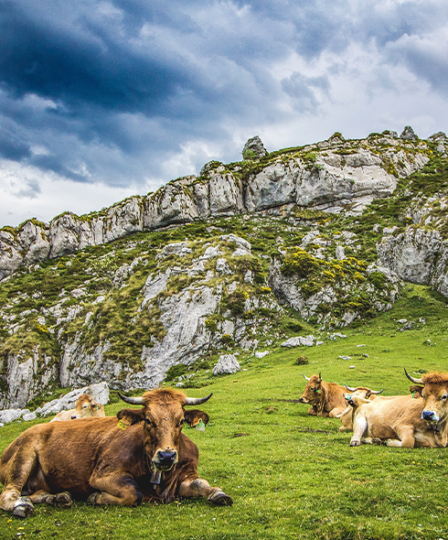 Cantabria via Santander ferry
There are two ferries per week from Portsmouth to Santander, with a journey time of 24–32 hours.
Once you arrive in Santander, the region of Cantabria is best explored by car or FEVE railway. Cantabria is known for its picturesque beaches, dramatic mountain scenery and natural caves. The Picos de Europa, one of the first National Parks in Europe, makes for a brilliant day trip. This rugged mountain range offers some of Spain's most spectacular walks, and you might want to maintain a leisurely pace so you can make frequent stops to drink up the breathtaking scenery. Expect lush green valleys, crystal-clear lakes and rare wildlife, including Covadonga's friendly cows who love nothing more than greeting passing tourists. Stop in the medieval village of Potes to wander cobbled streets, pick up locally made cheeses and honey and sample some Orujo – a brandy made from grapes left over from wine-making – all against a breathtaking mountain backdrop.
If it's coastal scenery you're after, the golden sand beaches of Berria, El Sardinero and Mataleñas are ideal spots for sea-swimming and soaking up some rays. If you'd prefer a dip further inland, head to Lamiña Waterfalls for woodland walks and a wild swim. For a dose of history, the UNESCO World Heritage Altamira Cave is a fascinating visit with cave art dating back to the Paleolithic period.
Stay at: La Infinita Rural Boutique, Carmona, a contemporary B&B with incredible views of Cantabrian countryside. La Pisa, Cabezon de Liebana, a welcoming B&B on the edge of the Picos de Europa.
The Lizard Peninsula, Cornwall via train
The train from London Paddington to Penzance takes approximately 5 hours 24 minutes, with around 30 services running per day. From Penzance, get the bus to Porthleven to begin your trip. Buses run from Lizard Point to Penzance for the return leg of your journey.
The seaside village of Porthleven is a scenic delight, with quaint houses and charming pubs wrapped around a harbour full of bobbing boats. Although small in size, it packs a foodie punch – you'll find everything from proper pasties to freshly-caught seafood and Asian fusion feasts.
From Porthleven, you can join the South West Coastal Path and head south east towards the Lizard Peninsula. The Lizard is Britain's most southerly point, and offers fewer crowds than busy St Ives and Padstow, but with the same abundance of wildlife and dramatic scenery that Cornwall is known so fondly for. Stop for lunch at the dog-friendly village pub in Gunwalloe, or at Poldhu Beach for its friendly (and licensed) beach café, perfect for refuelling after a surf or rewarding yourself with a crisp cider after the hilly walk to get here. Once you reach Kynance Cove you're almost there, and you'll want to adopt a slow pace to fully appreciate its rugged cliffs, turquoise seas and the kinds of landscapes you'll recognise from postcards and gift shops. The terrain around the peninsula is as varied as it is beautiful, and persistence and bravery will be rewarded with hidden beaches and quiet coves. Seek out the obscure Lankidden cove, reached only via a one mile coastal walk from Kennack Sands, keeping your eyes peeled for seals along the way. When you start to tire, you can always take comfort in the fact that you'll never be too far from friendly fishing villages and your next cream tea.
Stay at: Halzephron House, Helston, a seaside B&B right on the coastal path, with amazing views towards St. Michael's Mount. Trelowarren, Helston, a self-catering paradise perfectly located for exploring the Lizard Peninsula. Battery Cottage, Coverack, a fisherman's cottage with a south-facing terrace and picturesque walks from the doorstep.
More inspiration…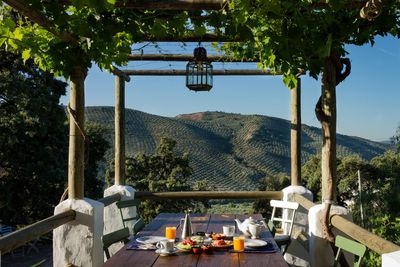 Eco holidays
Visit our collection of self-catering places, hotels and B&Bs who take an ethical approach to what they do.
Weekend breaks
Places perfect for turning a few days away into a lifetime of travel memories. Browse our weekend breaks across the UK and Europe.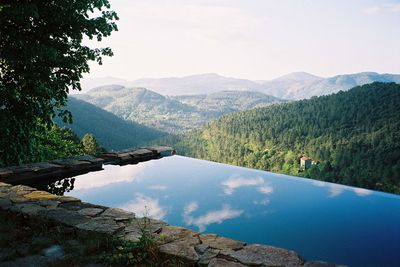 Places to stay
Find your perfect holiday by browsing our collection of hotels, B&Bs, inns and self-catering places across the UK, France, Spain, Italy and Portugal.