Our top European villas for summer
Villas come in all shapes and sizes. There are the classic terracotta bungalows, quaint white-washed trulli, grand farmhouses and modern beach shacks with lots of glass. Whatever they look like, there are two things that give them that villa essence: huge pools and plenty of sun. So if, like us, you're ready to swap dark winter days for warmer climes and al fresco dinners – you'll love this selection of five of our most popular European villas.
You'll be dazzled by the setting as soon as you set foot out of the car. The Ionian Sea is to your left and the Hyblaean Mountains all around. From the infinity pool and through the glass walls of the living area you look over a canyon, typical of the area and archaeologically fascinating.
Everything inside is calming and white, but there are splashes of colour thrown in to give the space a beachy bohemian vibe. The bathrooms come with Mount Etna lava stone sinks, and upstairs, bedrooms are colourfully tiled Sicilian-style. Downstairs is uncluttered with artisan furniture; it's practical, open plan and full of light. There's a playground for kids, a garden with terrace for star-lit dinners and a huge pool overlooking stunning ocean views.
Perfect for: privacy and relaxation
We are in awe of this 200-year-old villa farmhouse. Owners John and Stephanie completed their renovation with elegance and style, and have thought of everything to make you happy. You enter to a sun-filled courtyard with a good-sized pool, plenty of loungers and seats, pots erupting with colourful plants, a garage with bicycles, boogie boards and golf clubs. Runners and cyclists can press go from the door and not come back for miles. If you're more of a sun-seeker, it'll be easy to lounge around the pool all day – only stepping inside for an ice cold lemonade.
For dinner, enjoy barbecues out on the white-washed terrace, laughing and drinking until the stars come out. With brilliant beaches and some of the island's best seafood restaurants just 10 minutes away – a week here won't feel long enough.
Perfect for: families and activities
This elegant house is tucked away at the end of a track lined with cork and eucalyptus trees and feels very secluded. Find plenty of different areas to spread out in – a sitting room with games and books, a terrace overlooking the magnificent garden. Orange and lemon trees add heavenly aromas, and you'll find a tennis court, heated pool and summer kitchen, as well as a vine-covered seating area to the side of the house. 
This part of the Algarve is peaceful and the hills above Monchique are a protected natural reserve with trails you can hike or bike. For dinner, cook up a storm in the gorgeous pink kitchen or eat local delicacies in Monchique's restaurants – they're just a 10-minute stumble home.
Perfect for: big groups and exploring the authentic Algarve
A grown-up escape for two couples or friends, hidden in a beautiful valley in the Dordogne. You'll feel utterly secluded in this stylish stone farmhouse. Sliding glass doors let the light flood in, sip your coffee on the decked terrace under the shade of an ancient limetree and soak up the lush valley views.
The charming village of St Cyprien is a short drive away; visit the Sunday market and fill up on the local produce. Head home with a basket of goods, whip up dinner in the neat galley and dine out on the deck with the sun setting in the background. Being so close to the river is a boon too: hire canoes or kayaks from Canoe Roquegeoffre or visit the mesmerising Lascaux caves.
Perfect for: a holiday with friends and beautiful views
This 18th-century paper mill is an ideal villa for groups of family or friends. The minimalist interiors ooze understated luxury, with vast open-plan rooms, big bedrooms and incredible bath-tubs. There's plenty of space for everyone to roam free; take breakfasts out in the garden, lunch around the pool and barbecue dinners in the summer kitchen.
You're nestled in the shallow Couze valley and surrounded by nothing but woodlands and rivers. Take hikes straight from the door, go canoeing on the Dordogne in Le Buisson or visit the medieval village of Issigeac for an amazing Sunday market. 
Perfect for: big groups and celebrations
More inspiration…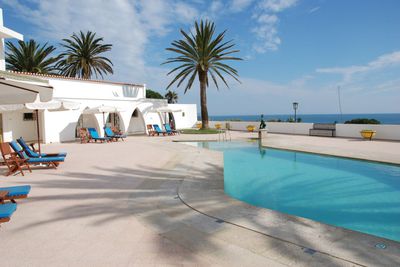 Villas in Spain
View our collection of villas in Spain – a country famous for its tropical climate, golden beaches and wildlife-rich National Parks.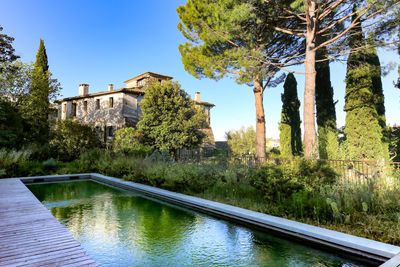 Villas in France
Discover beautiful villas in France; from renovated farmhouses to modern beach houses with huge pools.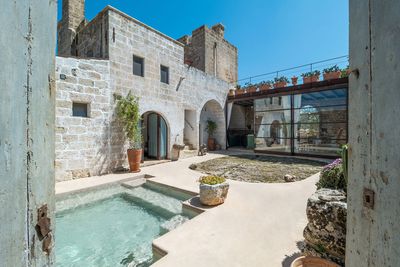 Villas in Italy
Our Italian villas range from the humble to the grand, the modern to the ancient, but we've visited every one and can wholeheartedly say we love them all.