Six best bath tubs for a relaxing soak
When we inspect our places we look for all those little touches that give you special holiday moments, like a long, hot bath in perfect peace. Here are five of our favourites that add a little magic with the bubbles as you take a sumptuous soak on a stress-busting escape.

This ancient stone castle is set just outside a small village in rural Argyll and feels instantly welcoming and warm. The bedrooms are grand and romantic but full of quirky touches. Find botanical wallpapers, exposed wooden floors, colourful headboards and antiques dotted around. There are even wood-burners in some rooms for those cooler nights, and what better way to fall asleep then to the sound of a crackling fire.
Whatever the weather, there's ample opportunity to enjoy a bubbly soak. Find beautiful copper bath-tubs and antique roll-tops in the rooms, all you need is a bottle of your favourite wine and you're in for the perfect night.
A 17th-century hayloft, which has been lovingly renovated with exquisite attention to detail. The snug on the mezzanine level is a warm den for books and board games in front of the log burner and you can help yourself to some local gin out of the honesty bar hidden in an antique cabinet.
After a busy day out exploring Dartmoor or antiques-hunting in Totnes, come back to your cosy bolthole for an evening of relaxation. The free-standing navy bath sits in a bathroom made with beautiful wooden panelling. Pop your robe up on the hooks, light a candle and play some music – you'll feel a million miles away from anywhere.
The Fish is a one-of-a-kind hotel nestled peacefully on the side of a Cotswold hill. The style is coolly contemporary, but the feel is cosy and informal, with lovely staff on hand to help. The big bar is the hub: sofas galore, cool colours, walls of glass that open onto a terrace, a funky wood-burner for winter nights.
Rooms are scattered about in pretty buildings on the hill, and you'll find treehouses and shepherds' huts to boot. The Hideaway Huts have huge, comfortable beds, skylights and a luxurious roll-top bath with views of the trees. If one soak isn't enough, head outside to your private tub on deck and revel under the stars.
This is a deliciously quirky hotel, part 19th-century Viennese coffee house, part 20th-century bohemian dive, part 21st-century gentleman's club. 
A formal London exterior gives way to theatrical interiors. Rooms overflow with beautiful things – one has a four-poster; some are tucked under the eaves. A real highlight though are the clawfoot, free standing baths in the rooftop rooms. These sit on the expansive terrace, inviting you to make the most of the views which stretch from one side of the city to the other.
If you're looking for an idyllic countryside getaway with breathtaking views across the Cotswolds, you've found just that. Inside, everything has been finished to an exceptionally high standard. There are walls of exposed stone, a kitchen with lots of gear and huge beds with only the best bedding.
Come as a family or as two groups, there's ample space for all. The master bedroom has a free-standing bath with gorgeous country views out of the huge windows. Perfect for a frosty winter morning, soak it all up with plenty of bubbles and a fresh cup of coffee.
A super stylish inn lost in the country a few miles west of Oxford. This isn't a stripped-back monument to contemporary design, rather a cool take on all things retro and quirky. You'll find vintage wallpapers, upcycled antiques, exposed bricks and lots of kilim mixed in for good measure. 
Justin and Charlie have an incredible ability to create effortlessly bohemian spaces. Most of the rooms here have bathtubs; some have copper free-standing baths in the rooms, whilst others (always roll top) have lovely views out over the Cotswolds countryside from the bathroom. Lay back and relax with the natural scents of Bramley products, which are provided to you for your stay. There are Roberts Radios to accompany you too, and you can call on room service to make the most of a cosy night in.
More inspiration…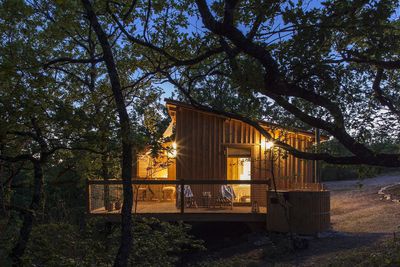 Romantic retreats
Discover our collection of romantic breaks for two; find everything from a converted chapel, to cosy B&Bs and luxurious hotels.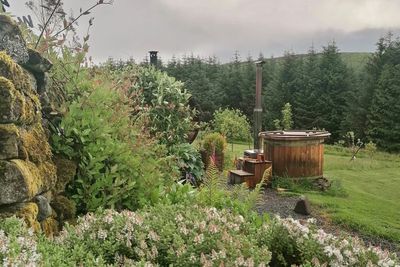 Hot tub breaks
Sit under the stars in a wood-fired hot tub, relax in the spa of a boutique hotels, or have a swirl in the Jacuzzi from up in the mountains.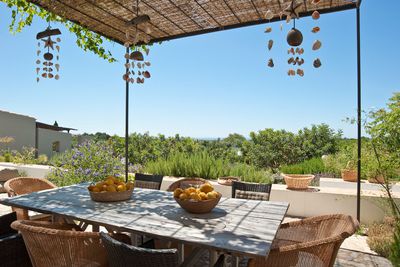 Restorative escapes
Find some of our favourite places for a break that'll send you home renewed and restored. Browse sunny island escapes, chic spa hotels and grand chateaux.