Six of our favourite pub gardens
Pub gardens represent British summertime in its fullest expression – tired hikers' legs, sunburnt skin and crisp packets folded into bench slats. These are our favourites for a good BBQ and a pint on a sunny afternoon, but you can find our full collection here.
This gorgeous gastropub could almost charge admission to its sculpture-filled garden. Find a foliage-entwined terrace, colourful borders and pretty corners. It's a lovely place to stroll but an even better one to eat in.
Many ingredients are home-grown, the menu is superb and ever-changing, and there are even foraging courses to help you hone your own sourcing and chef skills.
The drystone wall at the bottom of the huge garden blends the pub's land seamlessly into the surrounding fields and hills. You can picture weary farmhands wandering in long ago, but the beautiful stone pub is now a draw for hikers, foodies, dog-lovers and those who've come for the massive gin selection. 
The large terraced area  gets the sun all day, and there's an outdoor bar, petanque, comfortable places to sit to boot. If you're chilly in the evening,  double-sided wood-burner and woolly blankets will take care of that.
You can pretty much step right off the Fosse Way and into the huge garden of this beautiful Cotswolds pub. Dine by a curve of the river Coln or just stroll through the four-acre grounds and round the lake before settling at one of the canopied tables with a glass of wine.  
This place prides itself on serving really good pub food: prawn cocktail, fish and chips, cottage pie, great puddings. Throw in real ales, roast lunches and a welcome for all and you have somewhere very special.
A low glass wall around the square of green outside this clifftop pub creates what can only be described as an "infinity garden". Savour the seafood with views of the wild Atlantic stretching out from right under your feet, or drop in for breakfast and let coffee and the sea air blow away the cobwebs.
Dive into world-inspired dishes, while you sip crisp wine or locally-brewed ales. Feast on light and fresh polenta-crusted squid with a Vietnamese-dressed salad – or tuck into a succulent steak dish, sourced from local Cornish farms.
Not only does The Bull's garden come into the kitchen, with their own produce making up much of their delicious menu, but their kitchen goes into the garden. Summer parties and BBQs with beer from their own brewery are run from a specially built hut by leaf-shaded tables with lovely views of the South Downs. 
There are small plates, big plates, sharing plates, and a cracking children's menu. After dark, the big garden glows with light, fire pits are lit and blankets offered.
What the Culpeper's garden lacks in sprawling country grandeur, it makes up for in charm and utility. The rooftop terrace is nestled among the skyscrapers at the city centre, with a greenhouse and unmatched views of London from the seats around the firepit. 
Eat here if you fancy proper napkins, table service or a Sunday roast. The food is a real focus with weekly changing menus, local suppliers and seasonal produce. You'll even find ingredients grown on the roof terrace making their way to your plate.
More inspiration…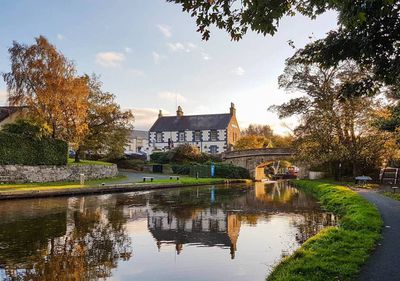 Six of our best waterside pubs
These pubs can't be beaten for making that mad dash to the coast or the riverbanks to see the sparkle of sunlight in your beer.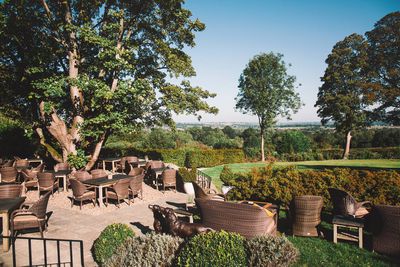 Beer Garden Collection
While away sunny afternoons in a charming beer garden from our collection.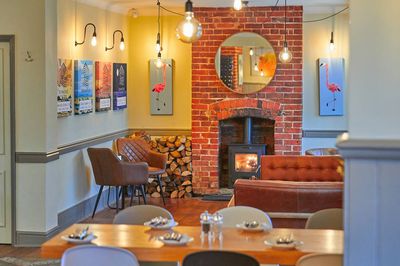 Pubs Collection
Discover over 250 special places to eat and drink all over the UK. From cosy country inns to chic city watering holes.