Devon is made up of two beautiful National Parks, Dartmoor and Exmoor, as well as a plethora of waterfalls, woodlands, estuaries, villages, valleys and more. So whether you're looking for Devon coastal walks with pretty sea views or something more rural amongst the hills, there really is a route for everyone.
Salcombe to Gara Rock
Salcombe is one of Devon's prettiest gems, with its idyllic side streets, colourful houses and prime water-side position. Famed for its beauty means it can get overcrowded in summer, but take the ferry over to Prawle and you'll find a quieter stretch of coast. 
Once you're off the ferry (it's not a big one), follow the hedge-lined path past Mill Bay beach and up the hill. Once at the top, you'll discover the most magnificent views with Salcombe directly ahead and Kingsbridge Estuary and Southpool Creek to your right. It'll feel hard pulling yourself away, but there are even more views to come! Next you'll need to cut across the fields and through the forested canopy to Gara Rock where there is a sandy beach below. In warmer months, the path is full of coastal delights; hawthorn trees, yellow gorse, vibrant fauna and wild garlic. Nothing beats whiling away the day on Gara Beach before heading back on the path to the ferry stop.
Stay at: The Stables, a luxurious timber barn surrounded by ponies, with views to East Portlemouth and beyond.
Broadsands to Fishcombe
South Devon's riviera is blessed with lots of picturesque coves and secret beaches. This easy three-mile walk takes you through ancient woodland and past a trio of coves with the odd sighting of a seal or two! 
Starting at Broadsands, make the short walk over to Elberry Cove, a firm favourite of Agatha Christie with its clear waters and old bathhouses. After a relaxing stop off at the white pebbled beach, head east off the wooded slopes of the South West Coast Path towards Fishcombe. The ancient woods are full of birdsong in summer, providing a blissful soundtrack to your ramblings. Once you reach Churchstone Cove, you'll find some steps down to the beach – whilst the walk should only take you two hours in total, we'd recommend spending a little longer at each stop and making a day of it. Plus, this is a brilliant opportunity for snorkelling if you can brave the cold! The path continues past bobbing fishing boats and the occasional seal before reaching Fishcombe – where you can reward yourself with a delicious, locally-sourced ice cream from the cute al fresco café.
Stay at: Orchard House & Cider Barn, a clever conversion with estuary views and plenty of land for hot summer days.
Bystock Nature Reserve
Best enjoyed in spring, this East Devon reserve is brimming with birds, butterflies, lily pads and wildflowers. The six-mile circular route will take you around three hours, starting at the reserve car park. The path follows right around to East Budleigh village before ending up at Sir Walter Raleigh's birthplace.
First you'll pass the gentle Bystock Pools which attract over 20 species of dragonfly in its lilyponds, and as you continue through the reserve you'll see just how much wildlife calls it home. There are stunning views across to Pebblebed Heaths – a special area for conservation – as you continue to walk through the countryside to Budleigh. This seaside town is part of the epic Jurassic Coast; so once you arrive, take some time to sit back and enjoy the backdrop of fiery red cliffs.
Stay at: Rydon Stables, a light and bright wisteria-clad cottage cabin for couples or a family.
Venford Reservoir to Bench Tor
Dartmoor National Park comprises of 386 miles of moorland, forest, rivers, wetlands and craggy tors. The best way to explore the park is via the huge network of footpaths it has to offer. Venford Reservoir lies just south of Bench Tor, and this three-mile walk offers a chance to explore the tor, gorge and moor before heading back past waterfalls.
To start, head to the remote car park to the left of Venford Reservoir. You'll need to cross the dam before heading up the moorland. Once you reach the top of the tor, you will be rewarded with incredible 360 degree views of the moors, tors and resident wild ponies that live here. To find waterfalls, follow the rowan trees with berries back down to the wooded valley where you will see Venford Brook and the cascading water. It's likely you may have the whole route to yourselves, so why not pack a picnic and make a day of it.
Stay at: The Hayloft Ashburton, a cosy bolthole for two in a charming market town on the edge of Dartmoor.
Summerhouse Hill to Watersmeet
Lynmouth and Lynton are two of the most beautiful places in the Exmoor National Park, with their quaint village feel and superb waterside views. Locals love the walk from Summerhouse Hill to Watersmeet because of the views that you are met with all along the ridge and the iron age forts that are found on the land. At over six miles long, the route does require a little more energy but it's truly worth it.
As you make your way through the hills and towards the gorge, take some time to stop and admire the views of Lymouth and Lynton behind you. With very little trees this high up, you get a endless view of the seaside village and clifftop railway. Continue along this path until you reach Watersmeet, where you'll spot the dramatic river gorge and ancient woodland. Enjoy a pit-stop tea and cake in Watersmeet House before following the river-side path back.
Stay at: North Walk House, a relaxed cliffside B&B for walkers and foodies.
More inspiration…
Places to stay in Devon
Discover our special places to stay in Devon, from grand country houses to remote cabins and seaside cottages,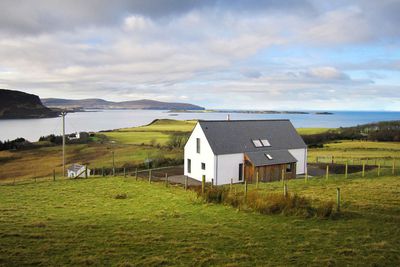 Coastal Retreats
Discover our wonderful collection of self-catering homes, hotels and B&Bs across the UK & Europe, all within three miles of the coast.
Our Slow Guide to Devon
Read our new Slow Guide to Cornwall, full of off-the-beaten-track tips and tricks to explore this much-loved coastal region.