Five best walks in Sussex
Sussex is a walker's dream – breathtaking cliffside routes interspersed with charming seaside towns and pitstops in fantastic pubs and art galleries make the county one of our top locations for a weekend of exploring. Read on for five of our best walks in Sussex to help you plan your next trip.
Black Down and Temple of the Winds circular
A lesser-known route that takes you to the highest point in the South Downs through beautiful woodland and heathland, and offers some of the best views of the national park from a Bronze Age circular bank called Temple of the Winds. The walk takes about an hour. Starting at the car park on Tennyson's lane, you'll follow an uphill track past bilberry and blackberry bushes before passing some bog ponds.
There are several lovely viewpoints for taking a breather and admiring the scenery before you reach the best one, including one under some pine trees – great for shading from the sun. You'll eventually reach a crossroads and the way to Temple of the Winds is clearly signposted – make your way there and drink in the spectacular views of the west Weald and rolling Sussex countryside. If you're lucky, you'll get to do this from the little stone seat. The incredible scenery makes this one of our favourite walks in West Sussex. See the full route here.
Stay at: The Cottage, Petworth, a charming bolthole for couples in historic Petworth.
Lewes to Firle Beacon
This long walk is worth getting up early for; it rewards you with picturesque views and passes through some charming Sussex villages. The route starts in lovely Lewes, so make sure to fuel up at one of the town's fantastic breakfast spots before you head off. You'll start from the train station, leaving the town towards Mount Caburn, a fascinating Iron Age hill fort whose purpose is rumoured to be sacred rather than defensive. This area is also a nature reserve, so it's worth stopping for a moment for a bit of wildlife spotting and admiring the views over the River Ouse and towards Firle Beacon.
The next leg of the walk takes you through Glynde village, famous for its opera season, then through the grounds of Firle Place, a 15th-century manor. Pass through Firle, or stop for lunch at the village pub – rumoured to have a resident ghost. Leaving the village and climbing Firle Beacon provides far-reaching views towards the Channel, and you might spot some gutsy paragliders. The route returns to Lewes via the South Downs Way. See it in full here.
Stay at: The Tack Barn at Upper Lodge, Lewes, an elegant barn conversion with organic gardens to explore.
Seven Sisters
This route is just under four miles long, and takes in the unique chalk cliffs and beautiful seascape of the iconic Seven Sisters. Setting off from Birling Gap, the walk follows the South Downs Way along the cliff tops and passes through grassland dotted with spring flowers including milkwort and cowslips, as well as butterflies darting among them.
The top of the first sister provides views of Birling Gap and Belle Tout Lighthouse, before you head along the grasslands surrounded by grazing sheep. This area is the nesting territory of many interesting bird species – keep your eyes peeled for kittiwakes and fulmars. More wildlife can be seen at Haven Brow, the seventh sister, and Cuckmere Haven. This spot has an abundance of watering holes and saline lagoons that attract oystercatchers and little egrets. Finish your walk and head to one of the pubs or tearooms in the area, perfect for resting tired legs and tasting some local delights. See the full route here.
Stay at: Belle Tout Lighthouse, a stunning renovated lighthouse with fantastic sea views.
Rye Harbour to Camber Sands
A stunning walk through land and coast that takes in the Rye Harbour Nature Reserve and ends at Camber Sands. Start at Rye train station and head south along the river, looking out for ringed plovers, sandwich terns, avocets, oystercatchers, redshanks, lapwings and other birds that call this area home. You'll tread miles of footpaths through the beautiful nature reserve and pass Camber Castle, built by Henry VIII as protection against foreign invasion.
Once you've looped back round to Rye, detour to Camber Sands to breathe the salty air, feel the sand between your toes and gaze out at gorgeous blue seas. If you've worked up an appetite, Rye is brimming with pubs, restaurants and cafés – for us, the best and only way to finish a day of coastal walks is tucking into fish and chips and watching the sun go down over the ocean. See the full route here.
Stay at: The Gallivant, a contemporary beach pad with amazing food and Camber Sands across the road.
Wolstonbury Hill
A long nature walk through a Special Site of Scientific Interest, passing through enchanting grassland decorated with a rich variety of flowers. This route really comes into its own during spring, when the bluebells are in bloom and the intoxicating scent of wild garlic follows you along the path. Ancient beech woodland opens out onto grassy plains before a climb to the hill's summit, where you'll be treated to spectacular views of the Weald, the sea and the Downs, including Newtimber Hill and Devil's Dyke.
Starting at the Jack & Jill Inn, you'll walk along a main road for a bit before reaching a public bridleway that can sometimes be muddy (wellies will come in handy). As you delve further into the woodland, look out for nesting buzzards and take in the sights and smells of the diverse plant life that thrives here. At one point, you'll have your pick of two separate trails – one downhill and one uphill, and you'll want to climb upwards if the land is particularly boggy. Later in the route, you'll walk between two fallen beech trees and a fallen yew growing into a hedge, before passing the impressive Elizabethan Danny House, one of the biggest houses in Sussex. A chalky climb takes you up a hill to a Bronze Age enclosure, before you reach the amazing views you came here for. Look out towards the Jack & Jill windmills, taking in the gorgeous views across coast and country and listening out for the call of skylarks. See the full route here.
Stay at: The Dairy at Streat Place Barn, a romantic hideaway in a smartly-converted dairy with views of the South Downs.
More inspiration…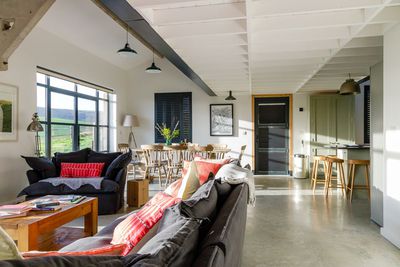 Places to stay in Sussex
Lose yourself in the huge, peaceful woodlands of the South Downs and the High Weald AONB, or sit on the pier and shield fish & chips from curious seagulls.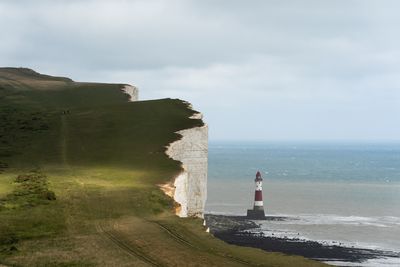 Slow Guide to Sussex
We headed to Sussex and found charming towns that wore their coastal setting with style, independent shops scattered in Brighton's backstreets, innovative winemakers and breathtaking cliffs.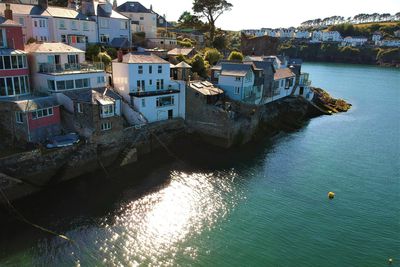 Coastal retreats
Browse our collection of self-catering homes, hotels and B&Bs across the UK & Europe, all within three miles of the coast.