Six luxury places to stay for a celebration
After enduring a life on hold for so long, we're feeling hopeful that we'll soon be able to make up for all the cancelled plans and lost time. We're all going to deserve a bit of extra pampering, so we've rounded up six of our favourite luxury places to stay, whether you're celebrating a special occasion or simply patting yourself on the back for getting through a difficult year.
A gorgeous big house with acres of space for entertaining. Get a group of friends together or bring the whole family. The interiors are contemporary while retaining a rustic farmhouse feel, with walls of honey-coloured stone and modern art. The kitchen has everything you need for sociable mealtimes, but you can arrange to be cooked for if you'd prefer. There's a generous hamper left for you, brimming with breakfast goodies – eggs, bacon and butter, and honey from local bees.
In summer, throw open the floor-to-ceiling doors and have a game of rounders on the huge lawn. There's also a barbecue for al fresco dining. The idyllic Cotswold countryside awaits for day trips, and beautiful Bibury is within walking distance for provisions or having dinner at the Swan Hotel.
A grand, elegant house on a beautiful estate in Yorkshire. The feel is formal, but little touches like silver teapot lamps and a picnic table made from recycled cans keep things lighthearted. A private garden and views over a cherry orchard make this place feel particularly special – it's perfect for celebrations. There's a fully-equipped kitchen, but you don't have to cook if you don't fancy it – just plan your menu with the estate chef. Breakfasts can be delivered too.
If you're here to treat yourself, book yoga or a massage from the office. If you want to get active, there are numerous picturesque walks starting from the door, or head further afield to the Yorkshire Dales for amazing hiking and dramatic scenery. Return to help yourself from the cocktail trolley and soak in the hot tub.
A wonderful romantic retreat in the form of a uniquely renovated flint cottage. Sustainability is a priority here, and the delightful mishmash of reclaimed and vintage materials makes the interiors sing. The kitchen is stocked with all the essentials you need, and plenty of the nice-to-haves that you don't – start your days with proper coffees from the machine, and finish them with complimentary G&Ts.
You're in the heart of the Glaven Valley so amazing walks start from the door, and if you're craving salty air North Norfolk's coastal path and marshes are close too. If you're a keen wildlife watcher, head to Morston and book a seal-watching trip. Whatever you get up to, you'll always be glad to return to the cottage to sink into an armchair by the log-burner and reflect on the day's adventures.
A great option for those looking for luxury places to stay in Devon. Outside, English decorum reigns; inside, a wonderland for your senses waits. You don't really find a hotel, more a contemporary art installation that you get to live in for a day or two. It's a reinvention of a 19th-century collector's house and it overflows with sculptures,  chandeliers, ancient maps, a bust of the queen with a halo instead of a crown.
There's a tasting room for whisky and wine, a red-marbled bar with sofas and armchairs, then doors onto a terrace for afternoon tea. Rooms come fully loaded: vast beds, the loveliest linen, cool design, roll-top baths and quirky art. 
This grand old Georgian house has been reborn as a design hotel and it offers a level of style and service few others can match. It's a treasure trove of beautiful things: striking contemporary interiors, bedrooms you won't want to leave, cool tunes afloat in the air. Downstairs, an elegant sitting room comes with wood floors, deep sofas, fresh flowers and a smouldering fire. Contemporary art fills the room, sparkling chandeliers hang from on high, Peggy the dog rules the roost.
There's an honesty bar where drinks are chilled in antique refrigerators, then a breakfast room with walls of glass that open onto a terrace when the sun shines. Bedrooms are flawless, with comfortable beds, mohair throws and walk-in showers. Bigger rooms have that and more, perhaps a shower for two, a vast wet room, a zinc bath at the end of your bed. It's easy to walk into Cheltenham for a mooch around the galleries or shops. Music loves must come for the summer jazz festival.
This is no ordinary hotel, it's like summer camp only for adults – a place designed for fun. Expect a striking simplicity with airy colours, white linen, padded bedheads, robes in sparkling bathrooms. Rooms are scattered about in pretty buildings on the hill, and you'll find everything from woodland shepherd's huts to leafy treehouses. Claw-foot baths adore the rooms, as do huge beds, a sofa or a wood-burner, too. Some are even blessed with outside bath tubs so you can sit back with a drink under the stars.
If the style is coolly contemporary, then the feel is cosy and informal, with lovely staff on hand to help. The big bar is the hub: sofas galore, cool colours, walls of glass that open onto a terrace, a funky wood-burner for winter nights. There's a games room for pool and table football and 400 acres of countryside to explore from the door. Deer roam the hill, there's a nature trail and maps for joggers.
More inspiration…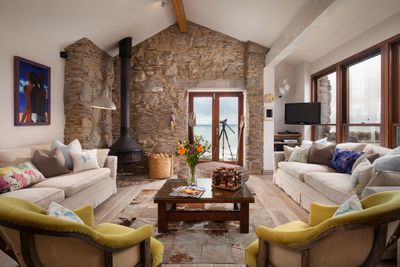 Good for groups
Find a special place for your next big reunion, family party or special occasion, with roomy kitchens for sociable mealtimes, terrace pools for summer cocktail parties and warm cottage lounges for card game marathons.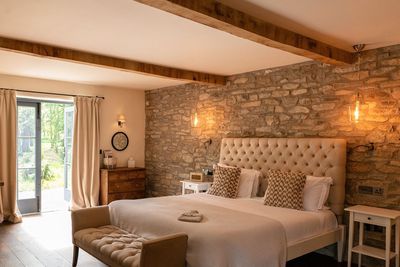 Celebrations and occasions
Here are some of our favourite places for get-togethers big and small. Gather the family for communal meals round big farmhouse tables, book out every room and take over a hotel bar, or catch up with old friends over a bottle of wine on the terrace of a European villa.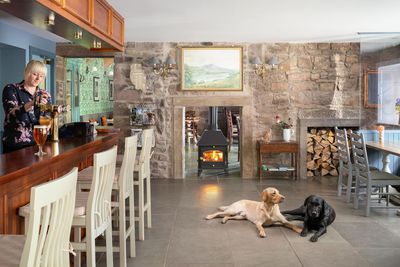 Dog-friendly places for a special occasion
Our roundup of six of our favourite dog-friendly places to stay for a special occasion. From the woodlands and rugs of country cottages to the firesides and gardens of grand hotels, these are the places of your dog's dreams.