The UK Bucket list: try something new in 2021
You don't have to travel too far to find some unforgettable experiences and tick those Bucket List experiences off your list. We've rounded up our favourite UK experiences where you can try something new this year: whether it's learning a new skill, going wildlife spotting, island hopping, finding unique places to stay or taking in culture al fresco.
Your own private island… or close enough!
Deep lochs surrounded by towering mountains, remote islands perfect for switching off and beaches all to yourself; exploring Scotland's highlands and islands is top of the wishlist for many travellers. And it's easy to see why when there are special places to stay as lovely as the Isle of Shuna Cottages where there's no roads, no cars, solar panels and spell-binding views towards Jura. Or book into Isle of Rona which is thrillingly remote yet cosy at the same time, with just two permanent residents.
Take voyage on your very own ferry boat
As unique places to stay go, Seahorse II is up there with one of the best. It's not often you get to stay on a Norwegian ex-ferry boat surrounded by a myriad of other craft in Dunstaffnage Marina. You'll feel like you've set off on a wild Scottish adventure, albeit a static one, but there's stunning views of the surrounding mountains and colourful boats bobbing all around. Enjoy sunshine up on top deck or hunker down in the cabin on cooler days, either way take the whole family and make it a holiday to remember.
See wild ponies and pigs in the New Forest
For those who love scenic walks, wildlife and being by the water, the New Forest might just be the perfect place to visit. The ancient arrangement established by William the Conqueror allows animals the right to graze on the land freely, and you are likely to see ponies, donkeys, mules and cattle. Pannage is an autumnal practice of allowing pigs out to feed on fallen acorns, which are poisonous to the other animals – so visit in October and you might see the roaming pigs which are so famous in the region too.
Go foraging with an expert
The arrival of autumn brings with it a wealth of foraging opportunities in the UK, and you won't have to go too far to experience them. Llys Meddg, a small family-owned hotel on the coast of Pembrokeshire, offer foraging courses under the direction of expert Ed Sykes. You will visit some of the many beautiful local beaches, hunting for delicious wild foods such as goose berries, wild garlic, sea beet, sea clam, mussels and cockles. Not only will you learn how to identify and gather your finds, you then prepare and cook your foraged feast!
Climb the highest peak in Wales
As the highest peak in Wales, Pen Y Fan has incredible views over the Brecon Beacons and is a moderate hike for most walking abilities; although there are more strenuous routes to the top too. Other than walking, the Brecon Beacons and surrounding areas offers activities including mountain-biking, canoeing, fishing and climbing so you'll never be short of adventures. 
View Sawday's cottages in the area >
Go whale watching off the coast of Co. Cork
Located on the famous Wild Atlantic Way, County Cork is a hub of stunning landscapes and incredible wildlife. The diverse mosaic of coastal habitats supports a huge variety of species, and the exposed coastline of West Ireland means it is on the migration path of whales, dolphins, seals and more. Whilst you can spot whales during most months of the year, the best time to see humpbacks is on their migration during November to January. It's best to head out on the water with a guide, and if you're lucky you could even spot one breaching!
View places to stay in the area >
Watch a play from an ancient Cornish clifftop
The spectacular open-air Minack Theatre has been carved into the cliffs above Porthcurno Beach, and has a programme of plays and performances from May through to September. Wrap up warm and watch against the background of the vast Atlantic Ocean; an experience to truly remember.
View places to stay in the area >
Learn how to sculpt at one of our Community Champions
Dartington Hall is a buzzing, arty country estate doing amazing things to give back to the community. They host farming, forestry and educational projects, and social enterprise was, and still is, central to supporting the vision. There is a huge selection of courses that run through the year: from sustainable farming to Taiko drumming, book-binding and sculpture. They usually run for around two days, there's accommodation on site, and you'll learn everything from starting off to perfecting your clay modelling technique. Check the calendar for this year's dates.
Discover hidden waterfalls and coves in England's ancient land
Considered by many as one of the hidden gems of Yorkshire, Malham Cove has provided inspiration for decades for the likes of William Wordsworth and Turner. The area is a Mecca for walkers and Malham Tarn is the highest lake in England at an impressive 377 metres above sea-level. Ribblehead Viaduct and Aysgarth Falls offer you plenty of wild swimming spots, but head to Kisdon Force if you're looking for waterfalls off-the-beaten-track.
View places to stay in the area >
Immerse yourself in a seaside yoga retreat
Botelet is a timeless, old country house set within magical Cornish woodlands and alongside ancient iron age forts. From the minute you arrive you'll feel all your 21st-century worries slip away: there are endless views of luscious green valleys and a remote peacefulness that'll instantly relax you. Their yoga and meditation courses run throughout the year, alongside Brunch Clubs and holistic beauty treatments. Join for just one day or stay a little longer to enjoy everything the Liskeard has to offer.

Taste some of the finest wines at a leading British vineyard
It's not everyday you get to taste some of the UK's most prestigious wines, so the exclusive tastings held at Rathfinny Wine Estate feel like a real treat. During, you'll get to taste a comprehensive list of their best wines and learn a little about how they go about producing them at their Sussex vineyard. For the first time, the estate are pairing both their vintage and current wines side by side. Best yet, it's not far to go for a lunchtime nap after all the excitement – the delightful B&B bedrooms are also within the estate.
Take a water course in the Peak District
Lockerbrook Farm are another of our Community Champions, attracting walkers and nature lovers to their special corner of the Peak District. Whilst it's possible to walk, cycle, climb and wild swim in the area, you may be tempted to try a new challenge. The farm is owned by a charity who run a centre with the aim of giving urban children a taste of the countryside. They are plenty of courses to join, including kayaking, canoeing and rafting.
More inspiration…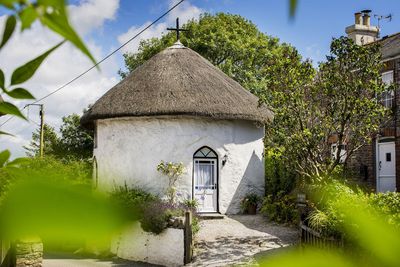 One of a kind places to stay
Want something with a little wow? These are the special places to stay that we just can't categorise, from windmills to lighthouses and a few other design adventures.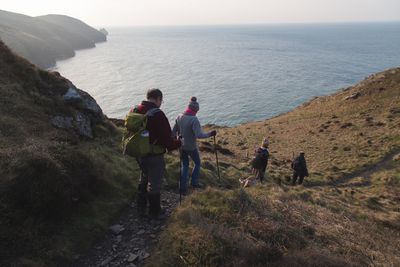 Our Slow Guides
Discover our Slow Guides to regions around the UK: from Cornwall to Devon, Dorset to Sussex, Norfolk to Northumberland.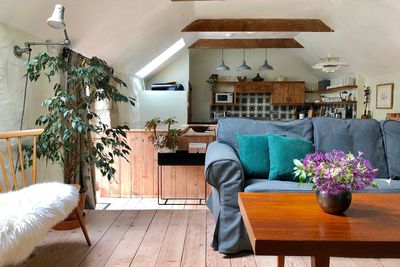 Sawday's Cottages in the UK
Find over 150 self-catering holiday cottages all over the UK, as always each one is inspected and loved by us.