Five of the best walks in Dumfries and Galloway
If you're planning a trip to Scotland, Dumfries and Galloway deserves a place on your list – this unsung patch of the Lowlands offers some of Scotland's most picturesque yet undiscovered walks. From dramatic rocky coastline and vast sandy beaches to enchanting woodland trails, there's something for all tastes. We've selected five of our favourite walks in Dumfries and Galloway to help you plan your next adventure.
Brighouse Bay
If you're looking for scenic coastal walks in Dumfries and Galloway, this one's for you. This seaside route begins on the sandy beach at Brighouse Bay, and you'll take in plenty of fresh, salty air and craggy coastline before the landscape switches to rolling green countryside for the second half – it's the best of both worlds. The route is just over 7km, and passes through a patch of woodland before climbing a mixture of grass and rocks and revealing the rugged coastal cliffs ahead. You'll enjoy views of Rumblekirn, a dramatic inlet, as you trace its edges.
The climb continues towards a cairn and little bench, where you can take a breather and admire the spectacular views towards Burrow Head and Machars peninsula. Once you pass Cairniehill Loch (look out for newts, and irises in spring) the trail opens up onto vast pastureland and several pretty cottages before looping back around to your starting point. More information on the route can be found here.
Stay at: Cruggleton Lodge, a lovely bolthole on an organically farmed estate. 
Parton Viewpoint, Loch Ken
Part of the Galloway Kite Trail, this route is understandably one of our favourite walks in Dumfries and Galloway for wildlife spotting. Starting at the lay-by near the holiday park, the trail is clearly marked and passes through mature woodland where you might spot red squirrels scurrying among the branches.
The path eventually gets steeper before levelling out again to reveal breathtaking views of Loch Ken and the hills beyond, including the Black Craig of Dee. A short stroll from here will take you to your next spectacular viewpoint, this time of Parton and the surrounding rolling hills. Remember to look up, and you might spot buzzards or red kites gliding overhead. The trail finishes up at the main viewpoint, looking out at the Loch Ken viaduct. More information on the route can be found here.
Stay at: Longshot Cottage, a peaceful retreat in rural paradise near Castle Douglas.
Killantringan lighthouse from Portpatrick
This picturesque coastal trail begins in the charming harbour town of Portpatrick and joins the Southern Upland Way, taking in plenty of amazing sea views. The route is clearly waymarked, and passes a golf course before climbing a clifftop path and rewarding you with spectacular views along the coast – Ireland can be seen on a clear day.
The trail then winds down towards the bays of Port Mora and Port Kale, where it's worth keeping an eye out for grey seals. You'll cross a bridge and reach open grazing land before walking along the cliffs and seeing Killantringan lighthouse in front of you. You'll be treated to one more coastal viewpoint, by the cattle grid, before looping back around to the village. More information on the route can be found here. 
Stay at: Knockinaam Lodge, a beautiful country-house hotel with warm hospitality and amazing food. 
Galloway Forest Park and Loch Trool
The area around Loch Trool is one of the most stunning patches of the Galloway Forest Park, and it provides one of the most beautiful walks in Dumfries and Galloway. The route makes a full circuit around the loch, beginning at the wide bridge over the Water of Trool and following waymarkers towards the Southern Upland Way. Here, you'll get your first glimpses of Loch Trool and a taste of the fantastic views to come.
Prepare for a bit of bumpy terrain that climbs and descends in equal measures. You'll eventually be rewarded with vast views of the loch, as well as a pretty glen just above it. It's worth making a quick detour to check out Bruce's Stone, a historic cairn erected in 1929, before you loop back around to the car park. More information on the route can be found here.
Stay at: Chipperkyle, a homely B&B with cosy interiors and 200 acres to explore.
Mull of Galloway
Another one of our favourite coastal walks in Dumfries and Galloway, this trail in Scotland's southernmost tip offers dramatic cliffs, interesting wildlife, coastal scenery and a lovely lighthouse. It's sometimes referred to as Scotland's Land's End, and plenty of seabird colonies call this area home, including puffins, black guillemots, kittiwakes and more. You'll follow a clearly marked path from the car park, passing a well and curving round towards a white cottage, which is home to the RSPB visitor centre and worth stopping at if you're keen to learn more about the area's bird life. Once you pass the lighthouse and reach the furthest tip of the peninsula, you'll be rewarded with far-reaching views towards the Isle of Man and the hills of the Lake District.
The second half of the walk takes in some amazing sea views looking along the cliffs of Greywacke, and passes several little inlets. You can also detour to an interesting memorial, Kennedy's Cairn, which also offers lovely panoramic views over the peninsula. More information on the route can be found here.
Stay at: Corsewall Estate, two stylish cottages and a farmhouse on a sprawling estate teeming with wildlife.
More inspiration…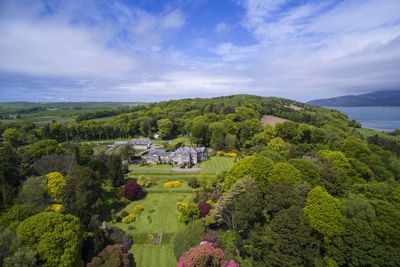 Dumfries & Galloway
Browse our collection of self-catering places, hotels and B&Bs in Dumfries & Galloway – a region known for its sandy beaches, rocky shoreline and thick forests teeming with wildlife.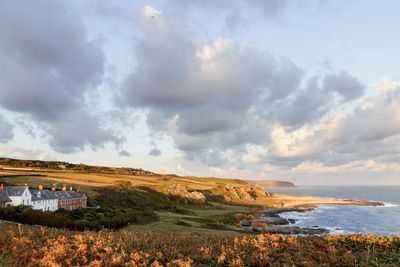 Coastal retreats
Browse our collection of self-catering homes, hotels and B&Bs across the UK & Europe, all within three miles of the coast.
Seafood and solitude on a Scottish road trip
Read about the rough route that one of our team took on an 8-night journey from Bristol to Scotland's west coast. It was a week of spectacular white beaches, twisting mountain roads, cosy pub firesides and heaps of superb seafood.