Five reasons to visit Edinburgh
Edinburgh is a wonderful city whose grand architecture and modern culture combine to give it, as the Proclaimers sang, "a look of dirty grace". Well worth a visit outside of Hogmanay or the world-famous summer festivals, there's something there for everyone, although some of it takes some finding along the twisting, multi-levelled streets. Here are just five of the many great reasons to make a trip to Scotland's capital.
1. The finest city walk anywhere
There aren't many European capitals where you can set off on a stunning mountain hike in the morning and be back well in time for lunch, and a climb up the imposing peak of Arthur's Seat is one of the best things to do in Edinburgh. The walk, even from the city centre, won't take you more than a couple of hours and for anyone who doesn't fancy the full scramble to the summit, the view from the Salisbury Crags is also spectacular, with the sea on one side and the castle at the heart of town on the other. If you don't make it out to the crags, then make sure you're somewhere with a view of them at sunset, as they burn red and orange in the evening light.
Once you've conquered Arthur's Seat, another great walk in the city is along the river to Dean Village. This tranquil green oasis is found on the Water of Leith, and makes a peaceful walk on a sunny summer's day.
2. There's stunning architecture
If you arrive by train (and you really should) then Edinburgh feels like stepping into a film set. As you emerge from Waverley Station the black spire of the Scott Monument, the castle, the folly on Calton Hill and a host of other grand facades will have you spinning in circles for a minute or two. Free (donations to the guides welcome) walking tours will take you through the city and point out some of its less famous spots, each one coming with its own story. There's the statue of Greyfriar's Bobby, the dog who refused to move from his master's grave and another of the sceptic philosopher David Hume, who would surely be disappointed to see how the toe of his likeness has been rubbed to a shine by all the people touching it for luck.
3. It's a foodie haven
We all know the cliche of deep fried everything and Irn Bru, but Edinburgh has a great range of dining to offer any appetite. You'll find everything from top class restaurants and trendy cafes to cuisine from all around the world, ice cream parlours and Indian street food sold from an old police box over in Bruntsfield. In fairness to the myth that Edinburgh is not a place for health food, it does have its very own condiment, not found anywhere else in Scotland, for fish & chips. If you head into a chippy, you'll be asked if you want "salt and sauce". Say yes and you'll have your food doused with a mixture of brown sauce and vinegar that makes everything tangy and wonderful. You should definitely embrace the other great Scottish tradition and try haggis too although the spiced crumbly dish is best eaten without too much thought about provenance. If you want to take some home, locals will tell you to buy Macsween.
4. Whisky, of course
In a lot of other cities, you'd simply mention drink while you talked about food, but whisky deserves its own place in your visit to Edinburgh. A professional tasting can be an enlightening experience and has converted many a whisky hater to a fan of the fiery gold spirit. While whisky distilleries tend to be in more rural locations, the Glenkinchie distillery is only forty minutes out of the city and can give you an informative tour that includes a little sampling, of course.  You can get a less professional but no less passionate whisky crash course by walking into any traditional pub in the city, where a mammoth top shelf is often groaning with a huge variety of malts. Just remember that if you order whisky with Coke, you should make sure you're in good shape and wearing comfortable shoes for running.
5. Get stuck in culture
Edinburgh is at its busiest in summer festival season and at Hogmanay, but also at its best. In summer, two enormous events, the International Festival and the Fringe (now also joined by a third, the Free Fringe) turn the whole city into a beacon of the arts for most of July and August, with everything from opera to stand up comedy acts being squeezed into every bar and public space. One of the best things to do in Edinburgh is simply stroll around and feel the atmosphere. Hogmanay is much more focused of course, but the fireworks exploding over the castle's dark hill are a sight to see.  It's hard to know what's going to be running this year and when, but whenever you visit, restrictions permitting, there are a wealth of events venues, from the grandeur of McEwan Hall and Usher Hall to the old church of the Bedlam Theatre and a maze of rooms above and below the cobbled streets. 
VIEW OUR PLACES TO STAY IN EDINBURGH >
More inspiration…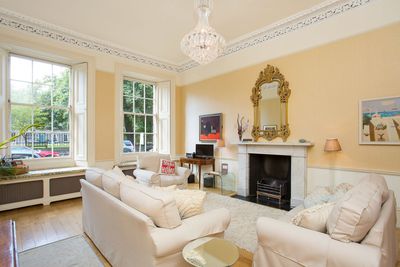 Places to stay in Edinburgh
Discover our collection of places to stay in Edinburgh, from chic Georgian apartments to stylish boutique hotels.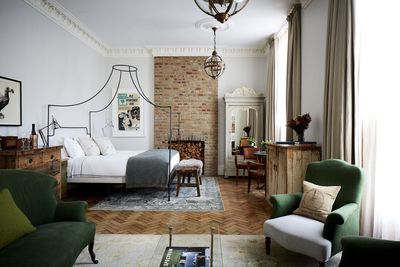 City breaks
Find your next city break bolthole in the UK or Europe: from historical York to beautiful Bath and bohemian Seville.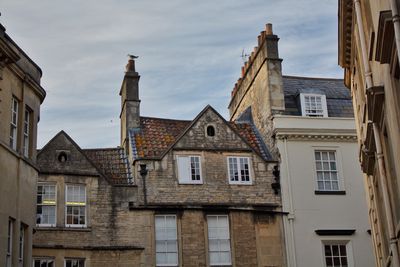 Five places where city and countryside meet
There's no need to be torn between a cultural city break and a refreshing dose of countryside. Here are five of our favourite spots to go from wandering through quaint side streets to stomping up hills.