Our top cold water swimming spots in the UK
There's something we all love about wild swimming, from building an affinity with nature to the act of meditation it brings to our busy lives. Over the last few years, cold water swimming has been gaining popularity and studies have shown the positive effects it can have on our mental and physical health. Below, we share some of the basic science behind the benefits of cold water swimming and some of our favourite UK spots to give it a shot.
To put it simply, cold water swimming has been known to improve the body's immune system as it is forced to react to changing conditions. Like any form of exercise, it also boosts one's endorphins, can improve circulation and reduce stress. It is, however, important that you do take some precautionary care before you take the plunge. Only ever swim where it is safe and lifeguarded, make sure to take a friend with you, research your spot before you go and know your limits! It's important to start slowly, you should only be in for between five to 15 minutes to begin with.
1. St Agnes, Cornwall
Over the last year, cold water swimming has taken Cornwall by storm. What started with one local female group of seven members now spans over 17 groups with over 7,500 people enjoying the benefits of this new hobby. It's not surprising given the numerous beautiful spots to swim, and St Agnes is where you'll often find a group of people braving the cool conditions.
St Agnes' main beach Trevaunance Cove is a brilliant place for a dip as it is sheltered and watched by lifeguards. Make sure to check the tide times and surf conditions for the day ahead as waves do tend to be larger and heavier towards lower tides. Nearby Porthtowan tidal pool is another great option that offers calm waters, just be sure to visit on a low tide as that's when you're able to get in. Other best cold water swimming spots in Cornwall include the Helford River and Penwith.
For more Cornish cold water swimming inspiration we'd recommend following @sophiehellyer, @risefierce and @wildswimmingcornwall.
View places to stay in the area >
2. Ullswater, Lake District
A couple of years ago we had the privilege of experiencing the Lake District's waters under the guidance of local Champion Colin Hill. We were taken to Kailpot Crag, which is a great place to get in as a beginner as it has small shingle beach with easy access to the water. Its westerly aspect means you can enjoy the sunset while swimming too, just take the ferry to Howtown pier and follow the lake path a mile south-west. You can also head to Sanwick and swim along the lake shore from here towards Howton. You'll pass woodland, cliffs and rocky beaches before spotting two buoys that mark a beach where you can easily exit the water. 
Another Place runs sessions with Colin throughout the year, where he will take you out into the lake just in front of the hotel. You'll be in for approximately 15-30 minutes and be taught breathing techniques to help your body adapt to the cold. It's an incredible experience, taking in the sheer beauty of the landscape around you from the water.
For more cold water swimming inspiration in the Lakes, follow @colin_hill_swims, @swimthelakes and @suzannaswims.
View places to stay in the area >
3. Llyn Padarn, Snowdonia, Wales
Snowdonia National Park is full of stunning lakes and mountains that make for brilliant hikes, cycles and swims. At the foot of Mount Snowdon is Llyn Padarn, a glacial formed lake that locals refer to as "the swimming pool". The lake is perfect for all swimming abilities as it offers a range of swimscapes: from shallow lagoons perfect for paddling to deeper waters where you can embrace wild swimming at its best. 
Wild swimming expert, Sian Lewis, suggests beginners should always stay close to the shore and keep alert for any hidden rocks or submerged logs. For experienced swimmers, it is possible to swim across the whole lake, but be aware the deeper waters are colder. Snowdonia Watersports is located close to the lake so don't be afraid to book onto supported and guided swims to build up your confidence!
For more cold water swimming inspiration in Snowdonia, follow @viviennerickman, @wildwelshswimmer and @weswimwild.
View places to stay in the area >
4. Loch Morlich, Scotland
Located in the heart of the Cairngorms National Park, this freshwater loch is one of the most picturesque cold water swimming spots in the UK. It's also home to Scotland's highest beach and is surrounded by Glenmore forest, with the snow-capped peaks of the mountains as your backdrop. What makes this a brilliant place for beginners is that there's easy access to the water so you can enter gradually and go only as deep as you feel comfortable. There are also buoys in the water that will help you navigate your way around, these are placed every 100m or so.
Loch Morlich is the location for Swim Wild's Introduction to Open Water Swimming, a day long course that is aimed at complete newbies. It's run by Alice Goodridge, a renowned open water swimmer who has years of experience in the area.
For more cold water swimming inspiration in Snowdonia, follow @viviennerickman, @wildwelshswimmer and @weswimwild.
View places to stay in the area >
5. Royal William Yard, Plymouth
Cold water swimming can be enjoyed all over the UK and not just at natural spots, there are some brilliant lidos and pools too. These offer a chance for you to experience cold water swimming even in towns and cities, and are great places to build up your confidence. Plymouth's Royal William Yard has a man-made tidal swimming pool at Firestone Bay with lovely views of the coastline. It is a shallow pool that is topped up with fresh sea water every time the tide comes in.
There is a gentle sloped entry into the pool, which at its deepest is only around 1-1.5 metres. One of the best things about swimming here, though, is that you can warm up quickly afterwards with a hot drink and food from one of the many cafés and restaurants!
Follow @paulinebarkerswimmer and @aceswimming1 for tips on cold water swimming in the local area.
View places to stay in the area >
More inspiration…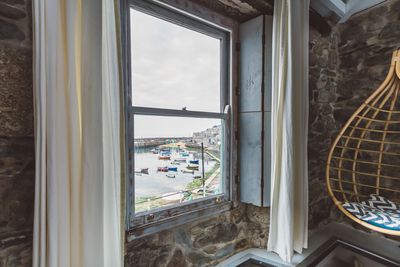 Coastal retreats
Explore our collection of self-catering homes, hotels and B&Bs across the UK & Europe, all within three miles of the coast.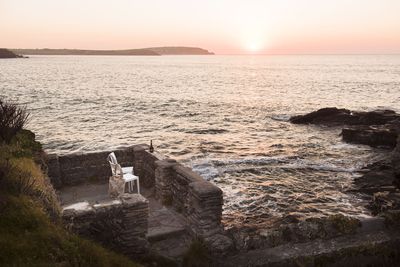 Places to stay in Cornwall
Discover our special places to stay in Cornwall, from cosy cottages to rustic farmhouses, boutique hotels and stylish barns.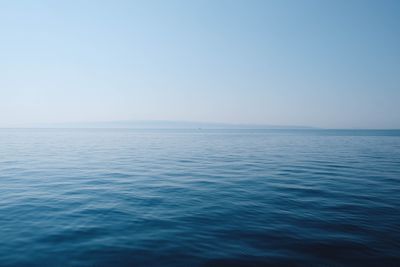 The science of water
We all know the feeling of tranquillity water brings, but we explore the science behind our deep relationship with water.