Hidden villages and vast wilderness in North Wales
Travelling in autumn gives you a chance to slow the pace and settle into the turning seasons. The fiery colours make for views to linger over and forest walks that end at warm firesides, while menus darken and ripen with rich autumnal produce. Last year, one of our team bundled her partner and her dog into the car and wandered into autumn on a road trip from Bristol to North Wales.
There was no destination in mind: they just fancied getting into the depths of Snowdonia's lush countryside, dipping their toes in the water and feeling lost for a little while. It turned out to be ten days of just that.
To Cadair Idris
Google Maps will tell you to take the motorway from the south right up to Birmingham and then cut across to Wales, but this means missing out on a stunning (but hilly and twisty) drive through some amazing Welsh countryside. So, we jumped straight over the Welsh border and made a route of our own. We headed towards the Wye Valley, one of our favourite spots in the whole of the UK, and up towards Ross-on-Wye. After an hour of driving through the Area of Outstanding Natural Beauty, we made it to Presteigne – a gorgeous market town with a focus on independence and the environment. After a cup of tea and a slice of cake at The Coffee House, we got back on the road and pushed on to Snowdonia National Park.
After almost four hours in the car, we were itching to explore and what better place to start than the highest mountain summit in southern Snowdonia? We arrived at Cadair Idris at lunchtime so had plenty of time to get out and hike, starting from Dôl Idris car park. There are multiple routes to take, but no railway like at Snowdon, which makes Cadair Idris a little less busy than it's more famous northern counterpart. We took The Pony Path up the mountainside to Llyn y Gader. You get fantastic views of the Mawddach estuary towards Barmouth and once you get to the ridge you can also see inland towards Bala and over the lake. It can be a little bit of a scramble up to the trig point, but there are a handful of higgledy piggledy steps that'll help. 
To the Bae of Ceredigion
North Wales has over 200-miles of protected National Parkland coastline and while many people swear by Pembrokeshire, we were keen to explore the less celebrated coast further north. From Cadair Idris, you follow the A487 north along the Mach Loop – the road is breath-taking and you're driving right down lush green valleys with mountains towering in front of you like something out of a Canadian tourism brochure. If there's time, it's definitely worth stopping at Cwm Mynach valley: a wooded gully running through the wild and beautiful Rhinogydd mountain range. From here, the road continues alongside Afon Mawddach lake towards Barmouth. As the hedgerows fade away, the vast open water appears below more distant mountains. On a sunny day, the light on the water and green surroundings is enough to draw a genuine "wow". The road carves along the water's edge until you finally arrive at Harlech Beach.
Overlooking Harlech's huge, peaceful beach is a symbol of past conflict – mighty Harlech Castle, a World Heritage Site. It's not just flat sand – the beautiful dunes here are a prized feature and the reason behind the area's designation as a National Nature Reserve and Site of Special Scientific Interest. The beach itself seems almost guarded by a large forest and between the two runs the Wales Coastal Path, which you can take in either direction for miles and miles. It's a great spot to settle for the night – with not much civilisation around you, you're forced to take some time to yourselves. There's one fish and chip shop close by, perfect for grabbing a quick dinner and watching one of autumn's purple and red sunsets reflecting in the water.
To Portmeirion
Going north from Harlech you cross the tangled channels of Afon Dwryrd to reach the brilliant Portmeirion, an Italian-inspired heritage village that has been carefully restored over decades. Bright domes and ice cream coloured towers emerge through the raw wilderness of the Snowdonia landscape – sort of like Sintra in Portugal. It is the imaginative concept of Sir Clough Williams-Ellis, a famous Welsh architect who wanted to show how a naturally beautiful location could be renovated without spoiling it. No one resides in the village itself, but you will find restaurants, brasseries and annual festivals to enjoy.
Whilst we loved meandering through the village's pretty streets, our favourite experience had to be discovering the sub-tropical gardens known as The Gwyllt. They span over 70 acres in total, and boast a stunning range of exotic woodlands and 19 miles of pathways which cut through forests and coastal coves. We were told that "Sir William Fothergill Cooke, co-inventor of the telegraph, impoverished himself in the task of planting The Gwyllt that he had to hide from bailiffs in catacombs under the hotel, fed by his loyal butler through a trap door under the pantry sink." So there's all the more reason to make the most of it!
To Llŷn Peninsula
One of the crowning glories of Wales' north-west coast is the remarkable Llŷn Peninsula – an Area of Outstanding Natural Beauty. People say it has a lot in common with Cornwall, sharing the same independent spirit and island mentality – they even share a history of mining and granite quarrying. With so much to do, you could spend a whole week visiting this area alone; exploring Bardsey Island or the wild Mynydd Mawr headland. We headed to Abersoch, which is known as part of the 'Welsh Riviera'. It's an area that boasts historic sailing ties, remote beaches and a foodie scene that's definitely to be sniffed at, then extensively sampled. You'll find freshly caught lobster from Ceredigion Bay, as well as vegetables and meat sourced from nearby farms, served mere metres, in some cases, from colourful beach huts, with oystercatchers picking at the surf and dogs roaming the beach pretty much all year round. 
North of Llŷn Peninsula and jutting out into the Irish sea, you will find Porthdinllaen – a small fishing village with prolific shipbuilding and fishing industries. It's the perfect place to get lost in rural, coastal Wales: discover secret beaches, crystal clear rock pools and an abundance of wildlife. The soft cliffs are home to nesting sand martins and cormorants, whilst the headland is a popular spot with the local grey seals. Whatever you choose to do, make sure you finish off your day with a pint of local ale at the infamous Ty Coch!
To Glyder Fawr via Beddgelert
After a couple of days on the Peninsula, it was time to follow a tip from a local friend and head inland into Snowdonia National Park. He told us to visit Beddgelert, a traditional North Wales village about 40 minutes from Llanbedrog. According to legend, the stone monument in the field marks the resting place of 'Gelert', the faithful hound of the medieval Welsh Prince Llewelyn the Great. It's a lovely place to stroll around: take in the quaint stone houses on the water's edge, get an ice cream from Glaslyn Independent ice cream shop and find gorgeous spots for river swimming. Seeing the swimmers made us realise we were craving a swim ourselves and we were told that nearby Llyn Dinas is a brilliant spot to make the most of the dwindling post-summer sunlight.
You'll find Llyn Dinas on the road from Beddgelert to Glyder Fawr, spanning over 60 acres and formed by the River Glaslyn. There are easy access points into the water so it's ideal for beginners. You can park up and walk 1.5 miles to the spot for a swim, or make it a longer route with a walk right round the lake. If you're in need of a more challenging hike, head to nearby Glyder Fawr – just 15 minutes away. Lots of people flock to Snowdon – easily Snowdonia National Park's most visited peak –  but, we were eager to explore what locals deem the "unique summit". The vertical frost-shattered spires of Castell y Gwynt provide one of the most interesting photographic viewpoints in the park. There are numerous walking routes up Glyder Fawr, but we started from Ogwen Cottage. The path becomes quite a steep clamber and you should allow around three hours in total to complete the whole loop. At the top you're met with a sight that's rather otherworldly, but you'll be grateful that the sheer rock faces provide shelter from the harsh Welsh elements.
To Abergwyngregyn
We decided it was time to continue north, and followed the A5 up towards Bangor. En-route, we passed signs for Anglesey – a place we've heard so much about, but unfortunately didn't have time to visit. The island is a stunning place to explore wildlife – seals, dolphins and whales are known to migrate through the surrounding waters, plus there are a plethora of beautiful remote beaches. For foodies, there's an annual oyster and Welsh produce festival every October. 
Instead, we continued on the North Wales Expressway to Abergwyngregyn, a small picturesque village on the edge of the Menai Strait tidal waters. The village, which is nestled in a valley at the northern edge of the Carneddau mountain range, has an interesting and varied history. We knew there would be waterfalls hidden amongst this remote area of Snowdonia, and we were right! Located just 2 miles from the village is Aber Falls, or more correctly known as Rhaeadr-fawr. Leave the car at Bont Newydd and follow the clearly marked track for the falls. Along the way, you'll pass a creek and sheep pastures, as well as several small Bronze Age settlements and historical standing stones. We were told it's best to visit the falls in spring or autumn to avoid the notorious summer crowds. As we were nearing the end of our trip, a local told us we had to try the legendary Conwy mussels, so off we went with empty stomachs and high expectations!
To Conwy
Conwy is a World Heritage site steeped in history, much of which is instantly visible in its architecture. We went in search of the town's famous Conwy Mussel farmers, who have been working in the waters for over 200 years. They still hand-rake wild mussels from small wooden boats (infinitely kinder to the environment than modern dredging) and this practice has been passed down through three generations. The clear waters from the mountain springs of Snowdonia mixing with the sea water offers the perfect environment for mussels to grow, which is why Conwy mussels are so much larger and have such a distinctive taste compared to those that have been rope grown. The season runs from 1 September to April, so visiting in autumn means you'll be tasting the very best there is. As if that wasn't enough, Conwy is also home to its very own vineyard, producing award-winning Welsh wines. 
Gwinllan Conwy is open to visitors throughout the year, so you can almost always take a tour of their beautiful vineyard and sample some of their fine creations. Food is clearly a huge part of this community and in October the town runs its annual festival showcasing many of the amazing local producers, as well as a broad range of music and arts. If you're not around for the festival, try Bodnant Farm Shop, which is around 10 minutes inland of Conwy. Here you'll find a great Food Hall, bakery and butchers all selling local produce, as well as a couple of restaurants to fuel you for the journey home.
After a week on the road, it was time to head back south. From Conwy, it's easy to pick up the North Wales Expressway, which follows the coastline across to Warrington. It's here you start to emerge from the deep slumber of Snowdonia's idyllic valleys and slide reluctantly back into fast city life. But even as you watch the mountains disappear into the distance, it's hard to not feel that a sense of total relaxation and a whole new admiration for North Wales.
More inspiration…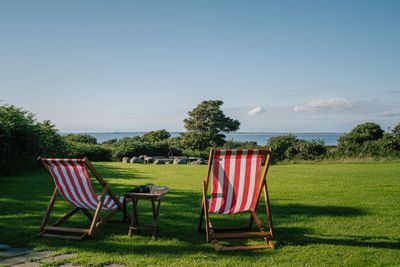 Places to stay in North Wales
Discover our collection of special places to stay in North Wales: from cosy country cottages to stylish beach houses and traditional B&Bs.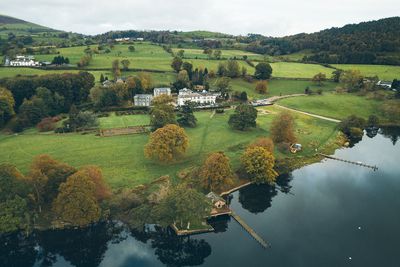 National Parks collection
Stay right in the heart of the UK's National Parks, with our collection of hotels, B&Bs and self-catering places.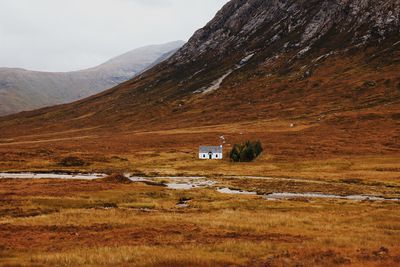 Seafood and solitude on a Scottish road trip
Scotland's wilder areas reward the patient traveller, making them perfect road trip material. This is the rough route that one of our team took on an 8-night journey to the west coast.