A foodie guide to Suffolk
Suffolk's booming foodie rep has been growing for years. Throughout the region, you'll find market towns brimming with independent bakeries, restaurants and cafés all proudly showcasing fresh, local produce. We trace innovative newcomers, multi-generational farmers and ancient cyder makers who are all making a big impact on the region's culinary landscape.
Aspall have had plenty of time to perfect their recipe. The first orchards were planted in Suffolk back in 1728 and they've been producing cider in the original Aspall Cyder House ever since. You'll find their superb range of ciders and vinegars everywhere in the county, but why not drop into the shop in Stowmarket and pick some up straight from the source.
Step inside the pink-washed walls of this family run bakery and you're immediately greeted with the warm scent of freshly baked bread, but that's not all they have to offer. As well as countless handcrafted loaves, baguettes, buns, sourdoughs and pastries, they also hand-make chocolate using cocoa beans sourced from family-run farms and cooperatives in Ecuador, Venezuela and Madagascar. We'd certainly recommend you go pick up a bar or two, and while you're there why not have a go at baking yourself? The team now host sourdough-making classes to boot. You'll be taught how to perfect your baking technique, leaving with two loaves: a classic pain rustique and a Vermont sourdough that you can take away to finish at home!
Robert Gooch and Paul Denney set up the Wild Meat Company in 1999 with the aim of making natural, healthy game meat available to everyone. Their position in Woodbridge on the Suffolk coast means that they see great numbers of migratory birds passing through every year, as well as the venison, rabbit and native birds that thrive in the Suffolk Coast & Heaths AONB. All the game is caught on the Wild Meat Company's neighbouring farms and estates, and you can get yours hands on it in several supermarkets, farm shops and markets. 
When Richard Pinney first came to Orford in search of a new life after WWII, locals told him that if he wanted to lose all his money, oysters was a good way to do it. But after finding a derelict cottage, introducing a species of Portuguese oyster and inventing a whole oak log smoking technique still employed on the same original site today, he proved them all deliciously wrong. Almost 70 years later and the Pinney family's restaurant, the Butley Orford Oysterage, is thriving, stocked with oysters from the creek and all manner of fish and seafood. The Pinney's products can also be found in the family shop in Orford village centre.
You'll find regular monthly Farmer's Markets all over the region: Bury, Lavenham, Sudbury, Ipswich and Colchester. However, the main event of the year is the Aldeburgh Food Festival, which runs at the end of September every year for two weeks at Snape Maltings. Here, you'll find over 50 market stalls showcasing the very best of the region's local produce.  The first two days centre on Aldeburgh and feature demos, workshops, tasting sessions and produce that draw big-name chefs and hungry hangers-on from around the world. It then ripples outwards in a series of events across the county, lasting until October and showcasing as much as it possibly can of Suffolk's diverse and delicious output.
Emmett's has been curing their legendary black ham behind their Peasenhall shop since 1820. It's created in a 10-week process of marinating and smoking that gives it a mahogany skin, a tangy flavour and a coarseness that owner Mark Thomas describes as "like Marmite – some love it, others not so much." You'll find everything from black Suffolk bacon cured in spices and molasses to Suffolk ham infused with earl grey tea. Best of all? All the pork Emmett's use comes from Blythburgh Free Range Pork farm, just under 10 miles away.
Suffolk's wild landscape is brimming with natural produce: branches hang low with fruit, hedgerows are studded with  berries, and the seas and rivers teem with fish. Luckily, the region is also known for its excellent foragers, and what better way to get under the skin of the land than with a guided course. Expert forager and chef Carl Shillingford regularly takes first-time foragers on a journey through the ancient woodlands in search of wild food. After a couple of hours seeking out wild mushrooms and more, you'll be taught how to create a delicious feast with the ingredients you find. Carl also has his own restaurant, The Forager's Retreat, where you can taste his own delicacies.
Another local legend is Jon Tyler. He runs Wild for Woods, which encourages people to get immersed in the outdoors whether it's foraging or wild cooking. He leads a range of outdoor courses in Suffolk, such as hedge-craft, mushroom identification and foraging. You'll head through Rendleshem Forest for a mushroom-identifying trip and even have a go at campfire cooking!
It's not often you find handmade raw cheeses being made by third-generation farmers, and Fen Farm Dairy are doing just that. They make cheeses from the fresh milk of a single herd of Montbeliarde cows on a family farm in the beautiful Waveney River Valley. All their cheeses are handmade in small batches with great care, passion and respectful of the delicious, complex milk. They are passionate about farming sustainably, whilst celebrating the special distinction of raw milk farmhouse cheeses. It's not just cheese, either. You can try their raw milk coffee, milk and yoghurt – just keep your eyes peeled in the local farmshops!
These brilliant Suffolk producers have been around since 1981, working from their family farm in Creeting St Mary, and offering the very best in zero-food-miles produce. Strawberries, asparagus, carrots, pumpkins, rare-breed beef and lamb and free-range eggs are just some of the many things grown and reared on the farm by the Hardingham family. Now, you can find all of their lovely produce in their Farmshop and Courtyard Café in Needham Market – there's also a garden centre and craft store on site too!
More inspiration…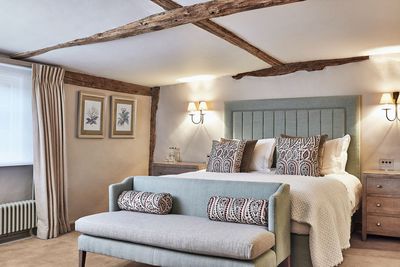 Places to stay in Suffolk
Discover our collection of special places to stay in Suffolk: from stylish cottages to grand country houses.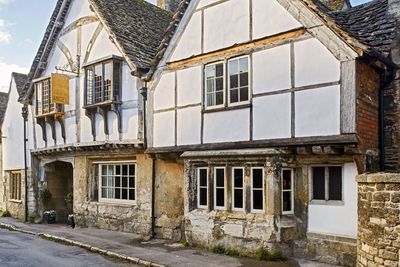 Best food pubs
Good food, lovely surroundings – and even a room for the night. Take a look at our favourite pubs for a long lazy weekend feast.
Five UK foodie experiences for autumn
From cheesemaking to seaside foraging, we've rounded up five food and drink experiences to combine with a lovely autumn staycation.