A local's guide to the autumn harvest in Europe
Autumn's arrival brings an abundance of two of life's biggest joys: food and drink. All over Europe, farmers are busy at work harvesting fields, trees and crops whilst foragers take to the woods to find hidden delights. We spoke to our in-country experts from France and Italy to find out a little more about the autumn harvest and what wonderful experiences you can uncover on an off-season trip.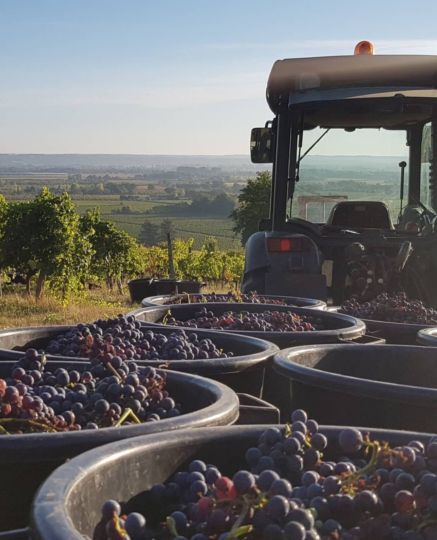 France
Our Loire-based expert, Nicky, has ties with some of the country's best foragers, chefs and wine connoisseurs. She shares with us her wealth of knowledge on the autumn harvest in France and what experiences you can enjoy right now.
Wine
The French wine harvest generally spans the months of September and October, depending on the vintages, regions and varieties. This year, the wine harvest or 'Les Vendanges' as known in French is already over and the winemakers are busy in their cellars or 'chai' dealing with the wine as it ferments. At the weekend, Nicky tasted 'Pétillant Naturel', a sparkling wine of an organic wine maker in the Loire's region of Saumur. "The sparking wine was bubbling away in huge vats, fermenting and releasing an intoxicatingly strong smell of ripe grapes and alcohol. The grape juice was bubbling up into test tubes on top of fermenting barrels – it had the feel of a science lab."
Whilst it may be too late to help with picking and grape treading, visiting over the autumn or winter months does mean you can start to taste some of this year's wine as it gets freshly bottled. Head to The Wine Lodge at Château Feely to taste organic and biodynamic wine from the estate and learn more about the production process from the super passionate Caro and Seán. They have written three books on their experiences and lead wonderful food and wine pairings with Michelin-starred chefs.
'The grape juice was bubbling up into test tubes on top of fermenting barrels – it had the feel of a science lab.'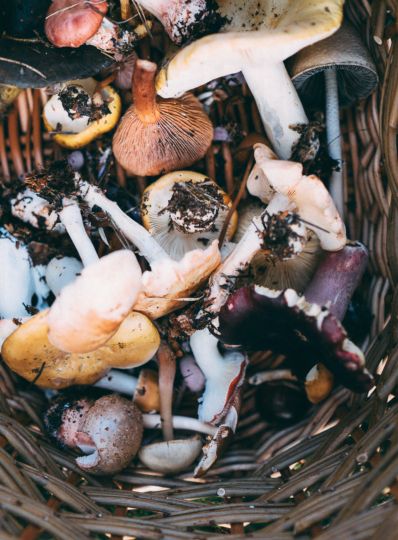 Truffles
A local truffle farmer tipped us off about the start of season for the common black truffle of Perigord. It starts on November 15 and goes until late Feburary, although in the lead up to this the growers are busy harvesting acorns, which they will then use to grow new trees. They're also getting the dogs ready for the season as most join the farmers on their voyage sniffing out truffles in the woodland and mountains. There are three varieties of truffle in France, but two in autumn specifically. The Alba from Burgundy and Loire and the Black winter, which is grown in many parts of the country but particularly Perigord and Loire.
To experience truffle hunting in France, stay at Le Mas where Rupert takes his guests on voyages through Dordogne or with Françoise at La Moutière Gîtes.
Mushrooms
After rummaging through her book of contacts, Nicky reached out to a local chef come forager extraordinaire to get his take on autumn mushrooms across France. He sets off into the forest three times a week, and although eager to not reveal too many of his secrets, told us that "the wetter the weather the better chance of finding mushrooms there is." Right now, it is the season for Ceps (porchini) and Chanterelles mushrooms as well as lesser-known but equally wonderful fungi such as "Trompettes de la Mort" and "Pieds de Mouton". We were told, "any respectable restaurant will be offering wild mushrooms on their menu at the moment"- so visiting between now and December is a must if you're craving a gourmet holiday in France.
View our places to stay in France >
'The wetter the weather the better chance of finding mushrooms there is.'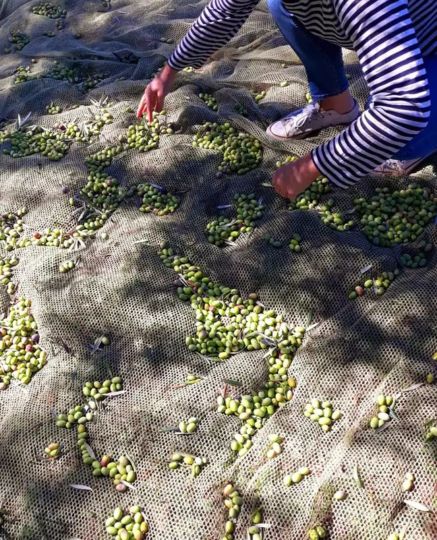 Italy and Spain
All eyes are on olives in Italy and Spain right now, and our Rome-based expert Nicole shares her knowledge on how to make the most of the season's bountiful harvest. The grapes have already been converted to wine and are waiting to be bottled, the olive picking process has just begun and the annual hunt for winter black or white truffles is soon to commence in November.
Olives
The Italian groves are currently covered in bright green nets circling the twisted trunks as workers and families harvest this year's precious crop. From hand- picking to combing to electric forks shaking the branches, the methods have evolved over time and the production of high quality, flavourful extra virgin olive oil depends on many factors besides climatic conditions, and optimal timing (early harvest means better quality, less quantity – late harvest more oil, more acidity). Knowledge of the terrain, the different varieties of olive trees and the practices involved in pruning and caring for the trees throughout the year are crucial for excellent results.
Olive trees are present in virtually all of Italy except the northern mountainous regions, and are most commonly found in the southern regions of Puglia, Calabria, Sicily and Campania. Over the years, oil-tasting events have become almost as popular as wine ones, as foodies have developed a wider interest in the various types of liquid gold. Incorporated in culinary lessons or on their own, you'll learn not only the process behind the production, but also the vocabulary to describe the oil from different parts of the country whether it be more of a citrus, fruity blend from the south or the grassy, peppery ("pizzica"), floral varieties of central Italy.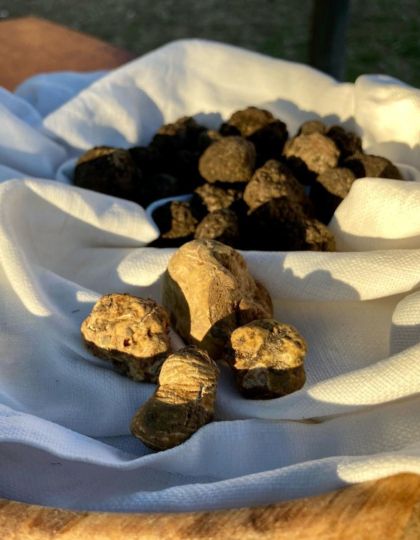 To experience an olive farm as authentic as they come, head to Casa Migliaca on the Northern coast of Sicily. You are welcome to take an active part in the harvest, adopting one or more trees and taking home olive oil from what you have collected. In Umbria, learn the process of using a century-old olive press with your host Salvatore from La Cuccagna. In Florence, Franco and Alessandra from La Canigiana Agriturismo, produce their own organic olive oil and teach guests how to taste the different varieties just off the press. Whilst over in Spain, you can join in with the harvest at Finca Buenvino and take-part in seasonal cookery classes using local Andalucian produce.
View our places to stay in Italy and Spain >
Truffles
Italy is one of the world's main truffle producers and every autumn hunters take to the woodlands and hills to dig out the very best there is. November is the season of the stronger smelling and more elusive white truffle (Tuber Magnatum Pico). Whilst the finest white truffles are said to come from Alba in Piedmont, different varieties can be found across the northern and central regions of Italy where the microclimates and soil composition provide the best conditions for them to grow. Marche, Tuscany and Umbria are also popular truffle regions and host a number of food festivals celebrating the season's bounty. You can certainly expect to find delicious white truffles on the menus of local restaurants throughout winter.
Paolo Ciccioli, professional truffle hunter and owner of Agriturismo Ramuse in Marche, tells us that "the day in the life of a truffle hunter begins with checking the weather. It has to be dry so that the dogs can smell the truffles. Next we have to dress in the hunters outfit with our special digging tool and then we are ready to set off". Once you have collected your white truffles, Paolo offers his guests the unique opportunity to learn how to cook with them. You'll collect fresh eggs from the farm's chicken house and make fresh handmade tagliatella. Fatorria Barbialla Nouva also offer guided truffle hunts in Tuscany from October to December.
'The day in the life of a truffle hunter begins with checking the weather. It has to be dry so that the dogs can smell the truffles.'
More inspiration…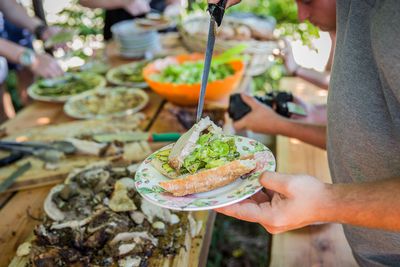 Home grown collection
View our places to stay where you can eat herbs straight from the kitchen garden or look out over the vines that provided the glass of wine in your hand.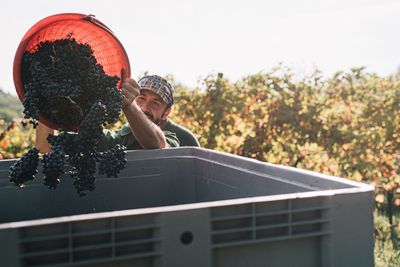 Wine tasting experiences
From fully immersing yourself by staying on a vineyard to simply setting up camp in wine country, these places will make sure your glass is more than half full.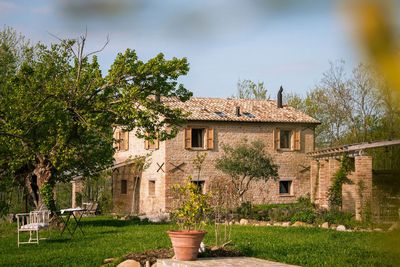 Marche: Walking Italy's less-travelled paths
Follow Nell and Luke as they set off on a hiking tour of the lesser-known Marche region of Italy and discover medieval villages and taste local delacies.