We knew that local materials and craftmanship had been at the heart of the restoration of this nineteenth-century farm, the light and airy design nodded to the Nordics, and the secluded location sounded idyllic. We wanted an inspector to get to know what the soul of this beautiful place felt like and whether guests could experience something truly special here. Read on for Becca's inspection report.
What were your first impressions of Sheepwell?
You arrive at the property down a long country track, getting progressively deeper into rural tranquillity as you go, until you pull up at Sheepwell. The converted barn has instant wow factor as soon as you open the door and walk into the stunning double height open kitchen/ living space with original beams. You will be instantly impressed by the soaring proportions of the space and the mix of contemporary interiors in a traditional building.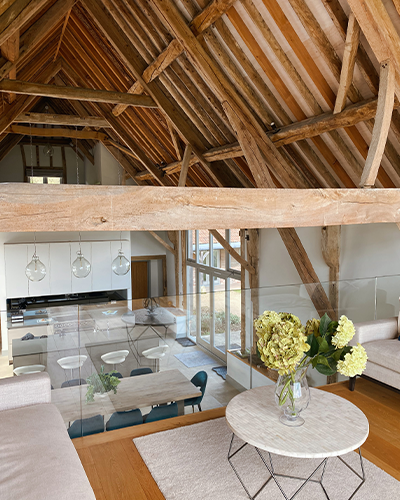 We were given a warm welcome on arrival by Gilly but the beauty of the house is that it is set in its own secluded location, offering you complete privacy. After checking we had everything we needed and providing some great recommendations about the local area, Gilly left us to it. 
The best surprise is the upstairs balcony which leads off the mezzanine living space – we weren't expecting this and it is such a sun trap, with amazing views. The perfect place for morning coffee or a sundowner! 
Did you explore the local area?
The property is surrounded by open countryside, so plenty to explore metres from the front door andbut it also has its own really large completely enclosed garden. If you have kids with you this is a huge bonus and it has plenty of games provided such as swing ball and, badminton to entertain them outdoors. 
Within 30 mins is Shaftesbury – a bustling, vibrant town with lots of great independent shops (including my favourite the Botanical Candle Company). It is also home to Gold Hill which features in the famous Hovis add. Grab lunch from the local bakery and go and eat it on one of the benches lining the hill. We also enjoyed a visit to the Castle which features as Lockesley Castle in Robin Hood Prince of Thieves and if time had allowed would have loved to go to Pytt House Gardens. 
Did you find any local places to eat? 
Tisbury is another sweet village in easy reach with a great pub in the Beckford Arms and if you venture 45 minutes away you have Bruton and all of its foodie delights, including At the Chapel, Oisip, Hauser and Wirth and more. 
What were your three favourite things about staying here?
The seclusion and outdoor space, the double height open plan layout, the huge kitchen/dining table and the balcony.  This place would be perfect for a big family get together – in fact we are already thinking of booking it for just that! 
What three things might not suit everybody?
If you have mobility issues the stairs up to the mezzanine levels might be an issue, there is only one living room open plan to the kitchen if you prefer to have more secluded spaces, I can't think of any more!
– Becca, Guest Sawday's Inspector
We inspect every single Sawday's stay to ensure it delivers a truly special and soulful experience to guests.
Find out more about inspecting here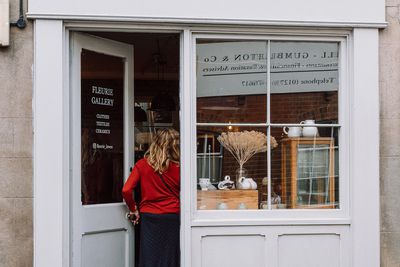 Some of our favourite inspection experiences
Inspection trips throw all sorts of things at us, from nine-point turns in muddy lanes to extremely friendly dogs and severe tests of our lemon drizzle cake capacity.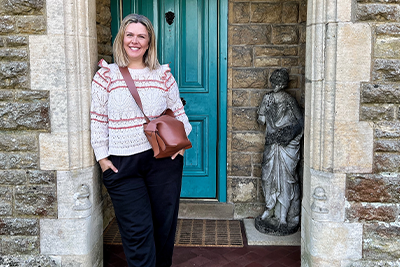 Grazing and lazing in Cambridgeshire
We sent Erica Davies to the Rothschild Estate to explore the grounds and seek out the local markets and pubs.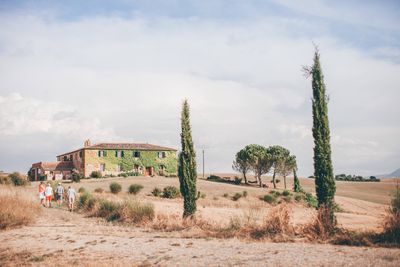 Beyond handpicked – how and why we inspect
What we look for, why we do it and how we're not sure whether or not inspection is even the right word!