It's 10am at Praia de Odeceixe and beside me an elderly Portuguese couple are prepping their breakfast. Beneath blazing sunshine, with turquoise waves in the distance, they spread a picnic rug on the golden sand, scattering it with plump custard doughnuts, big chunks of local cheese and – unashamedly – a bottle of red wine.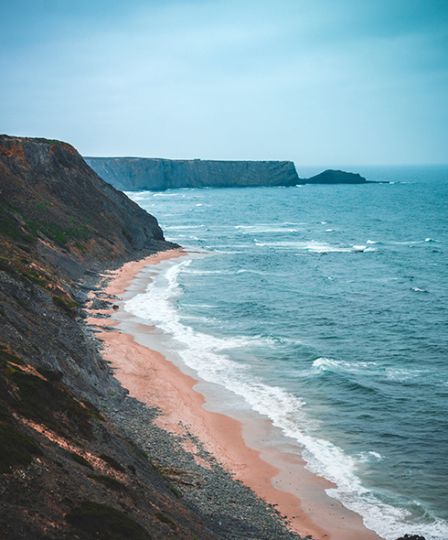 Nowhere in Portugal serves up such a delicious holiday combination as the Alentejo. Located just north of the Algarve, and south of the Tagus river which glides through the country from Spain to Lisbon, it's a region that occupies a third of the country's landmass, yet only 6% of its population. The result? Miles of tranquil countryside, pretty, car-free roads and a pace of life that forces you to slow down, and switch off.
I've been lured here not just by the empty beaches, medieval villages and delicious food – this is the breadbasket of the country after all – but by its price point. In comparison to the ritzy resorts of the Algarve in the south, and the snazzy hotels in the capital, here in the Alentejo things are refreshingly inexpensive – from the €1 a pop bolas de berlim doughnuts on the beach, to the €5 bottles of wine, via the 60 cent espressos.
Then, of course, there are the guesthouses. A short drive from the golden sands of Praia de Odeceixe along the Vincentine Coast Natural Park is Paraiso Escondido, the most serene and welcoming B&B run by Berny and her husband, Glenn. Here, surrounded by spindly, swaying eucalyptus trees, they've created a calm sanctuary, complete with a light-filled yoga studio, quiet pool-with-a-view and a choice of airy guestrooms. Mine's one of two stilted tree houses, with huge, whitewashed four poster beds and breezy terraces that gaze out over the surrounding countryside.
I could easily spend my entire trip here, reading books, sipping Berny's herbal teas and daytripping to the nearby stretches of sand. I venture out to swim at Praia do Malhao and Praia do Almograve – two dramatic sweeps of beach dotted with snoozing sunbathers and bronzed surfers, before a seafood feast at Tasca do Celso, where clam rice and half a bottle of local wine comes in at just €15.
"Nowhere in Portugal serves up such a delicious holiday combination as the Alentejo"
But you don't just visit the Alentejo for its beaches. After several days of R&R I hop in the hire car to explore inland, skirting alongside vineyards, cork tree forests and menhirs – stone relics that dot the countryside in their hundreds – and soon arriving in Evora, the region's capital.
While accommodation and restaurant prices here are slightly more expensive, it still represents excellent value. At Botequim da Mouraria, a nine-person, counter-seat-only restaurant run by Mr and Mrs Domingos, I feast on gooey oven-baked cheese served with a dollop of homemade pumpkin jam, followed by veal steak and a green salad. It's one of the best meals I've had in months, and just €20 a head with wine.
The sights here, too, are remarkably cheap. Se de Evora (entry €3) is the biggest medieval cathedral in Portugal, and home to a statue of a pregnant Virgin Mary (in fact its church bells used to ring out each time a mother went into labour). Nearby, the Chapel of Bones is crammed with carefully placed femurs and skulls placed here by Franciscan monks in the 16th century. Meanwhile the Temple of Diana, the city's most famous monument made up of towering Corinthian columns, is free to visit.
Beyond this relatively big city, the Alentejo is dotted with pretty hillside villages and sleepy hamlets. I head two hours north-east, and take on a steep, switch back road which winds its way up to Marvão. Here, narrow cobbled streets scented with just-out-the-oven cinnamon-dusted custard tarts lead the way to the castle, which perches high on a granite escarpment. It's €1 to enter – a steal for a wander around its 13th-century walls and cannons, and most of all for that view over the sun-baked plains, right the way to Spain.
"Beyond this relatively big city, the Alentejo is dotted with pretty hillside villages and sleepy hamlets"
On another day I head to Castelo de Vide, a church-filled Roman town where tables and chairs fill the pavements outside little bars and cafes. I settle in next to a table of young hippie girls drinking €1 Super Bock beers and an elderly moustached gentleman guzzling port, before they send me on my way to their favourite restaurant, Churrasqueira Sever. It's a rustic, family fun joint with paper tablecloths and outdoor patio tables with views up to the floodlight-lit town walls. I opt for a range of local delicacies: black pork, a mound of Nisa cheese and slightly spicy barbecued chicken, with salad, a huge feast that comes in at less than €10.
At that point a modest bill comes as no surprise. By the end of my week-long road trip through the Alentejo region I've discovered some of the best beaches, guesthouses and restaurants in Europe, all on a purse-friendly budget. Even better – I leave restored and rebalanced, charmed and inspired by the chilled-out Alentejo way of life.
SEE ALL OUR SPACES IN ALENTEJO
Where to stay
Muxima
A family-friendly eco paradise close to the Costa Vincentina, with a pool surrounded by cork trees, eucalyptus and pines.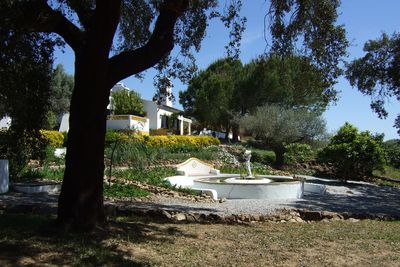 Quinta do Cano
A lovely B&B close to the walled city of Evora. Have dinner with the friendliest hosts, pet the dogs & donkeys. Head out for culture, vineyards and menhirs.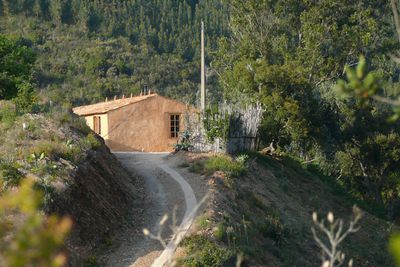 Quinta Tranquila
A rejuvenating place close to Odeceixe and in two hectares of lush, off-grid land. Disconnect from everyday life, swim in the river, gaze at the stars.