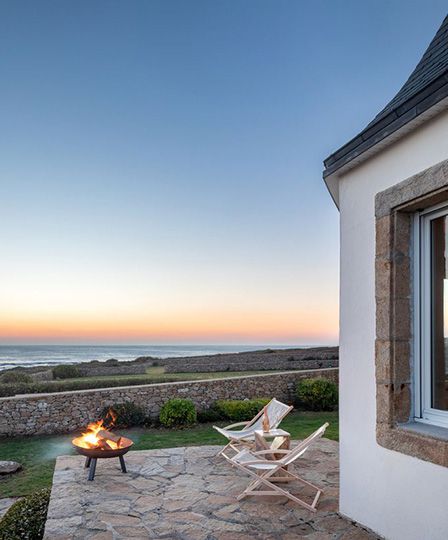 Loll on velvet sofas or wrap up warm on the patio; the ocean views surprise and delight you as you open the door. This former light-keeper's cottage is a lovely retreat, with a kitchen fit for chefs and a panorama from every window. This popular seaside port has a sailing school in summer and a market on Saturdays and Wednesdays. As for beaches, the Plage de Trescadec, safe for families, is five minutes down the coastal path, with sands, swims, and lifeguards in summer. St Tugen beach, set among wild protected sand dunes, is an hour's walk but worth every step. In the evenings, light the fire pit outside or snuggle up on a sofa beneath the great glass roof – as beach villas in France go, you can't get much better than this.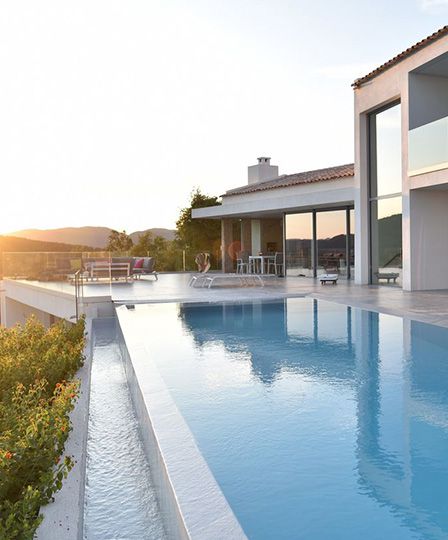 This Côte d'Azur property lives up to its name and the views are enough to make this one of the best beach villas in France. Gaze out to views of the Gulf of St Tropez, with the limitless sky and the contours of the Maures mountains in the distance. Floor to ceiling windows open to a terrace on each level, and the master bedroom awaits at the top with a dreamy free-standing bath for the best soak of your life. The south-facing garden boasts an incredible infinity pool, where you can watch sunsets with a glass of wine in hand. It's a ten-minute drive down to coves and beaches, food and brocante markets. In summer, be at St Tropez's quay in just 25-minutes or the understated St Maxime with its brilliant seafood restaurants.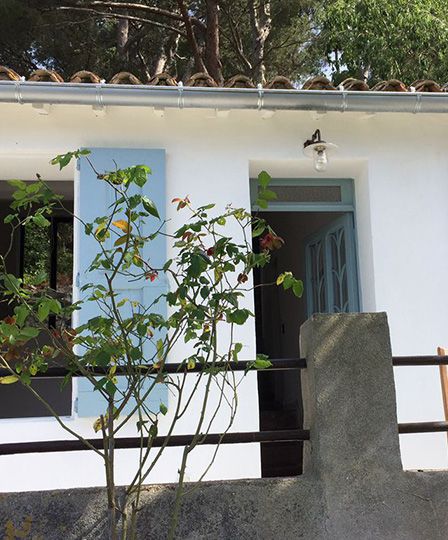 Whilst some might opt for large and luxurious, this charming cottage is all you need to experience one of the best beach holidays in France. It's a long way up Sète's emblematic Mont St Clair but the car will climb for you and the rewards are huge. Enjoy long views over the boats and oyster beds and, with the pines at your back, the ever-refreshing sea breeze. In the terraced garden, choose between a book in the pine-shaded hammock, a card game on the back terrace or dinner for all at the front. Sète is a short drive away and a real treasure-trove: discover the pretty harbour and great fish market, a fine museum, excellent theatre and boats for hire.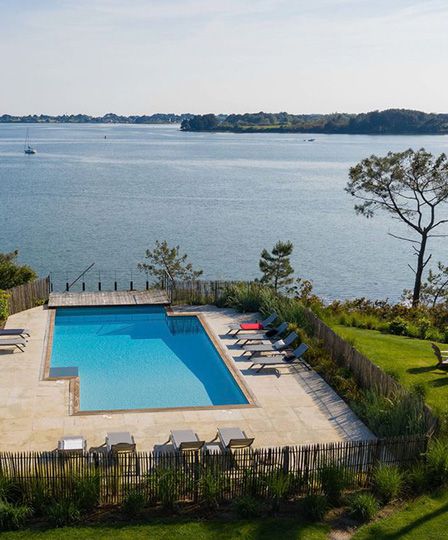 Sweeping views, a water-side pool and beautiful interiors make this one of the best beach villas in France. The sea glitters all around and the only sounds you'll hear are the birds and the gentle whisper of boats bobbing past. The house is run as a bed and breakfast, but there's enough space for everyone so expect lots of privacy. Rooms have sea views, an exclusive terrace and big sliding doors to let the light flood in. Bikes are yours to borrow, as are kayaks – just ask for a picnic and head off on an island adventure. The Gulf of Morbihan's pure waters gleam and the villa is set at the end of the Pointe du Guern, in a 7000 square-metre park overlooking the bay with direct access to the beach and coastal trail below. It's pure bliss.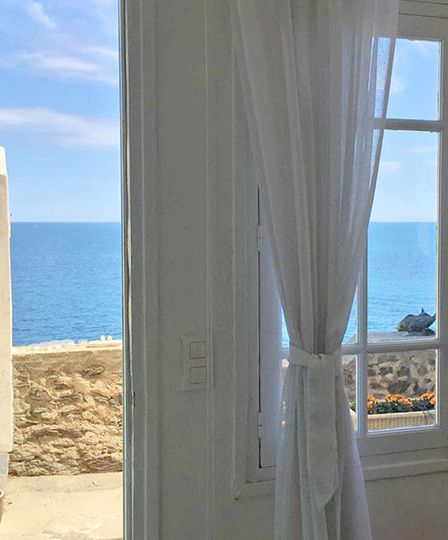 This pretty little bolthole welcomes you to be a part of magical Collioure and not just as a passing tourist. The apartment is in the village's picture-perfect pedestrian street with a festival of bougainvillea and geraniums. Once home to a legendary colony of artists, Collioure lies on the south-coast of France boasting beautiful Mediterranean vibes. Your pot-planted terrace will set you up for one of the most relaxing beach holidays in France, with glorious views of the bay and a courtyard for alfresco suppers. It's a stones throw to the water's edge and a walk to the local beaches, so try your hand at water sports or just sit back with a book. There are a myriad of medieval sites nearby, as well as bikes to hire and vineyards to tour so you'll never get bored.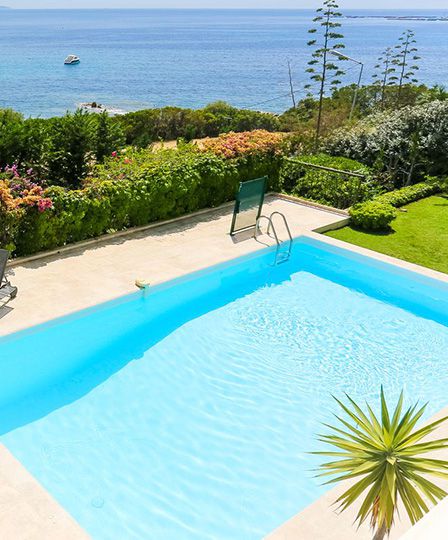 Corsica is, without a doubt, home to some of the best beach villas in France. At Alba Marina, the hillside setting cannot be bettered and you can look out to the sparkling ocean as you unwind by the pool. It's informal and fun, a place for family and friend's to gather and socialise. Inside, vast windows let the sunshine pour in, whilst roomy bedrooms are dotted around with their own terraces. Outside, there's ample space to dine and entertain among palms and olive trees – you really can't rival the views here. You can expect sunshine on most days here, so nip down to the beach for a morning swim, go kayaking around the coves or try paddle boarding at sunset. 
This article was written as part of our Re-bonjour campaign. See more here.
More inspiration…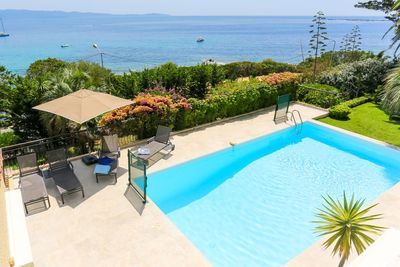 Beach houses in France
Stroll out into the sea breeze or curl up on the sofa and watch the waves from our collection of beautiful beach houses in France.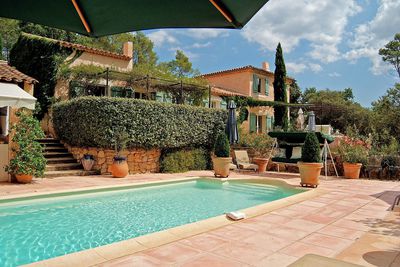 Villas in South of France
Coastal villas where you can find your own place in the sun, some with pools for cooling off or olive groves for afternoon naps in the shade.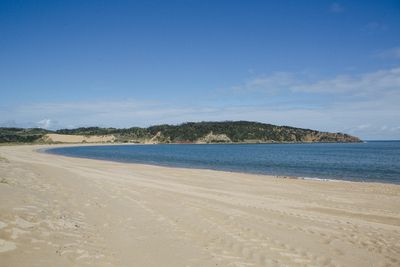 Europe's best secret beaches
In search of places to swap swimming pool cacophony for whispering surf, we asked our owners and the team here at Sawday's for their secret beach recommendations.