Slow, natural Italy – cycling and hiking in the tranquil countryside
After everything that's happened in the past couple of years, Italy feels like a place rediscovering itself and rethinking its approach to many things, travel included. Partially due to a government credit scheme encouraging bicycle ownership, there's been a huge boom in sustainable transport. 
City bike rentals and dedicated cycle lanes have become common throughout the country but, more excitingly, trails through some of Italy's incredible landscapes have flourished. Here, our Rome-based expert Nicole picks just four of the many places to join the Italians as they explore often-overlooked national parks, ramble through wine country and take a slower route to some old favourites.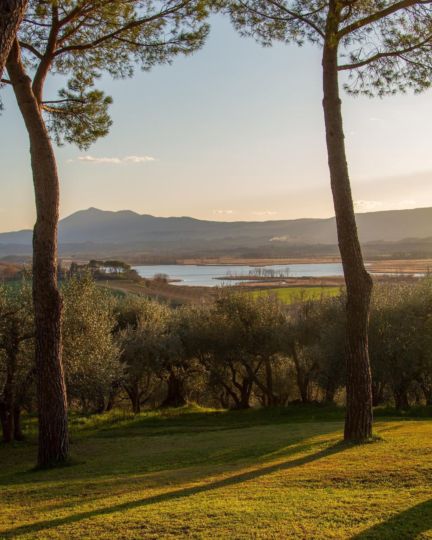 Sentiero del Vino Nobile, Tuscany
This 18km cycle route through the legendary Montepulciano wine region is mainly downhill, making it a blissful trundle if you're going point-to-point and a little daunting after lunch if you're riding out and back. Nicole had the joy of cycling the route a few years ago and told us, "what strikes me most when walking or cycling on this quintessential Tuscan path is how one's senses are enhanced with the variety of visuals, sounds and perfumes which alter according to the season. During the wine harvest, you can feel inebriated just breathing in the air as the local cellars produce some of the most prized red wines in the country."
The route runs from the Piazza Sant'Agnese in the historic centre to Lake Montepulciano, flowing past neat rows of vineyards, olive groves and sunflower fields. Put in a first stop at San Biagio to admire the Renaissance temple and maybe a second at the 17th-century church Madonna della Querce, where several miracles are said to have taken place. From there you wind past the Madonna del Cerro woods, with panoramic views of Montepulciano at many points along the way, before arriving at Argiano, one of the oldest wine cellars in existence. Pick up some local pecorino di Pienza, a slow food certified seasoned sheep cheese, and of course a bottle of vino Nobile, then push on to the Lake Montepulciano Nature Reserve, where you can picnic on the shore before rolling on. 
View places to stay in the region >
"During the wine harvest, you can feel inebriated just breathing in the air as the local cellars produce some of the most prized red wines in the country" – Nicole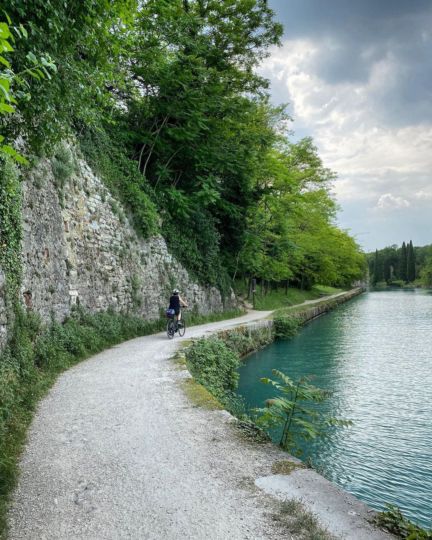 Ciclovia Mantova-Peschiera, Veneto
Lake Garda's mild climate makes it an incredibly popular cycling destination at any time of year, and an abundance of routes and trails give you options to escape the crowds on the recently constructed boardwalk around the lake shore. The Mincio cycle path is around 45km and goes from Peschiera del Garda to Mantua and makes a scenic alternative, or even addition to, the Destra del Po trail. It weaves along the tree and bamboo banks of the Mincio and then off through hills dotted with medieval villages like the fairytale Borghetto hamlet that seem to cling to the gentle slopes above you. 
Mantua, a UNESCO heritage site, is one of the lesser-known highlights of the star-studded region of Lombardy and well worth a visit for the grandeur of the massive Palazzo Ducale. The trail is also host to a large number of species of birds, including storks, herons, marsh hawks, pilgrims and brown kites. For another great route out of Peschiera del Garda, head east to storied Verona through wine country.
View places to stay in Veneto and Lombardy >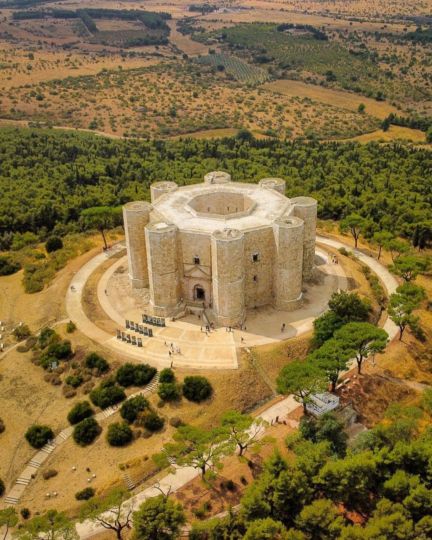 Parco Nazionale dell'Alta Murgia, Puglia
The sense of a country rediscovering itself is nowhere more evident than in Italy's national parks, and Alta Murgia National Park is beginning to challenge Puglia's i-conical white trulli as one of the main reasons to visit the area. 
Alta Murgia, located between Bari, Altamura and Andria, is about a third the size of the Lake District but contains a staggering amount of biodiversity. There are around 75 bird species and 1500 species of vegetation, which is still only a fraction of Italy's natural riches. The Puglian people are very traditional, especially about their local food, and take pride in harvesting from their land. All throughout the National Park's villages and towns, you will discover family-run bakeries and farms where you can buy and sample locally produced goods. Cheese is, of course, one of the typical products of the region and the Pallone di Gravina stands out in particular. The century-old bread made in Altamura is also of such an incredible quality that it was the first to obtain PDO status (products with protected designation of origin) in 2013. Every morning, 600 quintals of this bread are produced and its scent wafts deliciously through the town. The best way to get under the skin of the National Park is by exploring its numerous walking and cycling routes. Nicole particularly recommends the ancient village of Minervino Murge, archaeological site at Gravina and the city of Ruvo di Puglia – which is known for being the centre of wine and olive oil production in the region. The 13-century perfectly symmetrical Castel del Monte UNESCO site fortress is also unmissable as well as the Cave di Bauxite, an extinct quarry of extraordinary natural beauty forming craters of deep red earth and referred to as the Grand Canyon of Puglia.
View our places to stay in the region >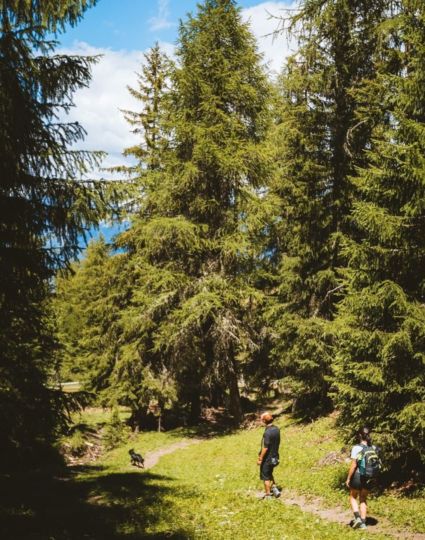 Aosta Valley, Gran Paradiso Park, Piedmont
If you've not already experienced the exhilarating  joy of nature hikes in the Alps in spring and summer, this is a great place to start. As the snow melts away from the famous slopes of Cormayeur, Cervinia and Pila, Gran Paradiso National Park bursts into life. The park was established in 1922 to protect flora and fauna that were under threat of extinction and,  if you're lucky, you'll spot the sweeping horns of an ibex, one of many conservation success stories and now the emblem of the park among a myriad of other wildlife species. Laura Roullet, owner of the Bellevue Hotel & Spa, shares her local tip: "head straight to the Giardino Alpino Paradisia botanical gardens, where there are 1500 varieties of native mountain wild flowers in a spectacular setting at 1770 meters with alpine glacier views."
Although the park is sparsely populated now, the area was extensively settled by the Romans for, among other things, its thermal springs. The springs, as well as many well-preserved Roman ruins, can still be enjoyed today. The region's more recent history is alive and well in the village of Cogne, which boasts a Maîtrise choir and hosts many lively festive events throughout the year. 
View our places to stay in Aosta and Piedmont >
"Head straight to the Giardino Alpino Paradisia botanical gardens, where there are 1500 varieties of native mountain wild flowers in a spectacular setting at 1770 meters with alpine glacier views." – Laura
More inspiration…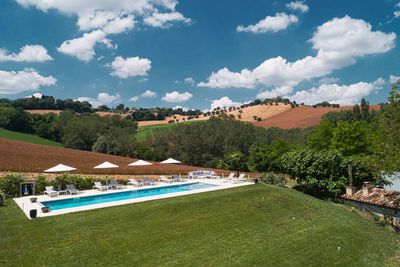 Places to stay in Italy
View our collection of places to stay in Italy: from rural farms, to iconic trulli and city apartments.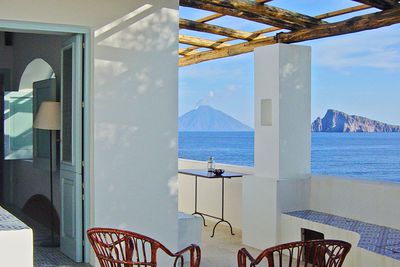 Best places to stay in Italy with views
We choose six of the best places to stay in our Italian collection with views so mesmerising you'll never want to leave.
Marche: walking Italy's less-travelled paths
We sent Nell and Luke, of unique slow travel blog What if We Walked, on a hiking tour of the little-known Marche region of Italy.