A foodie's guide to Sicily
Sicily is wilder, hotter and headier than mainland Italy, with its own very specific quirks and customs and close proximity to north Africa all giving it an exuberant sense of identity. We sent food writer Rosie Birkett, a seasoned visitor of this Italian region, to explore the island's foodie offerings.
My experience on the ground has so far only been along the south east coast from Syracuse as far as Donnalucata, but even this relatively small region has huge amounts to offer. This stretch of coast promises sandy beaches with crystal waters, agriturismos with owners that yearn for you to visit and sample their olive oils and homemade products, and further inland, a clutch of beautiful baroque hill towns. There is nature, culture and cuisine in spades.
Rosie and her partner stayed at the beautiful Kinanto Bioresort.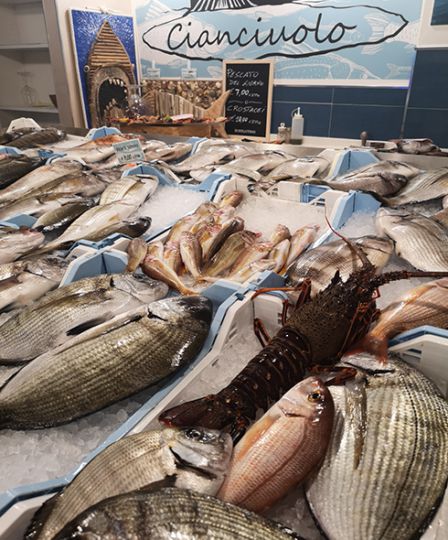 Restaurants
Cianciuolo, Pozzallo – Cianciulo was our favourite and we went twice during our short visit to the area, so blown away were we by the fish and seafood on offer. The restaurant has its own fishing boat and lands the fish fresh every day, laying it out in all its shimmering, clear-gilled glory on an iced fishmonger's counter inside the restaurant for you to choose from: whether squirting vongole, small, glittering red mullet or stately, pearlescent John Dory. It's then cooked according to how the chef thinks it will work best and served to you at your table.
Ristorante A Lampara, Pozzallo – About a minute down the road is A Lampara, which shares a similar set-up to Cianciuolo in terms of the fishmonger's counter, wood oven and excellent freshly-made pizza. Our favourite thing here though was the chef's tasting menu-style starter. A course that served two people happily, consisting of several inventive and utterly delicious different preparations of the local fish, from swordfish parmigiano, to John Dory crusted with pistachio and salmon arancini. We shared one of these and plates of pasta with the local bottarga, made with tuna rather than the usual mullet roe.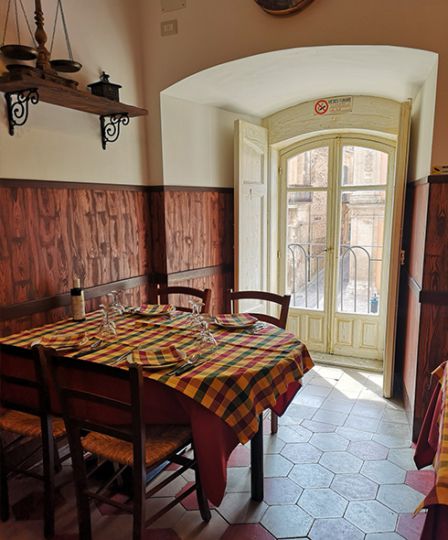 Il Consiglio Di Sicilia, Donnalucata – This charming little restaurant in the small fishing village of Donnalucata was one of the highlights of our trip. It's owned by Italian food writer Roberta Corradin and her husband the chef Antonio Cicero, who converted his grandma's house into a restaurant in 2008. The menu showcases the exceptional local seafood which is treated with respect and often very lightly by Antonio, who is thankfully not interested in bells and whistles, but rather in letting the ingredients shine. We particularly loved the duo of raw shellfish which included the lauded local Mazara red prawns, almost totally unadorned but for some sea salt and olive oil, and a pasta dish of red prawns and a 'sea butter' made from a concentrated emulsion of their flavourful shells.
Osteria Dei Sapori Perduti, Modica – 'The restaurant of forgotten flavours' is an old school osteria that bears witness to the uber-regionality of food in Sicily. Though just a few kilometres from the coast, in the beautiful baroque town of Modica, you won't find any seafood on the menu here, but instead rustic agricultural dishes that speak proudly of the land. Go hungry, the portions are huge, and don't miss the sharing plate of antipasti – the caponata and laminated stuffed pepper and tomato flatbreads were standouts, along with a dish of olive oil and mint-braised carrots. We also liked the broccoli, sausage and ricotta cavatelli but it's certainly enough for two.
See our places to stay near Pozzallo and Modica >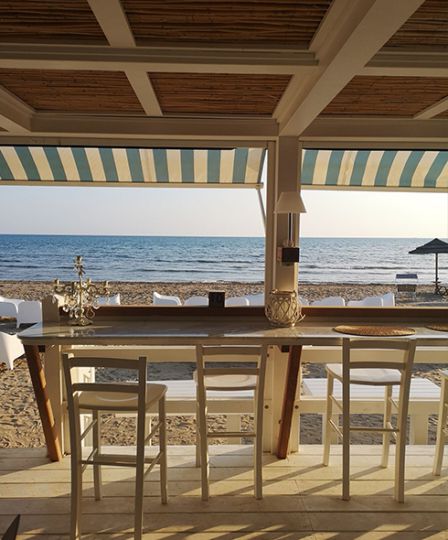 Beach Clubs
There are gorgeous, rugged beaches all the way along this stretch of coast, you just have to go exploring, but if you're looking for somewhere to lounge in style and eat a very good lunch then Porto Ulisse Beach Club is just the ticket. Set on one of south east Sicily's most beautiful settings, it's the perfect place to while away a day, and the chef has a Michelin background from one of the two Michelin starred restaurants in nearby Ragusa. But while his background is in fine dining, this is refined but simple.
We loved the crunchy fritto misto and the sea urchin linguine was divine – the al dente strands coated in the sweet/savoury sea custard. You can visit the restaurant or use the sun loungers for a small fee, though few beaches in Sicily are private so you could also lay on the beach and just go for a drink and snack at the club.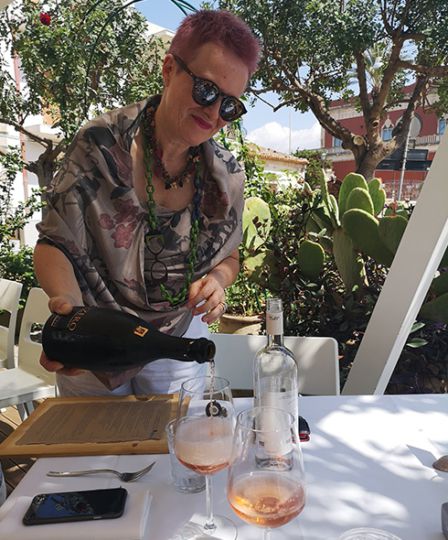 Wine
It's an exciting time for Sicilian wine. Quality winemaking on the island is thriving, and some great wines are produced from the heady combination of the varied terroir, arid climate, penchant for small yield organic, biodynamic and pre-industrial winemaking traditions and delicious, fruit-forward indigenous grapes.
Enoteca Solaria, Ortigia, Syracuse – This is a wine bar and wine shop where you can sit and sample the many indigenous wines by the glass or bottle and enjoy simple board food: think local charcuterie and cheese with truffle honey. If you enjoy more unusual natural wines then this is the place for you – as well as more conventional local wines they stock a wealth of interesting emerging growers. We particularly loved the orange, skin-contact wine 'Angelica: anime vulcanica' a wonderful wine made in amphora (traditional clay pots) by Bagol'Area winemakers in Catania which tasted of ripe peach and honeysuckle.
Evoe wine shop, Ortigia – We stumbled upon this place and its cavernous collection of wines and ended up loading up on some really great local bottles. They have wines by Cos – one of the most respected Sicilian winemakers, who make their wines in amphora clay pots. We first tasted this wine at Wild Air in New York and were thrilled to be able to buy bottles of it very reasonably here – try their skin-contact whites and fruity reds like Nero d'Avola and Frappato. This place also doubles up as a snack bar where you can sit and enjoy freshly made focaccia, olives and local meats.
Vino e Dintorni – This little shop in Scicli is a great place to stop and sample local amaro (a bitter, herbal liqueur), olive oils and wines. We picked up some really interesting local fizzy red and some skin-contact whites. It also sells locally-made jams, honey and handy crafts – the perfect spot to stock up on local delicacies and gifts.
Hungry yet? See all our places in Sicily >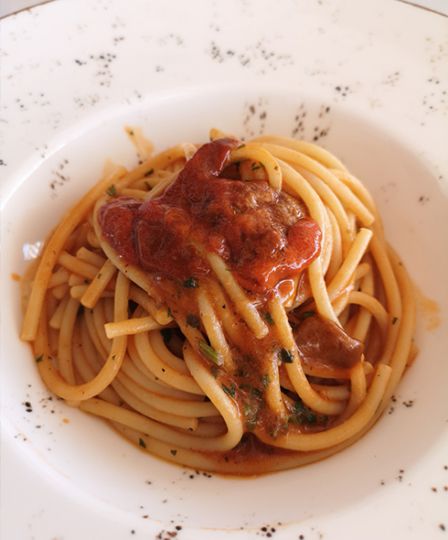 Must try dishes
Sausage and wild fennel pasta: you'll find this on the menu across the south east.
Pistachio pesto: you can't come to Sicily and not try this rich, green pesto made with the island's most famous product. Many restaurants put a hint of mint in which is revelatory.
Mazara Red Prawns: these beautiful sweet red prawns have become all the rage at London's trendiest restaurants of late, but here you can eat them for a fraction of the price, try them raw, they are incredibly sweet and creamy.
Tuna (grilled or raw): while many of Sicily's Tonnare (tuna factories) are now abandoned or have been converted into hotels and venues, tuna is still a local favourite and is often served grilled or raw in tartar.
Caponata: this slow cooked dish of stewed vegetables showcases the delicious carrots of the region and sometimes includes the delicious local sesame seeds from Ispica which are a deep amber colour. Every family has a different recipe and they vary in terms of sweetness and sourness.
Pistachio gelato: avoid the bright green versions, as tempting as they might seem – the true natural versions are less  vibrant in colour but express the pure flavour of the local pistachios.
Brioche and granita: a must-try local breakfast delicacy ; warm, fluffy, buttery brioche is dipped into sweet almond ice. You'll find varying quality versions of this all over the place but the most revered place to try it is at Cafe Sicilia in Noto, a beautiful baroque town that's well worth a day trip.
Ricotta: I've never tasted ricotta like we had in Sicily. Order it wherever you go and spread it on bread or eat with local meats and olives.
More inspiration…
Places to stay in Italy
Browse our collection of self-catering places, hotels and B&Bs in Italy, a country famous for the ancient capital, delicious cuisine, stunning architecture and literature.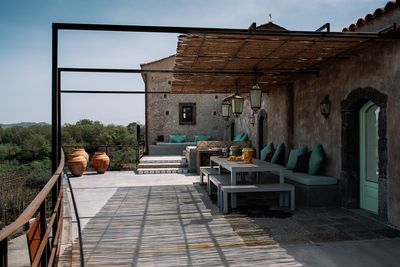 Places to stay in Sicily
From high on the slopes of smoking Etna you can see snow under your feet, green meadows and sparkling blue water, all in one view.
Coastal Cottages
A cottage by the sea conjures up a beautiful image of driftwood charm and the casual comfort of living in your beach clothes.