Five UK foodie experiences for autumn
Autumn has always been our favourite season for all things edible. This time of year sees UK produce come into its own, with truffle season underway and root vegetables sprouting up to flavour hearty transitional dishes. It's also the ideal time to explore a new town or city, with fewer crowds than summer and a more relaxed pace. From cheesemaking to seaside foraging, we've rounded up five food and drink experiences to combine with a lovely autumn staycation.
Truffle hunting in Dorset, Wiltshire and Hampshire
When you think of truffle hunting, it's easy to think of the sun-baked landscapes and food-loving cultures of Italy or France. However, many interesting and delicious varieties can be found right here in the UK, and there are plenty of experts all over the country who can help you get started. The English Truffle Company run courses in Dorset, Hampshire and Wiltshire, so there's plenty of scope to combine it with a stay in a charming market town or buzzing seaside village. You'll be in good hands (and paws), with truffle specialists and highly-trained dogs guiding you through the woods in search of these elusive fungi. The sudden excitement when the dogs finally locate the earthy treasures will have your stomach rumbling, and you'll be well cared for with afternoon tea and the chance to sample a truffle dish.
Stay at: 19 Glenmore Road, a charming B&B in the heart of Salisbury, The King's Arms, a vibrant pub with rooms in Dorchester or The Coach House, a romantic Hampshire retreat for couples.
Edinburgh food and drink tours
There's a lot more to Scotland's bonny capital than majestic castles and the Fringe festival – it also has a thriving food scene. Having a local guide you through some of the city's best shops, restaurants and bars is a great way to immerse yourself in Scotland's natural larder (and drinks cabinet). Edinburgh Food and Drink Tours are expert-led and veer off the tourist track, sampling much-loved local treasures that you might otherwise have missed. There are two on offer, each covering a different area – Old and New Town, or the Royal Mile. The offering varies slightly for each one, but you can expect delights such as Scottish smoked salmon, haggis, chocolate, cheeses and, of course, whisky. If you find somewhere that particularly charms you, many of the stops offer discounts should you want to return later for dinner. You might need a nap first though – the organisers promise you'll be well fed!
Stay at: Number 10 in the New Town, a quiet Edinburgh apartment close to shops, museums and cafés.
Seaweed foraging in Cornwall
Seaside foraging is a fun way to immerse yourself in nature, learn about your environment and reward yourself with some fresh, seasonal food at the end of it. This is exactly what Rachel Lambert had in mind when she set up her foraging courses in Cornwall. Autumn is a great time to visit rugged Cornish shores in search of seaweed, as the summer crowds have dispersed and there is still an abundance of this nutritious ingredient to be found. Courses take place in various locations throughout Cornwall (you can view the calendar here) and will teach you how to safely identify, harvest, dry and store around 8–10 different varieties of seaweed. You'll also receive recipes and suggestions on how to cook with your foraged finds, and try some tasters made by Rachel – you might have seaweed hummus, hot and spicy seaweed broth or sweet seaweed cookies.
Stay at: Gardener's Cottage, a Falmouth hideaway a short walk from great beaches or Old Granary at Middle Colenso Farm, a lovely cottage between Penzance and Helston.
Cheesemaking, Yorkshire Dales
It's no secret that autumn is a brilliant time to visit the Yorkshire Dales. The already spectacular landscapes take on a striking colour palette of browns, golds and reds, the crisp air is perfect for hiking and pub pit stops feel even cosier. For a fantastic foodie experience in the region, we recommend cheese making. Cheese has long been part of Yorkshire's history, and they're responsible for several classic varieties we know and love today. For courses that really involve you in the process, head to Laceys Cheese in Richmond. You'll spend the day turning 500 litres of locally sourced milk into Yorkshire cheese, made the traditional way. As well as learning in detail about every part of the process, you'll come away with the knowledge to be able to try your hand at cheesemaking from your own home. All of this learning will, of course, be fuelled by a cheesy lunch and plenty of samples and refreshments throughout the day.
Stay at: Middleton Lodge, a stylish hotel with excellent food near Richmond.
Herefordshire cider circuits
Considered by many to be the home of cider (although this is hotly debated!), Herefordshire's soil and weather make it ideal for growing apples. As a result, it's home to numerous orchards and plenty of passionate cider and perry makers. Visit Herefordshire have put together three circular cycling routes that each take in beautiful scenery, foodie hotspots and, you guessed it, lots of cider stops. The North Circuit is perfect for you if visiting the region's iconic black and white villages is on your agenda, and you'll also have the chance to visit the 300-year-old cider mill at Butford Organic and tuck into a Ploughman's at a local dairy. Take the South Circuit for a stunning route that skirts along the River Wye, taking in centuries-old apple and pear orchards and offering a pit stop at the Yew Tree Inn pub. The West Circuit offers spectacular Golden Valley scenery, rolling hills and quiet back roads that are ideal for cycling. Meet craft cider makers, quench your thirst at traditional country pubs and take in the breathtaking views at Arthur's Stone. 
Stay at: The Bridge House, a charming boutique B&B in Ross-on-Wye, Tredegar House, a cosy Hay-on-Wye bolthole or Castle House, an elegant hotel with a pretty garden in Hereford.
More inspiration…
Places to stay in UK
Browse our collection of self-catering places, hotels, B&Bs and inns in Britain, a country famous for its fascinating history, national parks, cosmopolitan cities, and cosy pubs.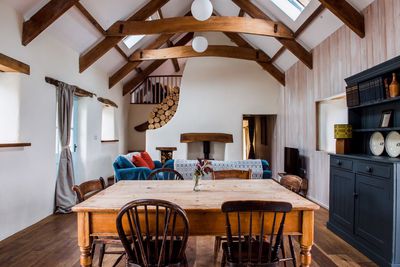 Autumn availability
Browse our collection of self-catering places, hotels, B&Bs and inns with availability this autumn, perfect for enjoying the changing colours of the countryside, earthy dishes on menus and hints of bonfire in the air.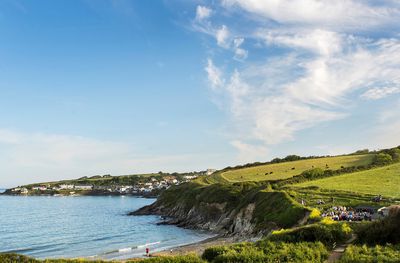 A foodie's guide to Cornwall
Cornwall is typically known for its rugged coastlines, quaint fishing villages and nostalgic summer holidays, but this popular South-West county also has an emerging food culture that rewards travellers with even more.