Hopping across the islands of Europe
We love surrounding ourselves with sparkling seas and the laid-back hospitality so delightfully ubiquitous in islanders. So we asked our in-country experts to tell us all about their favourite islands in Europe, and where they're dreaming of escaping for a few days of sun and fresh salty air. Each one is a great place to get away from the crowds, sample delicious seafood and settle into the slow rhythm of island time.
Gulf of Morbihan & outer islands, France
The channels and sandbanks of the Gulf of Morbihan and the shallow turquoise bays of Belle Île en Mer feel like something you should have to travel much further than northern France to experience, making them some of the most accessible islands in Europe for UK travellers. You can breeze around the 40+ small islands of the gulf by kayak and paddle board, or take boat trips out to Hoëdic, Houat and Belle Île in Quiberon Bay, with strips of white sand and rocky coves to explore everywhere. Vannes, the most common drop off point, is only a few hours from the Caen ferry port, potentially making it a full day's travel if you don't fly, but not much more. What you're rewarded with is a stunning seascape that changes with the tides as islands rise, fall and reshape. Belle Île en Mer is especially enticing – storm-battered in winter, scented with fragrant gorse in summer, it's no surprise that Monet and Matisse both came here to paint.
Stay at: Hotel La Desirade, Belle Île en Mer, or all our places in and around the gulf.
Madeira, Portugal
We've all sipped often enough at the most famous of Madeira's exports, but there's much more to the island than it's fortified wine. With a latitude that places it between Casablanca and Marrakesh, it's only an island in Europe on a technicality, so the seas are beautifully warm almost the whole year round. A marine park makes for some superb diving and snorkeling, as well as the chance to spot pilot whales and manta rays a little further offshore. In the centre of the island lies the plateau Paul da Serra and the Laurisilva forest of Fanal, where moss-covered trees grow in twisted shapes, and there's incredible hiking along the cliffs of the coast too, especially on the quieter northern side. Local cuisine is unsurprisingly big on seafood, but African, American and European influences combine to produce a unique culinary culture. You'll find the Portuguese pastéis de nata, beef skewers cooked over laurelwood fires and the ghastly but delicious scabbard fish, served with passion fruit and banana. Plus, of course, plenty of artisan distillers making a fine drop to wash it all down with.
Stay at: the beautiful, indulgent Estalagem da Ponta do Sol or any of our places on Madeira.
Panarea, Sicily, Italy
The Aeolian Islands, off Sicily's northern coast, are a little corner of paradise and have been designated a UNESCO World Heritage Site. Panarea, with shallow bays ringed by towering cliffs, is often considered to be one of the best islands in Europe and is the standout feature of this little cluster. Recently, it has become something of a celebrity hangout and tourism booms in July and August, but if you can sneak down in the off season, you'll find that the good weather stays even when the visitors fade. Street lights and cars are banned on the island, so it's wonderfully peaceful too. Down in Cala Junco bay there's a Bronze Age settlement worth seeing, the diving is spectacular and sea plane trips to the other Aeolians make you feel like a star yourself. At sunset you can watch neighbouring island Dattilo as it catches the evening light, then head to the east coast of the island and see if Stromboli is sending up sparks into the night. 
Stay at: A Picciridda on Panarea or Casa Pavarini on nearby Isola di Vulcano.
Menorca, Spain
The furthest east of the Balearic islands is in sharp contrast to the busier parts of nearby Mallorca and Ibiza. It's a rambling, quiet place with the population concentrated in two cities Mahón (or Maó) and Ciutadella, at either end of the island. In between, smaller towns are dotted along the coast and it's the perfect place for drifting along during the day stopping where you feel most inclined to. The island's ancient heritage can be clearly seen in many prehistoric and Bronze Age structures, but it's just as much fun to experience its flourishing contemporary culture.  You can lose yourself in the interior or the ragged coast on a horse riding trip then be back in the buzz of the city in the evening, where there are always shows and concerts to take in. Ask around about feast days and local events as well, as most towns and villages celebrate them with brilliant, colourful pageantry that goes long into the night. 
Stay at: Ses Sucreres or Hotel Hevresac, two beautifully stylish hotels.
Isle of Scilly, Cornwall
When we think of a beautiful, sun-drenched island adventure, we often overlook what we've got on our doorstep, but the Isles of Scilly off the western tip of Cornwall, are a match for anything further flung on their day and still, geographically if not politically, islands in Europe. The scattering of spits and rocks is a sea swimmer and wildlife spotter's dream and boat hire is readily available to send you cruising from shore to shore. Pack a picnic and make land where you will, but remember to keep an eye on tide times and get plenty of local advice. You can head to St Mary's for a bit of (relative) buzz or moor up at Tresco to explore tropical gardens and ruined castles on otherworldly hikes. The sea might not be quite as warm as the med, but a bracing dip here and there will help you work up an appetite for local crab or whatever you've managed to catch yourself. 
Stay at: Hell Bay Hotel on Bryher island or visit from some of our west Cornwall places.
More inspiration…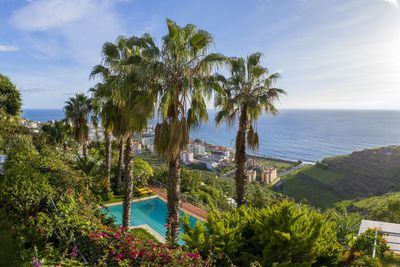 Island Holidays
Discover our collection of self-catering cottages, hotels or B&Bs set on beautiful island destinations across the UK and Europe.
European beach houses
Stroll out into the sea breeze or curl up on the sofa and watch the waves from our collection of beautiful beach houses, perfect for your next great European adventure.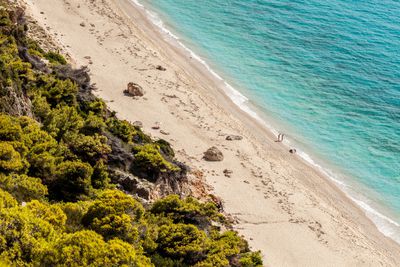 Europe's best secret beaches
We choose five of our favourites secret beaches across Europe. They might take some getting to, but they are most definitely worth it!