Entering our sixth week of lockdown in Italy, I have found many things to be grateful for and one is the season it has chosen to appear in: Spring. Besides warmer than usual temperatures and a complete absence of rain (unfortunately), this is naturally the season of renewal, revival, resurrection, rebirth, rejuvenation; all representing the force and energy required to push through to the other side of the global pandemic. Here in the foothills of the Sabine Mountains, one hour north of Rome, we have been given front row seats and the gift of time to observe nature at its most remarkable stage.
The slow life movement has never arrived here because it never left.
Dating to pre-Roman times, still evident in the many scattered archaeological sites about this rural area, it is characterized by sleepy medieval villages, ancient abbeys, and verdant hills covered with centuries-old olive trees which produce some of the best olive oil in Italy. These timeless and varied landscapes, alternating with grain crops or sheep grazing, lend to a thriving simplistic lifestyle, one which many city dwellers have had to adopt during this quarantine period.
Although we have some property to wander around, I continue (alone following regulation) the comforting ritual of my hour-long evening walks, venturing past our gate to explore the nearby woods, olive groves, open fields backed by the stunning Sabine mountains. Rigid regulations state that we cannot move further than our town limits (population 1225), and police roadblocks are a normal sighting, but I manage to discover a different gravel road to explore, embracing yet another panoramic perspective over the valley.
Timed to capture the softer light, longer shadows and enriched colours, I may come across a horse, some cows or sheep in a sloping pasture or a lone dog seemingly asking where everyone has gone.  Normally a quiet place, the new total absence of sounds from cars, tractors, movement of any kind, produces a reverberating stillness which is both soothing and unsettling for its underlying reasons.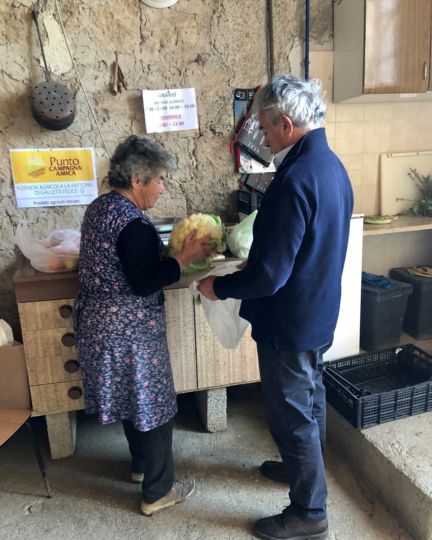 The sense of gratitude remains strong in this natural cradle of comfort here. Rural distances are normal, and shopping for food is almost as usual with an average of two people in the queue at the small general grocery store or butcher and no waits at the local farms where we can pick up fresh ricotta, mozzarella, sheep pecorino, vegetables in season such as artichokes, cabbage, broccoli, potatoes and also Chianina meats and eggs.  We can go into the village only for food or medical needs and with just three businesses left open, no gathering of the retired men in one corner, no Saturday market, no outdoor café bar with the sound of laughter and chattering, the streets and main square are empty.
The shopkeeper assures us that supplies are constantly delivered and the key ingredients to replenish have been flour and yeast as so many are now making their own breads, pastas and baked sweets.
My walks allow me to observe the oncoming spring renewal in a microscopic way, looking forward each day to seeing another tree that has bloomed, wild asparagus popping up, foliage dressing the stark trees and the anticipation of renewed life around the corner.  We are counting on it and with our now flattening curve and a re-opening date of May 3rd, we may soon be able to lengthen our walks and especially add the company of friends once again.
You can follow more of Nicole's Italian musings and future adventures over on her Instagram, @inspirationalitaly.
More inspiration…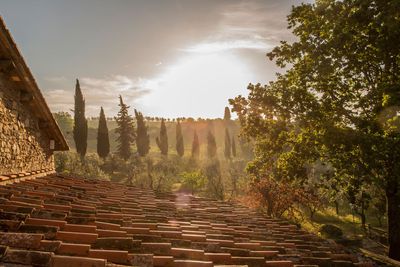 Sawday's at Home: In Italy
In the first of our Sawday's at Home series, we invite your imagination to roam through Italy. There are recipes from food writers and our owners as well as virtual museum tours and some of our favourite inspirational articles.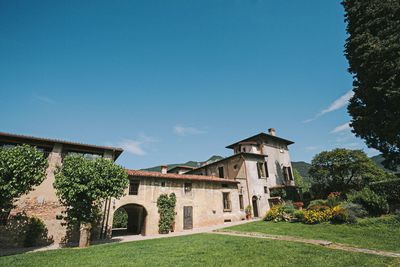 Places to stay in Italy
Discover our collection of over 450 beautiful places to stay in Italy; from rustic farmhouses, to beachside villas and chic city apartments.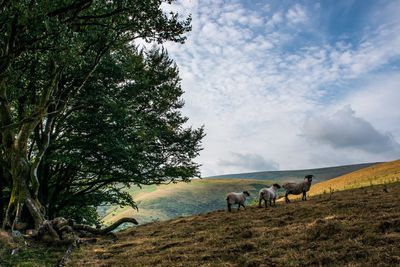 Take a Detour
Visit our content hub, Detour and find inspirational travel stories from our time on the road. There are travel guides to UK regions, our favourite round-ups and more.