Marche's Slow Food train trail
The new Slow Food train trail launched by Italy's national rail company is a delicious way to discover a region that has the luscious landscapes, sparkling blue seas and impeccable food of neighbours Tuscany and Umbria, but a fraction of the crowds. The route spans 59km, from Pesaro to Ancona, making nine scenic and sumptuous stops along the Adriatic coast.
Each stop is a chance to discover a new part of the Marche region and its food scene. The train journey is available to take via the national railway and you can either do it over a few days or a whole week, eating your way through the region. Here are all of our favourite stops, a few restaurant recommendations and some suggestions of where to stay along the way.
1. Pesaro
The first stop on the route is Pesaro, a beautiful coastal town north of the Marche region. For delicious food, try Settima Fila where the menu is packed with fresh produce: perhaps braised veal with celeriac and herbs or pigeon ravioli with Jerusalem artichoke and quince – and vegetarian options too.
2. Fano
Fano is much smaller than Pesaro, but come to wander around cobbled streets with colourful houses and hear about roman legends. Nadia, a modest restaurant behind the train station on the southern promenade, is a must-visit for seafood lovers looking for lunch. Highlights include sea snails and seafood spaghetti with mussels as well as fish stew and local sfogliatelle with olives. For after-dinner drinks head to Renton – a microbrewery located in a former mechanical workshop. Their nine beers are characterized by unusual spices, hops and honey.
3. Marotta Mondolfo
This idyllic village, found high above the sea with endless views of Marche's colourful landscapes, was once voted one of the most beautiful in all of Italy. El Gatt restaurant is a no-frills place on the Marotta promenade, serving traditional Italian specialities like grilled monkfish with porchetta, as well as paccheri with chickpeas and squid ink.
4. Senigallia
Senigallia is a relaxed beach town in the heart of Marche. Come to wander around the Renaissance palazzo, historic churches and archaeological sites. Rimante is the classic trattoria – far less formal than a ristorante. The menu is based on regional meats, vegetables and homemade pasta as well as some fish dishes. Try gnocchi with sausage, asparagus and shallots, as well as boned lamb with artichokes.
5. Marzocca
The village of Marzocca is one of the smallest you'll find along the route, but has an excellent white sand beach that you could spend all day on. Despite its size, there are brilliant restaurants including D'istinto, which is run by an all-female team. They're open in the evenings, serving a variety of vegetarian options as well as locally sourced meats and a wide range of fresh pasta.
6. Montemarciano
Montemarciano is a small town in the province of Ancona, 15 km from the city itself. For an elegant dinner affair, we recommend Alberto, which specialises in fresh seafood but also serves fabulous pizzas as well. Make sure you try maltaglianti pasta with chickpeas as well as cicerchia and white fish ragu.
7. Falconara Marittima
It is easy to reach L'Arnia del Cuciniere from the train station in Falconara Marittima, and it is the perfect place to enjoy the view of the Gulf of Ancona. They serve a delicious range of fish and meat, try sardoncini scottadito and stoccafisso all'anconetana.
8. Ancona
Seafood is the national cuisine in Ancona and you'll often find Brodetto fish stew on the menu, which was invented by local fishermen centuries ago. The stew traditionally contains up to 10 varieties of fish. In the city itself, try the restaurants Sot'aj Archi and Chiosco da Morena for local seafood dishes and the traditional Ancona stockfish, served with potatoes, oil and tomatoes. Just outside town is Del Carmine, one of the best olive oil producers not only in the region but in the whole of Italy. It's fine dining in the country, with tasting menus that center around the different types of oil they produce.
SEE ALL OUR PLACES IN MARCHE >
Where to stay…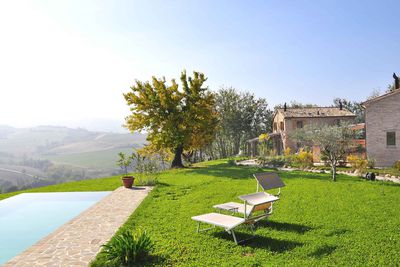 Borgo Farneto
Tranquil hilltop apartments close to Ancona, with a shared swimming pool and generous hosts. Walk or cycle in the surrounding countryside or visit vineyards.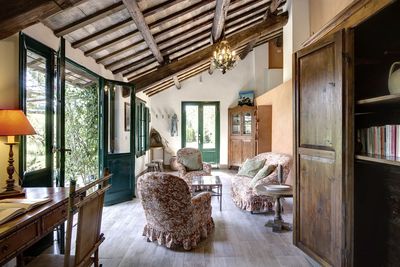 Relais Villa Giulia
Anna's beautiful Napoleonic villa lies amidst pines and cypresses near Fano. Rooms are filled with stunning family antiques, the views are fabulous.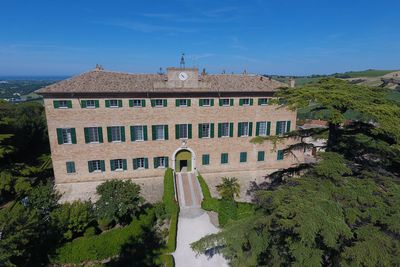 Castello di Monterado
Dominating the village is this historic hotel… all frescoes, chandeliers, splendour at every turn. And a handsome pool, too.