Six wonderful ways to get on the water
It's a fact: spending time by water is good for our well-being. Our brains enter a state of active de-stressing, which in turn helps our bodies to slow down and relax. Whether it's waking up to a brisk morning swim in the mountains, getting an adrenaline rush from the surf, or just drifting through peaceful surroundings on your paddleboard, here are six amazing places to stay for water activities.
Frank and Daniella have created a beautiful, relaxing haven set in the wild nature of rural Portugal. Each of the rooms has fabulous views out over the freshwater lake – one of the largest in the region and there's a newly built yoga shala with the same breath-taking view. The best thing, however, is taking a stroll down to your very own jetty through the jasmine, hibiscus and wisteria bushes. There are kayaks to use, as well as a rowing boat and canoe, but our favourite is paddle boarding the still water. You're in a bird-watching hotspot too, so be sure to keep your eyes peeled!
Feel revitalised with wild swimming at Another Place, Cumbria
Another Place is the adults' summer camp of dreams with sailing, kayaking, swimming, canoeing, fishing and archery all on the agenda. In summer, the hotel offer guided swims with world-champion open-water swimmer Colin Hall. They'll give you all the gear, so fuel up on a hearty breakfast (you can make your own waffles), don a wetsuit and let Colin coax you into the water. It's a fantastic perspective of England's second largest Lake, you'll be completely surrounded by water, mountains and sky.
Canoe along Sicily's northern coast at Cefalù Beach House, Italy
Your whitewashed villa stands just 20 metres from the sparkling ocean on a stretch of Sicily's northern coastline. Its location not only makes for the most beautiful sunrises, you'll also love falling asleep to the soothing sounds of lapping waves. There are plenty of activities to enjoy; bike-riding, paddle-boarding or just soaking up the sun and views. It's also the perfect spot to come for those who enjoy the gentle pace of canoeing, you can even hop off the canoe and go snorkelling – just make sure you know how to get back in! All the equipment you'll need is provided in the villa, so you can dip in and out of the water as much as you please.
Two charming Belle Époque villas, each with eight rooms, make up this lively, laid-back hotel overlooking St Malo's promenade and long sandy beach. St Malo is known for its brilliant watersports community, and the local surf school covers everything from sand yachting to sailing for beginners and the more confident. Explore the bay of Saint-Malo and land on the uninhabited island of Cézembre. Whether you are a beginner or confident at sailing, the school offers you a brilliant opportunity to discover the bay of Saint-Malo and land on the island of Cézembre.
The two-mile long white-sand stretch of Watergate Bay is one of Cornwall's best (and most beautiful) surfing beaches. The Extreme Academy (owned by Watergate Bay Hotel) is one of the counties best-rated surf schools and operates right on the beach. If you don't need a lesson, they can lend you kit, a wetsuit and provide a hot shower afterwards. At the hotel itself, it's all about the views, with walls of glass in The Living Space (a huge café/bar), an 25-metre infinity pool that gazes over the ocean, and a terrace strewn with loungers. Don't miss the outdoor hot-tub at sundown.
Kayak the English Riviera from Cary Arms, Devon
The Cary Arms is a chic beachside inn and spa above Babbacombe Bay in Devon. The pub has six moorings in the bay, so you can charter a boat and explore the coast or hire kayaks for fun on the water. If you're keen to explore a little further, book onto their "cool adventures" package which includes a two-night stay, an afternoon sea-safari with local expert guide and a mackerel fishing trip. You'll explore the nearby caves, coastline and marine life. If your budget doesn't stretch to the full package, hire kayaks from Oddicombe and paddle over to the Cary for lunch.
More inspiration…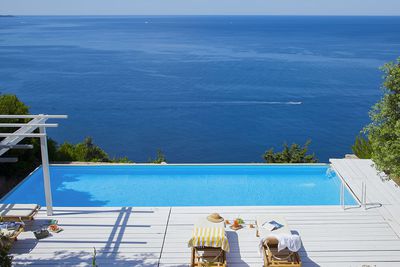 Beach Retreats
Discover hotels, B&Bs and self-catering places with seascape views on coastlines across the UK and Europe. Curl up and watch the weather roll in, stroll straight down onto the beach after lunch and fall asleep with the surf echoing round your room.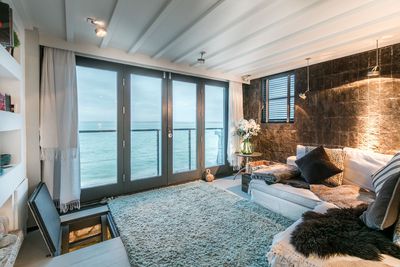 Coastal Cottages
Discover beautiful, coastal holiday cottages which have everything you need plus the personality and charm for a life by the sea, not just a beach holiday.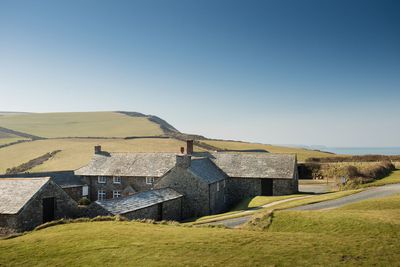 Cornwall Holidays
Choose from large self-catering cottages with coastal views, friendly bed and breakfasts in the country, smart hotels in lovely fishing villages, and inns with a great community feel.