Six places to go for autumn sun
September is the ideal time to search out the last of the sunshine – it's still warm enough to wander around in shorts and a t-shirt, and you can escape the busy summer crowds. We've picked five of our favourite places to sit around a pool and lap up the sun on a lovely late-season getaway.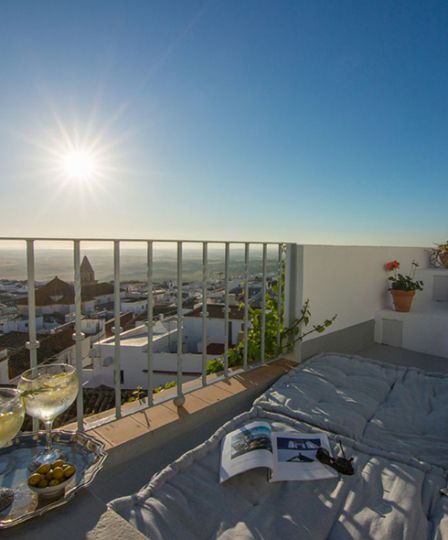 Casa La Muralla, Cádiz, Spain
Your little self-catering house for two is at the highest point of Medina-Sidonia and has two terraces with views that reach as far as the Bay of Cádiz. Meals can be enjoyed on either one, there's a pool across the road and lounging cushions on the rooftop for lying back and watching the sun go down over the town. Wander five minutes from the house down cobbled streets to the main square for a tapas lunch or dinner. It's a fabulous spot to soak up the local atmosphere and enjoy a glass of wine in the sun.
Temperatures remain in the high twenties here throughout autumn, so come for a weekend of both relaxing and exploring. Just 30 minutes away is the historic city of Cádiz, known as one of the oldest inhabited cities in Europe. There's a surplus of ancient cathedrals, churches and museums to discover. The centre is surrounded almost entirely by the Atlantic sea, and sunworshippers will love the city beach – Playa de la Caleta. The old town is filled with local taverns serving fresh fish and tapas, as well as delicious wine and sherry.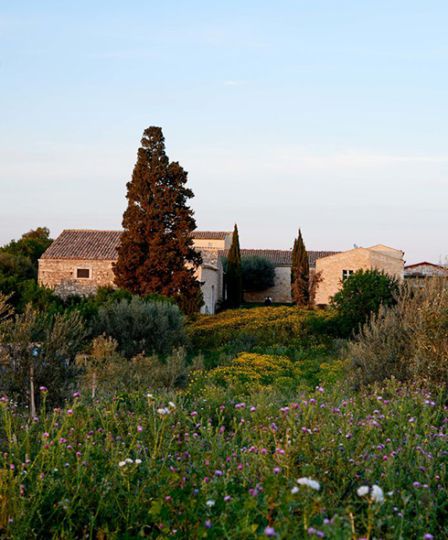 Baglio Occhipinti, Sicily, Italy
A handsome, family-run 1800s winery found in the oldest wine area in the world. On one side, you'll see as far as Mount Etna, and the sea is close by on the other. Breakfasts are served out in the garden, under a blanket of olive and wild almond trees. Rosaura comes from an old Palermo family, Bruno may entertain you with his oenophilic stories, and daughter Fausta, a landscape architect, greets you warmly. Inside, enjoy white minimalist living spaces where big lounging sofas, family antiques, art books and prints mix with open stone walls and pale terracotta tiles.
Take wine tasting tours around the vineyard, visit the fish market in Scoglitti or head out to the six nearby UNESCO heritage sites – Villa Romana del Casale, the late Baroque Towns of Val di Noto, Agrigento, Syracuse and Pantalica. After a busy day, head back for a lap in the salt-purified pool at sunset, then sit back and relax with a glass of the family's wine.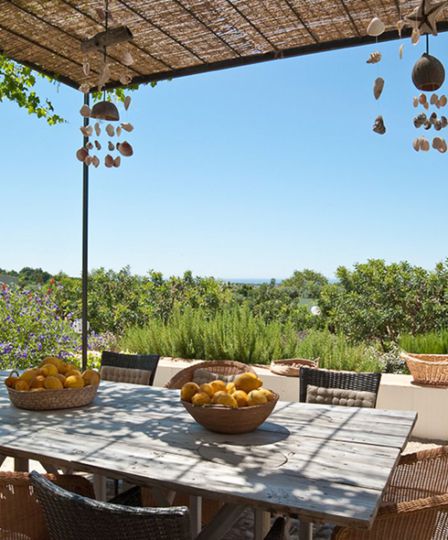 Casa Terra, Algarve, Portugal
The Algarve is known for its year-round sunshine and you can expect consistently high temperatures of up to 30 degrees in September.
Casa Terra is a beautiful Algarvian house run by artist, gardener and therapist Fred. Inside the interiors are calm and tranquil, outside there are freshwater pools and therapeutic gardens. Days will drift by as you taste the fruits of the permaculture garden, join in on yoga classes, read your book and wake up in bedrooms with a view of the sea. Head to the local markets in Olhão or spot flamingoes on the salt marshes of the Ria Formosa, a series of lagoons teeming with wildlife and protected by islands of white sands. Catch a ferry to the Ilha da Culatra: bask on the dunes, take a dip in the water or find shelter at a beach bar.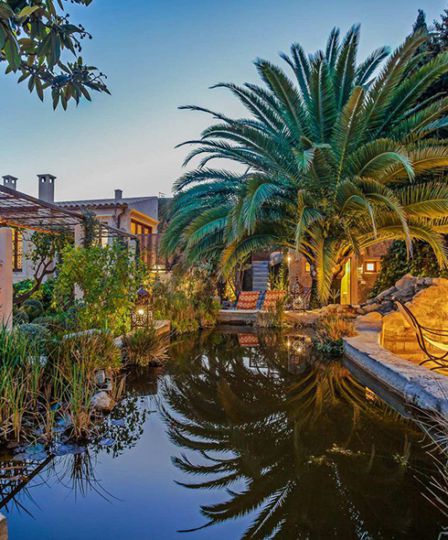 Hotel Jardí d'Arta, Mallorca, Spain
We love Mallorca for its fantastic seafood, picturesque coves, Mediterranean climate and pretty towns.
In the north-east corner of the island is Hotel Jardi d'Arta, a luxurious little hotel that's perfect for couples and friends. It has recently re-opened after an extensive renovation and its twelve rooms are more gorgeous than ever. Original beams, fireplaces and inlaid stone floors are just some of the main features. Swim laps in the pool, wander around the enchanting gardens or sink into sun loungers for a bit of peace and privacy. Make sure you try the hotel's own limoncello and lemon curd, made with home-grown lemons.
Fontaine RenArt, Gard, France
This wonderful bed and breakfast is in the heart of Saint-Quentin-la-Poterie – a village with an artistic history. There has been a pottery tradition since the 14th century, and the village has gained international fame in the world of ceramics. There are now more than 20 pottery workshops as well as museums, art galleries and exhibitions. Only three minutes' walk from the village, cultural explorers will love discovering its history – there are local markets on Tuesdays and Fridays as well as food and wine events all throughout autumn.
Your hosts Michelle and Thierry live in the 17th-century main house, with rooms on the floor above or in the 18th-century annexe across the courtyard. Find spacious sitting areas and books on the bedside tables, as well as delicious breakfasts of organic cheeses, honey and yogurts from local farms. After a busy day out, come back for a swim in the pool or an afternoon drink out in the garden.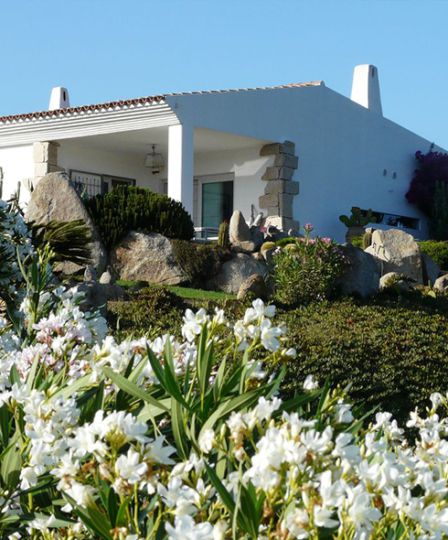 Tancamelis, Sardinia, Italy
Sardinia has to be one of our favourite Italian islands – when we visited last year, we discovered beautiful coastlines, unspoiled beaches and a rugged mountainous interior.
Tancamelis is a traditional Sardinian bed and breakfast with relaxing, mediterranean interiors and stunning views down the valley to the sea. Bedrooms are downstairs, off the veranda; leave the doors open, catch a glimpse of the sea. Breakfast is at the big table, a splash of family produce: breads, fruits, jams, cheeses. Walk 10 minutes to the beach, kayak to uninhabited islands and watch the sun go down from your wicker lounger.
Where to stay…
Coastal cottages
A cottage by the sea conjures up a beautiful image of driftwood charm and the casual comfort of living in your beach clothes. All too often the reality is a soulless apartment block that could be anywhere in the world.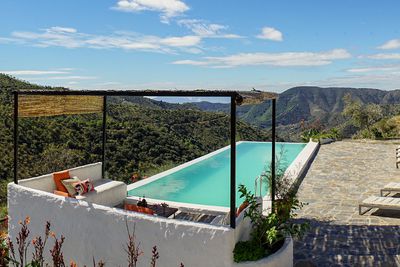 Winter Blues
We think winter gives the blues a bad name. These places will lull you into serenity with their ever-changing views – whether it's the sun-sparkling on the Mediterranean or dusk hues falling over the Atlantic.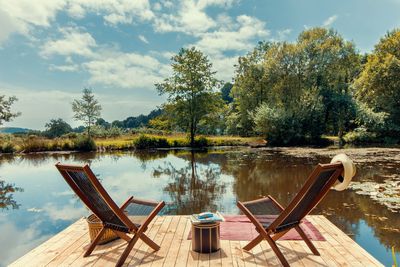 Restorative Breaks
Time outdoors is great for the soul; whether it's strolling along a deserted beach, walking to waterfalls or discovering hidden thermal baths.