Sawday's at home: Christmas traditions in Europe
When we realised that Christmas in the UK might not be what it normally is this year, it got us thinking about how differently the festive season is celebrated all across Europe. So, we got in touch with our in-country teams and some of our owners to give you a taste of a continental Christmas, with traditions and recipes from France, Italy, Spain and Portugal. Maybe you'll be inspired to add a few dishes to the table and give your Christmas a bit of a European twist.
France
From Nicky de Bouille, in-country manager for France
Where I live, in the Loire valley, Christmas is a rich affair and not for the faint-stomached. On Christmas Eve, known as Reveillon, families gather together and, after evening mass, the festivities begin. Presents from the parents are opened, the ones from Le Pere Noel are held back and there's an extremely gourmet supper usually consisting of oysters, champagne, foie Gras and toast. Christmas day lunch keeps the food coming, but this time in the more UK style of a roast, although normally a goose or chapon rather than turkey. Pudding is, of course, 'la Buche de Noel' – sponge rolls made mostly of chocolate and cleverly iced to resemble bark, but I personally love the Provencal tradition of 'Les Treize desserts', mini courses of fruit, nuts, sweets and broken bread, created to represent Jesus and the 12 apostles. 
As much as I love holiday season in the Loire, Alsace is nationally revered as the Christmas capital. Owner Katherine, of Unter der Linde in Nordheim told us how the Christmas markets there are some of the oldest in Europe and that Strasbourg's place Broglie market is so popular that the city sees more tourists in December than at any other time of year. It's just one of many pagan and religious traditions that have been observed here for centuries. Many households light an Advent Crown (Couronne de l'Avent) that sits on the dining table with four candles (not fork handles), one to be lit on each Sunday of December, starting from the day of Saint Andre. Saint Nicolas is also celebrated in Alsace and Lorraine and children leave boots by the door on December 6th so that he can leave them treats such as gingerbread and clementines or a brioche especially made for the day called 'männele' ('little man' in the Alsacian dialect). 
As in other countries, the Christmas tree is central to festive decoration. It dates back to 1521 and the town of Selestat, where the citizens were authorised to cut a tree on Saint Thomas's day in the neighbouring forests. It was decorated with treats such as apples, decorative dough shapes, sweets and small cakes called Bredele. Legend says that in years when apples were hard to find the local glass-makers started making balls from crystal to decorate the trees – thus launching the famous Alsatian crystal houses of Baccarat, St Louis, Daum and Lalique. 
Alsatians also share big meals on the 25th and the 26th, which is St Stephen's day (Saint Etienne) and a Germanic public holiday authorised only to inhabitants of Alsace and Lorraine, after these regions were taken back off the Germans after WWI.  
View our places to stay in France >
Italy
From Nicole Franchini, in-country manager for Italy
The basic traditions of an Italian Christmas are similar throughout the country, each of the 20 regions has many variations on the theme. Although in recent years the commercial aspect of the holiday has been heightened following the U.S. model, with street lighting, shop decorations and black Friday promotions beginning in mid-November, no private home would ever put up a Christmas tree before the December 8th holiday. It is considered almost unethical to jump the gun!  
Of course, food is always going to be the main focus of any Italian celebration and it's on the table where you see the most variation between regions. On Christmas Eve, families typically avoid eating meat and the big meal normally includes fish before opening presents and going to midnight mass. Fish dishes vary greatly from region to region but our friends at Monaci Delle Terre Nere open their multi-course feast with capon tartare before moving on to stuffed ravioli, or risotto with lobster, shrimp, clams, mussels or salmon. 
 In Tuscany, you will always find chicken liver pate or 'crostini neri' as a local appetizer, along with dishes like tortellini in brodo, which you can try courtesy of Julia at Roncolo 1888. Her place is in Emilia Romagna where the actual origins of this traditional dish derive. Near the seaside towns in Tuscany, expect to find more fish dishes like sauteed mussels or Cacciucco, a rich fish soup native to Livorno. In Monte Amiata, you will even find cooked snails or lumache. For dessert, Panettone and Pandoro sponge cakes are always present on any table in any region, and the lovely and rich panforte with candied fruits is a coveted side. Cantucci biscotti from Prato are always typically served with a glass of aged vin santo sweet wine and while you can find them in a good deli in the UK, they're always better home baked, so here's a recipe from Silvia (the private owner who has a passion for cooking!) at Podere Salicotto. 
View our places to stay in Italy >
Spain & Portugal
From Florence Sivell, Account Manager for Spain & Portugal  
Christmas is a big family affair in Spain and Portugal too, when everyone comes together on the 24th for a big meal. In Portugal this almost always includes Bacalhau, salt cod. Despite being imported from Norway, this is never far from a Portuguese menu at any time of year but is particularly popular at celebrations. There are rumoured to be as many bacalhau recipes as there are days in the year and the exact preparation will vary region to region, but if you're in Portugal on Christmas Eve, it will be on the table somewhere.  
Both countries indulge their sweet tooth during the holidays too. There's the Portuguese speciality of Vermicelli with eggs (the folk at Quinta de Freixieiro always serve it alongside the star of the desert table Serra da Estrela cheese), Spain's sweet Turron (a kind of nougat) and Christmas Cake swapped for Roscón de Reyes, Usually eaten on Epiphany, 6th January, the sweet bread ring is topped with crushed almonds and candied fruits and is sometimes filled with whipped cream. Sometimes a small figurine is hidden inside the bread, and the person who finds it has the honour of buying next year's roscón. 
Portugal's version is the Bolo Rei, but in deference to the many people who don't like the candied fruit, they have a Bolo Rainha as well, with more nuts and less fruit making it taste a little like a hot cross bun. Although they're supposed to be saved for the 6th, you'll find all of these wonderful spicy delicacies in the weeks leading up to Christmas and nothing beats wandering round the markets with a chunk of cake in one hand and something spicy and potent in the other.  In many parts of Portugal this might be a vintage port of course, but you should also try Ginjinha, which is an iconic drink in Lisbon – a sour cherry liqueur given a very festive taste by the addition of sugar and cinnamon. If you can find a bottle in the UK, then there are recipes online if you want to whip one up. 
The simplest traditional "recipe" to replicate at home is the Spanish tradition of eating 12 grapes at midnight, in time with the times of the bells. Remember to make a wish as you eat each one. In Portugal, whether you wish for it or not, you'll find people joining in with Janeiras, a custom in which the new year is welcomed in song from January 1st to 6th, by groups wandering towns and villages, singing and asking for leftovers, of which there are always plenty.   
View our places to stay in Spain and Portugal >
More inspiration…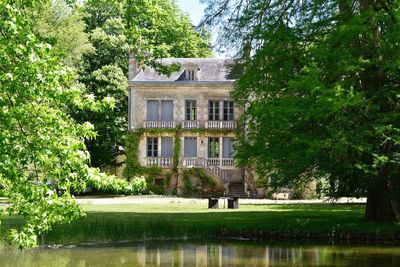 Sawday's at Home: France
Here are a few suggestions for cooking, reading and virtually touring that'll whet your appetite for a return to the wine and sunshine of France.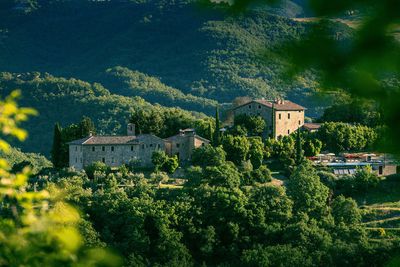 Sawday's at Home: Italy
Whether you're missing perfect fresh pasta, sparkling blue seas or the shade of a vineyard terrace, we hope this keeps you going until we can all head to Italy again.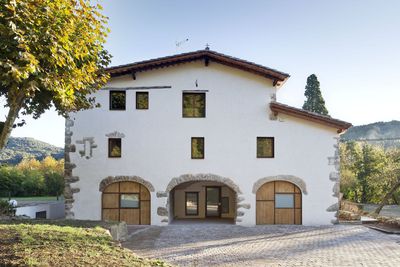 Sawday's at Home: Spain
From hosting your own tapas night to armchair tours of the Guggenheim – just enough of the rich, salty flavour of Spain to keep you going until you can get back there for real.