A foodie's guide to Cornwall
Cornwall is typically known for its rugged coastlines, quaint fishing villages and nostalgic summer holidays. Whilst these have drawn visitors for years, this popular South-West county also has an emerging food culture that rewards travellers with even more.
We sent chef Anna Jones and her family to Penzance for a pre-summer getaway, and she sent us back her favourite spots for the best food in Cornwall to eat the weekend away. Anna was based at Artist Residence – a stylish hotel with eclectic artist roots and fabulous seaside views.
For coffee and a sweet treat
Over the fifteen years or so since I've been coming to Cornwall the food scene has changed beyond recognition. A new wave of cooks, growers and creative food businesses, from coffee trucks to bakeries, are making sure you get some memorable food whether you live there or are just visiting.
After opening three bakeries in some of London's hippest corners, this lovely bakery has made the move to Cornwall. The building itself is small but fabulous, with an open plan kitchen, exposed bricks and high ceilings. Come for coffee, cakes and some of the best sourdough in the country. The menu also includes a handful of vegetarian, Sri Lankan influenced food.
We love what the Hallenga twins have done with their vintage 1970s Citroen van. You'll find it's now been renovated into a roaming cafe that serves delicious coffee and German inspired baked goods, including their amazing Bundt cakes. Follow them on Instagram to find out where they are today, they move all round Cornwall.
Jelbert's
This is, in our opinion, the only ice cream shop you need to know about in Cornwall. They serve vanilla gelato  from the most enormous tubs you'll ever see. You can find their unassuming little shop in Newlyn near Penzance, and they are only open in the summer season.
For lunch and dinner
If you're looking for amazing coffee and delicious natural wine then you're in for a treat. This newly opened coffee shop come wine bar in Newlyn is great for sociable lunches and dinners. The shop has a real focus on low intervention wines, single origin coffee, craft beer and artisan spirits. There's also a fabulous tapas styled menu. We picked up cloudy Prosecco to drink on the beach with chips at sunset.
This is a wonderful little market garden growing incredible vegetables, run and farmed single-handedly by my friend, Meg. She's at the farmers' market in Crantock every Saturday and does veg boxes if you are local or staying for a few nights. Look out for occasional supper clubs too.
To many people, this is Cornwall's best kept secret. The Hidden Hut serves some of the best food in Cornwall and is found tucked away along the coast path near Portscatho on the remote Roseland Peninsula. In the day, fresh seasonal lunches are served from the outdoor beach kitchen. On summer evenings, the hut hosts open-air feast nights right on the beach. Everyone sits around long trestle tables, and like a big family picnic – you bring all the cutlery and drinks, whilst they provide the food and fire.
Our recommendations
Our team is made up of resident Cornish locals as well as those who love to visit every year, and we're always on the look out for hidden gems. Below, you'll find a number of our favourite restaurants – as always, each one has been tried, tested and loved by us.
The New Yard Restaurant is situated in the historic stable yard at Trelowarren in Cornwall, a private estate that has been owned by the same family for over 600 years. What the team can't grow themselves in the walled garden is sourced from other equally committed local producers and artisans. Meat is purchased from Boscarnon Farm near Coverack, while fish and seafood is landed down the road at Cadgwith. Enjoy Michelin Green Star awarded food in the main restaurant and courtyard or a light bite in the Pantry café.
Emily Scott is well known in Cornwall after she took over the renowned St Tudy Inn in a bid to offer locals and visitors great food in a beautiful setting. Her latest project, Emily Scott Food, involves the well-known dining space overlooking Watergate Bay – previously known as Fifteen Cornwall. Her residency was originally introduced as a summer pop-up last year, but is now due to stay as a permanent feature from 18 May. Emily prides herself on cooking honest and delicious food using Cornwall's best produce: find meat and seafood dishes as well as plant-based plates.
The open-plan restaurant, named for the talented duo who run it from the barn at Retorrick Mill, serves up tasty treats cooked on open fires, spits and smoking slow roast barrels. Pizzas and wood-fired dishes are the norm, but there are fishy feasts, paella nights, steak and lobster evenings and music events scattered throughout the year, so their calendar is always worth a look. It's rustic, quirky, eclectic and fun, tapping into the rougher, simpler side of Cornwall's food and drink that most locals favour over the famous chefs and fine cuisine.
Tremenheere Sculpture Gardens is full of interesting sub-tropical plantings and gorgeous views of nearby St Michael's Mount. It's also the home to a much-loved restaurant with brilliant dining options. The kitchen prides itself on offering fresh and local produce, with the menu changing daily depending on what's in season. In summer, enjoy a meal out on the sun-splashed terrace (dogs are welcome to join you too!), whilst in winter cosy up next to the roaring log burner. It's a great place to meet with family or friends and enjoy delicious meals, cakes and cocktails!
One of our favourite things about Mackerel Sky is that it's located in a cosy cabin in Newlyn with only a few tables to grab. It's intimate and charming, serving some of the very best seafood in the whole of the South-West. Inside, white-washed walls have been perfectly paired with tasteful local art and nautical themed furnishings, and there's an open kitchen giving out heavenly smells. The food is the main draw here and is all served up as small tapas plates so you can try a bit of everything! We'd highly recommend the crab nachos, beer-battered scallops and crispy sole washed down with a bottle of local larger.
Just down the road from Newlyn, you'll find this quaint beach-side café tucked away in pretty Mousehole. It's hard to rival the sea views on offer here and it's the perfect little spot for lunch or a sunny drink. The lunch menu is simple but substantial, boasting homemade sandwiches, bagels and soups. A cocktail menu is on hand too, if you're really feeling in the holiday spirit! Do note, the café doesn't take bookings so its walk-ins only, but they do allow dogs.
Fitzroy Cornwall and North Street Kitchen
Experienced restaurateurs David Gingell and Jeremie Cometto-Lingenheim opened their new project in this former Victorian bank off Fowey esplanade, with a focus on fish and local produce.  Artfully combined sharing plates and natural wines reign supreme, and you can expect to find the best Fowey mussels and other Cornish fish plus locally grown or foraged vegetables on offer.
The team have also opened a new pop up, North Street Kitchen, located just down the road from Fitzroy on Fore Street. The seafood shack serves the likes of crab rolls and oysters right on the water's edge. They were recently awarded a Michelin bib, but don't expect to find anything stuffy – this is fantastic food in a casually rustic setting.
For generations, family, friends, and farm workers have eaten together around the Nancarrow kitchen table. Wholesome, home-produced and home-cooked dishes at the centre, everyone welcome, shoulder to shoulder; and always plenty to go around. Today, you can visit the farm in Truro and eat in their pretty courtyard surrounded by organic farmland, fruit orchards and kitchen gardens. As well as making the most of every little bit that the farm provides, they also source ingredients from other like-minded producers: local farmers, fishermen, growers, brewers, cider-makers and cheese-makers.
Verdant Seafood Bar serves up tasty seafood small plates from their cosy taproom on the water's edge in Falmouth. Menus are written up on blackboards and feature fresh local fish and clever twists on traditional French, Spanish and British cooking. Their highlights include seafood balls, pan-fried gurnard with mussels and a giant fish finger butty. Alongside amazing food you will find eight taps pouring their four core range beers and four seasonals at all times. It's a great little spot.
More inspiration…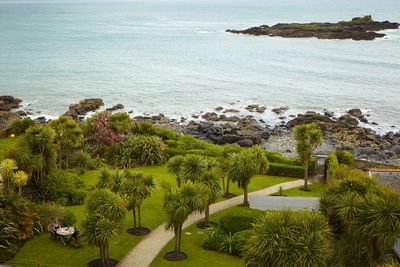 Our Slow Guide to Cornwall
We know Cornwall so well, but continue to find bucketfuls of exciting things that make us fall for the crinkled coast and unique culture of Cornwall all over again. Find our off-the-beaten-track tips for walking, eating, drinking and sleeping.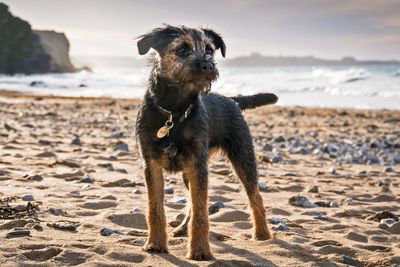 Dog-friendly cottages in Cornwall
Self-catering holiday cottages where your dog can come along on holiday with you. Some of the places within this collection will provide treats on arrival, others will offer dog hampers, blankets, walking guides and much more.
Places to stay in Cornwall
Find your perfect hideaway for two in Cornwall, for the ultimate romantic break. Escape the city and head off on coastal walks, explore fishing villages and come back to your cottage for supper, wine and board games.