Rye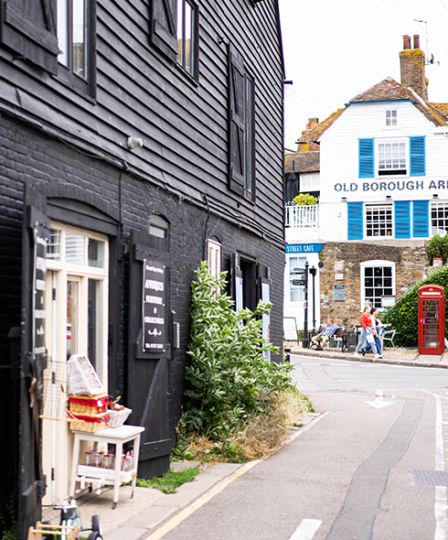 Starting our trip with a visit to Rye immediately established the themes of art, culture and nature that would delight us all over Sussex. The quaint town's cobbled streets and medieval buildings are home to a brilliant range of innovative, independent shops all bathed in fresh sea air, despite the coast itself being out of sight. We wandered the picturesque lanes at random and happened on a local institution – the fabric shop of Merchant & Mills. The converted coal shed is stacked high with material, patterns, clothes and specialist tools, and filled with residents of Rye discussing their latest projects. Upstairs, a studio runs courses on which, if you're around for a couple of days, you could make a wearable souvenir of your stay. 
Sitting just a little inland means that Rye has a laid-back coastal feel without any of the seaside kitsch that often comes along with it. The hour's walk down to the waterfront takes you clattering along boardwalks through the wildflower wetlands of the Rye Harbour Nature Reserve, voted Britain's best in 2016 for its striking scenery and abundance of birdlife. Towards the end of a long, narrow path that run into the sea, you pass the Wildlife Trust Discovery Centre and see the iconic Red-Roofed Hut. 
Over the river Rother from the Nature Reserve is the long strip of Camber Sands. You'll need to loop back through Rye to get to the beach, but once there you can walk for miles on soft fine sand that hugs your feet or, as we did, drop in to sample the breezy elegance and a bowl of mussels at The Gallivant. 
Lewes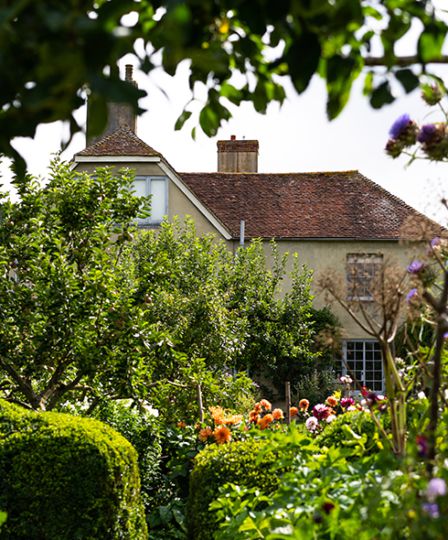 A lot of people had recommended Lewes (Lew-iss, not Loos) to us, but it wasn't until we moved away from the high street and found the older part of town that its many charms revealed themselves. The first thing that catches your eye will be Harvey's Brewery, perched on the riverbank with its distinctive square towers and chimneys. Their beers, that you'll find in many local pubs or can pick up from the brewery's shop, use a blend of four local hops, water that's spent 30 years filtering through the Sussex Downs and a unique 60-year-old strain of yeast. Pushing on up the hill takes you deeper into the old town and it's worth the climb to rummage among the vintage homewares and clothes of Closet & Botts or smell your way to the Flint Owl Bakery. You'll also find the colourful Marchand Son, where you can browse bright jars of powder and mix your own hues at the paint bar.  
In August and September, Lewes is one of the centres of Artwave Festival, a showcase of over 140 galleries, studios workshops and open homes across the area's towns and villages. All venues are free to visit and you could spend hours browsing jewellery, textiles, metalwork, ceramics, glass, craft, furniture, illustration, painting and prints, as well as meeting the artists themselves. This thriving cultural scene is no surprise when you consider the proximity of the inspiring Charleston House, the home of the Bloomsbury Group. Just a quarter of an hour from Lewes, the old farmhouse has become a living museum, still decorated with the murals of Vanessa Bell and so immaculately-preserved that you feel almost as if Virginia Woolf or Maynard Keynes are about to wander into the room. As well as the Bloomsbury's Group's work, there are temporary exhibitions and an impressive permanent collection including pieces by Renoir, Picasso and Delacroix. The garden is also filled with artwork. It's very much a painter's garden, combining cottage garden planting with Mediterranean influences to create delightful shapes, colours and textures.
Just up the road from Charleston is Middle Farm, which made the perfect pit stop on our way out of town. We strolled round the fields of the family-run open farm, which runs a full programme of pig-feeding, pony grooming and something called a "sheep dinner dash" in the school holidays. It also has one of the best farm shops in the county, which is piled high with produce, eggs, plants and has a special barn to house its collection of cider, mead, wine and gin. We sadly refrained from trying any of over 100 draft ciders and perrys, keeping our heads clear for an afternoon exploring Sussex's cultural side, in which Lewes and its surroundings have always played a major part.
Brighton and Hove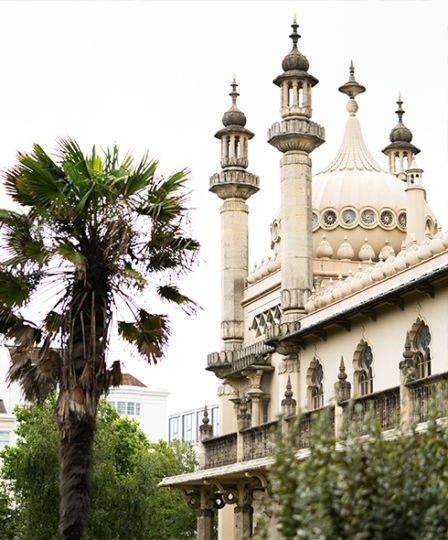 No trip to Sussex would be complete without a stop in Brighton, famed for its bohemian vibe and eclectic artistic roots. In the network of streets known as The Lanes, we found vintage shops, independent cafes and vinyl record stores that impressed even a couple of hardened Bristolians. The window cleaner in bow tie and braces convinced us that the seaside town might have the edge when it came to trendiness. Even in the middle of the week, there was a lively buzz that put us in a great mood as we headed down to Brighton Pavilion. The Dome hosts some of the country's best music and theatre events, but the gardens are a beautiful place for a picnic even if there's nothing on. 
Along the pier to the west is a quieter, more residential area which retains the artistic feel but tones down the nightlife. It's known to some as "Hove, actually" because it was historically the posher part of town and residents often corrected those who suggested they lived in Brighton. We spoke to Robin and Kirsty, founders of the Cameron Contemporary Art gallery, which acts as a community hub, showcasing Sussex artists and hosting poetry evenings, wine tastings, plays and exhibitions. "It's a very creative community here," Robin explained, "Over the years, lots of artists, actors and writers have set up a base here as it's close to London. It's a place where artists feel safe." They told us about an open house event in May that rivals Lewes' Artwave in the opening of studios, homes, galleries and even a tiny exhibition in a restored phone booth. It fosters an inclusive atmosphere, showcasing artists at all stages of their careers, including recent graduates, college students and those who may otherwise be excluded from the mainstream art world thanks to homelessness, learning disabilities or mental health issues. 
"It's a very creative community here. It's a place where artists feel safe. " – Robin, Founder of Cameron Contemporary Art
SEE ALL OUR PLACES NEAR BRIGHTON AND HOVE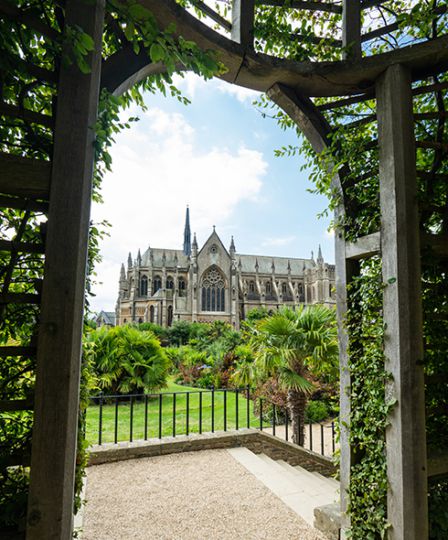 South Downs National Park
The first half of our trip definitely leaned towards Sussex's cultural side, but the second half left us in awe of its natural beauty. The South Downs National Park covers 1600km2 of breathtaking views and hidden gems. It's a lovely landscape of rolling farmland, coastal cliffs, ancient woodland and lowland heaths, hugely popular with hikers. On the South Downs Way, which spans over 100 miles from Winchester to Eastbourne, you'll stumble across picture-perfect villages, traditional country pubs and flourishing vineyards. Some people take it on over seven to ten days, stopping off in different villages and towns, but every section makes a lovely day hike. To walk a less-beaten track, head to Black Down. The car park is up a battered one-way road, hidden by a large canopy of trees. A one-hour circular walk leads to the highest point in the South Downs and you can extend it by diverting onto the Temple of Winds Walk, which takes you through woodland to the Bronze Age circular bank from which it takes its name.
Heading south-east from the National Park brought us to Arundel Castle, a truly breathtaking crenellated Norman keep, gatehouse, barbican and gardens. From the minute we stepped into the grounds, we were lost in their size and beauty, following paths among manicured plants and flowers to hedge mazes, monuments and rippling fountains. Rows of stone archways framed spectacular panoramas and made it feel like a new discovery waited round every corner. We also explored the inside of the castle, which is a treasure-trove of fascinating furniture, tapestries and rare paintings by renowned artists including Van Dyck, Gainsborough and Canaletto. We weren't around for the summer jousting re-enactments or open-air Shakespeare plays, but could imagine how the majestic setting would be perfect for either.
SEE ALL OUR PLACES IN THE SOUTH DOWNS
Seven Sisters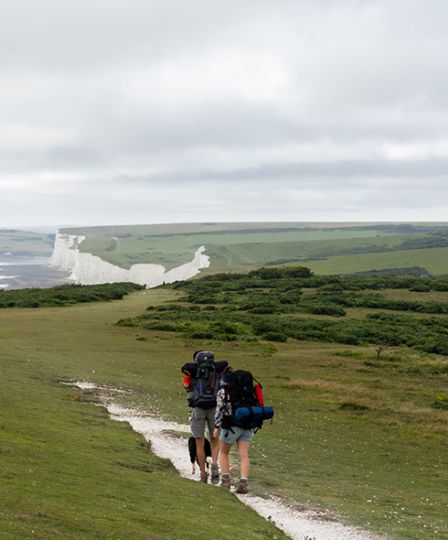 The Seven Sisters, while part of the South Downs National Park, deserve a separate mention. The series of chalk cliffs rise and fall in waves along the coast between Seaford and Eastbourne. They're an iconic sight, instantly familiar from photographs but stunning to see in real life, with their massive facades lit up rich and golden on a warm summer's evening. The nature walk that runs along the top of the cliffs to the decommissioned Beachy Head lighthouse is incredibly popular with bird watchers and fossil hunters, while the beaches are great for rock pooling when the tide is out and kayaking or paddle boarding offer a unique perspective. We strolled a short section from Birling Gap, enjoying the contrast of scenery with the more familiar coastal terrain of Devon and Cornwall and musing on how wonderful it would be to stay at Belle Tout Lighthouse. This helped us work up the perfect thirst for our final stop.
SEE ALL OUR PLACES NEAR SEVEN SISTERS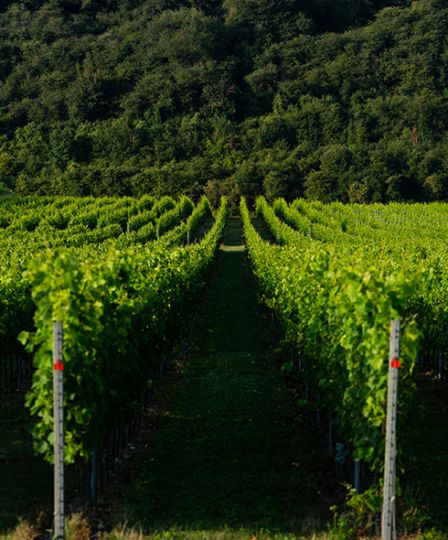 Rathfinny Wine Estate
The drive down to Rathfinny is magical, following the Cuckmere river through the South Downs with the hills on one side and the sea on the other. The estate is one of 23 wineries in Sussex and specialises in sparkling wine and rosé grapes which are well suited to the region's soil. The chalky ground, similar to that of the champagne-producing Épernay region in France, stresses the roots and forces them to dig deep, resulting in strong vines that produce huge quantities of fruit. We spoke to Richard, an ecologist by trade and now Rathfinny Sales Director, who talked about their determination to put Sussex wines on the map. "We work closely with other vineyards, we don't see them as competitors. We all have different geology, winemakers, yeasts – we just want people to buy English products." Richard has worked in the area for over 25 years and tends the vines and the land with equal care. He has overseen the planting of 40,000 trees and uses a system of varying grass lengths between the vines (and on the turf roof of the winery) to encourage an enormous variety of wildflowers and wildlife. As well as being ecologically sound and fostering a massive resurgence in the area's biodiversity, this also adds to Rathfinny's appeal as a day out. There are trails around the land with seasonal talking posts and information points, or mountain biking loops and paddleboarding on the river for a little more adventure. After enjoying the wildlife and the scenery, you can come back to the main house and indulge in a little sampling. Tastings take place daily from 10am to 5pm and you can drop in to try a few wines. At the beginning and end of each month, more expansive tours take place, culminating in a three-course menu with matching wines in the rustic Tasting Rooms. We decided to forego sampling wines at 10am, but picked up a bottle to share with the office as a souvenir of our fascinating Sussex adventure.
"We work closely with other vineyards, we don't see them as competitors – we just want people to buy English products." – Richard, Director at Rathfinny Wine Estate
STAY AT THE RATHFINNY WINE ESTATE
Much more to see
Among the many recommended stops we didn't have time to make were Sissinghurst Castle, Petworth Park, and Chichester, as well as the famous battleground of Hastings and the town itself, although we were warned to ignore our first impressions and keep to the older parts.
Where to stay…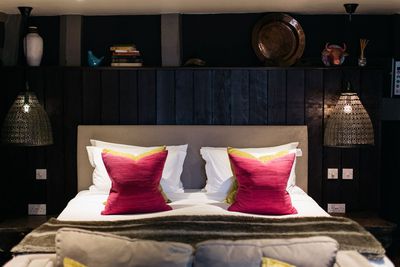 The Bull
A small inn, full of character, that brews its own ale, serves lovely local food and has stylish rooms that keep you happy.
The Cloudesley
Gorgeous bedrooms, delicious breakfasts, a couple of treatment rooms, art everywhere: an extraordinary B&B under a mile from the beach.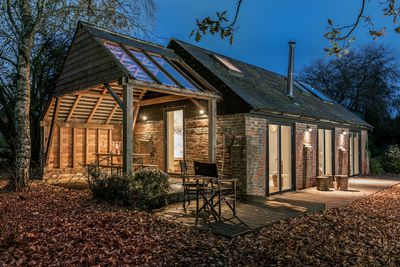 The Tack Barn
A super stylish barn conversion with roaring wood-burner. You're tucked in a quiet corner with lush gardens, woods to wander, a pond to row.