A foodie's guide to Marche, Italy
Earlier this year, we discovered the beautiful region of Marche in Italy. We found everything on offer in neighbouring Tuscany and Umbria – fine wines, brilliant food and alpine meadows – but with a fraction of the crowds.
We sent chef Elly Pear along to experience Marche for herself and she sent back a guide to the region's best foodie spots. Elly travelled up and down the coast by train, exploring the towns of Fano, Ancona, Falconara Marittima, Pesaro and Senigallia. You can view our full guide to Marche's slow food train trail here.
Markets
Fano market is on every day, apart from Sunday. Piles of beautiful local produce – vegetables, fruit and fish-  and distinctly untouristy. Look out for the man making hot Porchetta rolls to order for a queue snaking between the crowds. We picked up some handmade dried pasta to bring home, from Coccode, a shop on the edge of the market. They also sell fresh handmade passatelli, a type of pasta made from toasted breadcrumbs, egg and cheese that you'll see on menus all over the region.
Another place well worth a visit is the beautiful building housing Ancona's Mercato Delle Erbe (herb market), built in 1926 in Art Nouveau style. You need to get there early for the full deal, but even later in the day a few stalls are still open and there are shops all around the perimeter.
Gelato
There's delicious gelato and granita everywhere but here are three places we discovered that are really worth a detour. Firstly Maki in Fano, which has a big range of gelato in the most beautiful colours and flavours. Think golden milk, pink grapefruit and for di latte.
Try an organic lemon granita at Puro & Bio. It'll give you brain freeze but it's super refreshing on a hot day. We visited a branch in Pesaro but the organic chain has many shops, especially concentrated along the Le Marche coast, where there at about 25 branches.
Lastly, make sure you make time to visit Gelateria Paolo Brunelli in Senigallia and try their 'Portonovo' flavour, a perfect blend of caramel, chocolate, peanuts and a 'sweet salt' from Cervia up the coast – an artisanal sea salt with protected Slow Food status.
Beach clubs
Although all beach resorts have a section of free public beach, it's often at the end of the strip, where cafes, toilets etc are more of a walk away. If you're after the real Italian beach experience, head for one of the many private sections with their defined blocks of colourful umbrellas and sun beds. Expect to pay around €20 for two sunbeds and a parasol or €12 for the afternoon. There'll be dedicated toilets, changing rooms, showers, a café/bar or restaurant and a children's play area nearby. Despite these being private beach clubs, you are very welcome to bring your own food.
We'd recommend arriving at the beach early if you want a choice of spots. A private cabin is a brilliant if, like us, you're taking the train down the coast. We paid €10 to store our luggage for the day at the lovely Bagni Marco E Virgilio in Senigallia. Some beaches are sandy, some pebbly but they're all great. The water is shallow for a really long way out. 25m from the shoreline and you'll still only be up to your waist.
Local specialities
Off in search of the stuffed fried olives (Olive all'ascolana) we'd been told to look out for in Marche, we chanced upon Nino Pesciolino in central Ancona. The friendly owner told us they they didn't do the traditional (meat) stuffed olives, they only do olives stuffed with fish – this was joy to my pescatarian ears. We had a brown paper cone full of fish and seaweed balls, some tiny pieces of white fish in the crispiest lightest batter and a version of the elusive olives, here stuffed with fish, bread crumbed and deep fried.
Daily specials
There are ample restaurants that specialise in fish, and you'll often find that there's no printed menu, simply a blackboard with a simple, short menu, showcasing that day's catch, fresh from the market.
One of the best places we ate was Nadia's in Fano. We shared sea bream that had been cooked on the bone, cooled and flaked off. Simply topped with diced fresh tomatoes and very thin slices of red onion, the best local olive oil, salt and a tiny bit of very finely chopped parsley. It was so fresh and light. Their hand-cut spaghetti with shellfish and mixed fish sauce was, I think, my favourite dish of the entire trip. The exact ingredients were a mystery to the waitress – she said she'd ask the chef what was in it as it's always made in the morning before she gets there. Word came back from the kitchen: it changes every day. That's all we're getting on the subject!
Pizza
Nowhere will ever beat Naples, in my opinion, but if a trip to Italy is not complete without pizza, make your way to Farina in Pesaro. They use local flour to make their dough and a whole host of other Marche regional produce to top their pizzas. Their ridiculously bargain lunch deal (€10 for pizza, wine/beer/soft drink, coffee and service) is made even better by the fact that this Slow Food Association recommended pizzeria is right by the beach, perfect for a little post-pizza nap.
More inspiration…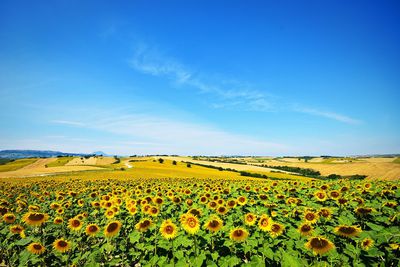 Marche Guide
Our all-you-need-to-know guide is packed full of intimate details on how to best explore the region; find out what to do at different seasons, explore the region's most famous dishes and decide which activity suits you best.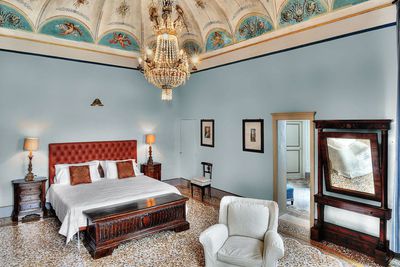 Places to stay in Marche
Browse our collection of places to stay in the Marche region. Find B&Bs on a hilltop farmhouse or agriturismo as well as grand self-catering spaces on vineyards.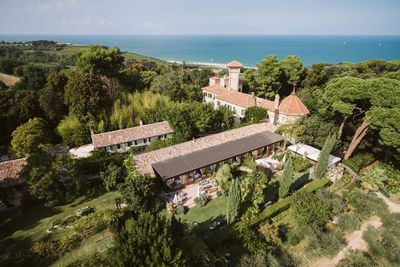 Marche walking itinerary
We sent walking duo What if we Walked to the region to hike from village to village, stopping along the way in family-run B&Bs or Agriturismi. What they sent back was a brilliant six day walking itinerary that will take you through some of Italy's most beautiful countryside.