Five reasons to visit Pembrokeshire this autumn
Pembrokeshire has always had a place in our hearts. The rugged coastlines, vast National Parks and landscapes teeming with wild, natural beauty are a few of the things that keep us going back again and again. After a recent visit left us feeling relaxed and revitalised, we give five reasons why you need to visit Pembrokeshire this autumn.
1. It's home to the UK's only coastal national park
Despite being much smaller than most other national parks in the UK, the Pembrokeshire coastline is studded with beautiful views and interesting rock formations. We particularly love the mix of country and coastal landscapes – they make for scenic driving!
The completion of the Welsh coastal path made Wales the only country to have built a public footpath tracing its entire coastline. You can spend one day exploring the wild beaches of the south and another the rugged Preseli Mountains of the north. There are plenty of secret beaches to be discovered too. One of our favourites has to be Bullslaughter Bay, a lovely little cove with turquoise waters set amongst high limestone cliffs.
2. The region is teeming with wildlife
Autumn is the best time for seal spotting in Pembrokeshire, and on our recent visit we were lucky enough to spot a handful of seals with their pups. Atlantic grey seals are commonly found floating in Carreg Onnen Bay, off the coast around Strumble Head Lighthouse. Take the coastal footpath to the left of the lighthouse and keep following the coastline – you should be able to spot seals floating in the coves.
Pembrokeshire is also one of the best places in the UK to watch migrating seabirds. Take a boat trip from St Davids over to Ramsey Island and you'll spot breeding seabirds, including flocks of choughs and peregrines. Head a little further south, and a boat ride over to Skomer Island will take you to see the resident puffins. On rare, but wonderful, occasions you may even spot the minke, sei or fin whales playing in the waters as well as bottlenose dolphins.
3. You'll be spoilt for picturesque towns
The seaside town of Tenby is known for its colourful coastal houses and vast beach – the Sunday Times recently awarded it as their beach of the year! Take a wet and windy walk from one end of Castle Beach to the other, stopping off at the iconic castle for a touch of history. Afterwards, head into town to warm up at Loafely Bakery or grab a bag of chips and eat them down at the harbour.
Other, equally as beautiful, towns include Newport on the north-west coast as well as St Davids. Both will welcome you with their slow pace; enjoy lunch at one of the many cafes, wander around the independent shops and take a walk down to Parrog with the North Pembrokeshire hills as your backdrop. Locals have told us that the little village of Solva is known to have some of the best views in the whole National Park, and Carew village has a beautiful castle that will transport you back to the 13th century.
4. It's the perfect place for an autumnal walk
Pembrokeshire has 186 miles of coastal paths, so you'll have plenty to choose from when it comes to brisk, autumnal walks. One of our favourite walks starts at Barafundle Bay and takes you right along the coast to Broad Haven Beach. After taking a quick dip (if you're brave enough!), find the footpath at the back of the beach as this takes you into Bosherston village. As you walk around the Lily Pond, look out for the many resident birds and otters. You can either walk around the lake and back, or stop off at the Bosherston tea rooms for a mid-walk snack.
The Preseli Mountains offer a complete contrast to the relative lowlands of the south. For a short walk, head to Foel Eryr where the 360-degree panorama view looks out across to Ireland and Snowdonia (on a clear day). The Golden Road provides a longer walk of eight miles, following an ancient track that is said to date back to the Neolithic Period. Dotted across the hills are prehistoric remains and burial cairns that date back to the Bronze Age.
5. There's a fabulous foodie scene
A brilliant weekend away is always topped off with great food, and in Pembrokeshire you'll find lots of innovative chefs proudly serving up fresh, local produce. Cafe Mor, a "solar-powered-mobile-converted-fishing-boat" on Freshwater West Beach, serves the freshest lobster and mackerel rolls drenched in homemade seaweed butter. 
The food scene in Pembrokeshire is becoming more and more exciting, and the new Y Gegin Food Hall is a brilliant new addition. You can find it down at the Pembroke Dock, serving delicious food from local street food companies and guest chefs. Regular yoga brunches as well as live music shows are also hosted throughout the year. For hearty food and a local ale by the fire, we recommend visiting the Stackpole Inn. Or, for fine dining in a romantic setting, head to Rhosyn restaurant at Penally Abbey Hotel – they have just been listed in the 2020 Michelin guide.
VIEW OUR PLACES TO STAY IN PEMBROKESHIRE >
Where to stay…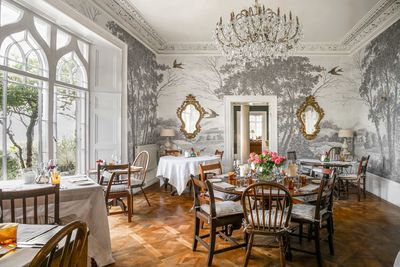 Places to stay in Pembrokeshire
Two hundred miles of coastal path along the rugged cliffs, surf schools on huge Blue Flag beaches and boat trips to Atlantic islands thronging with wildlife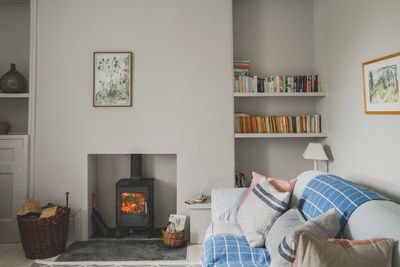 Wales holidays
Wales has incredible hiking, stunning coastline, wildlife, food and a rich history. You can stand on snow-capped mountains, walk on white-sand beaches and visit majestic castles.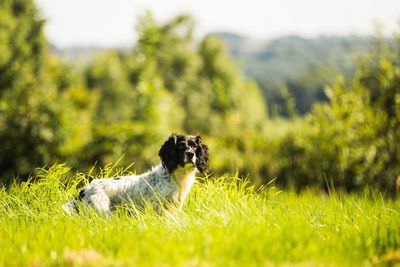 Dog-friendly places in Wales
Long white beaches, miles of coastal paths and beautiful mountains make Wales the perfect place to holiday with your pooch.