Four amazing road trips in the UK
One of our favourite ways to explore the UK is by road. Not only does it give you the freedom to travel wherever you want, you're also encouraged to travel the slow way. From windy roads in Lake District to long stretches along the Sussex coast, we choose four of the best road trips in the UK for a staycation to remember.
Argyll Coastal Route, Scotland
Perfect for: hikers
Duration: 3 nights, 4 days
This UK road trip is for fans of winding drives, seafood, a salt tang in the air and challenging hikes. Set off from the banks of Loch Lomond, visit the timber pyramid of An Ceann Mor,  and explore Scotland's striking west coast before heading to the The Loch Fyne for oysters on the water's edge.
Day 1 – Start by visiting the An Ceann Mor pyramid, built to frame the incredible views at Invergulas. Here you'll get a sense of the real size of Loch Lomond below. There's a host of wildlife too and it's an amazing spot for bird watching. East Cambusmoon is just 20 minutes' drive away in Strachur on the shores of Loch Fyne, with views out to the mountains of Kintrye and lovely, home cooked food.
Day 2 – Head north on the A819 for one hour up to Sithean, passing mountains and lakes as you meander along. Once you pass Cladich, you will drive alongside Loch Awe, which definitely lives up to its name. As you make your way around the northern end of the Loch, you pass Kilchurn Castle and continue along the base of Ben Cruachan. This is a brilliant spot to stop off and take on the ridge walk to Stob Daimh, passing the Cruachan reservoir with its towering dam. After a full day of walking you'll be ready to light the hilltop BBQ at your stop for the night – the wood-panelled cabin at Sithean.
Day 3 – As UK road trip ideas go, your final day is up there with the most scenic. Drive an hour along the coastal road to Fort William, passing Ben Lora – a relatively unknown beauty spot. It's well worth getting out of the car to take a look at the ranks of hills stretching away, although this stretch of coastal road isn't stingy with its scenery of mountain-fringed lochs. From here, the highest mountain in the British Isles is within your reach: Ben Nevis. The Mountain Track (less technical for the non-climbers among us) is easily accessed from Glen Nevis and the ascent takes around eight hours. The view from the top is spectacular, when it isn't completely obscured by clouds, but the walk will get you ready for supper either way. Head to The Airds Hotel & Restaurant for a night on Scotland's wild west coast, with superb dinner and comfortable rooms awaiting your arrival.
View all places to stay in the area >
The lesser-known Kentish Riviera
Perfect for: beach-goers
Duration: 4 days, 4 nights
The Kentish Riviera stretches from north Kent right down to the south coast of Sussex. Its close proximity to London makes it one of the best road trips in the UK for a long weekend, as you could be out of the city and breathing the sea air all within an hour.
Day 1 – Your first stop, Elmley Nature Reserve, is very special indeed. Discover 3,300 acres of wonderful wilderness and breath-taking beauty on an island in North Kent. Come for the day and experience bird-watching, with four hides offering different views and wildlife viewing opportunities. There are also plenty of walking routes, taking in the sights and sounds of the tranquil marshes and the animals that call this place home. You'll leave feeling truly inspired by the natural beauty we have here in the UK. Just over half an hour away is Reason Hill, a quaint family-owned Bed & Breakfast and your stop for the night!
Day 2 – After enjoying a home-made farmhouse breakfast, set off on the road towards Herne Bay for another day of exploring the coastline. Whilst you could easily spend a whole day on the beach, why not set off for a wonderful walk to Monkton Nature Reserve. Set in 16 acres of reclaimed chalk quarry, it is a brilliant example of nature's recovery and features many important habitats and rare vegetation. Nothing beats relaxing your legs on a beach post-walk, and Herne Bay has gentle waters that offer perfect conditions for a late-afternoon swim. You might feel the pull of the colourful beach huts calling your name for longer, but it's time to get back on the road and head south towards Deal where The Rose Hotel awaits you for an evening of seafood and cocktails.
Day 3 – The delightful town of Deal is full of quaint streets lined with pretty Georgian houses and a flourishing creative scene. It's got a Saturday market that sells local produce, flowers and trinkets galore, and with its own al fresco wine bar. Sunny days should be spent on the pebbled beach, of course, or stumbling across the great boutiques, vintage shops and eclectic cafés down narrow streets. Whilst it's tempting to stay here a whole week, the next stop is a real treat too. A drive along the scenic south-coast takes you past Kent's famous white cliffs until you reach The Gallivant – a boutique hotel just a stone's throw from the gorgeous Camber Sands.
Day 4 – With so much to explore in the area, it's easy to stay here for one or more nights. Camber Sands is a pristine beach that's perfect for sunny summer days, and it's dog-friendly to boot. If you can manage to peel yourself off the beach, the nearby Rye is a lovely Tudor town with some of the region's best antique shops. 15 minutes away is Dungeness, which is well-worth a visit for the brilliant seafood snack shack and famous red hut.
View all of places to stay in the area >
London to Cotswolds AONB
Perfect for: amblers
Duration: 3 nights, 4 days
The Cotswolds AONB (the largest of all England's 38) is nearly 800 square miles and can be easily explored from London, Bath and Bristol. It's crisscrossed with rivers, dotted with timeless English villages and gentle, level walks. The sheer volume of things to do in the area make it a great spot for a UK road trip.
Day 1 – The first stop is ancient Castle Combe. Just south of the Cotswolds, the little village consists of beautiful old stone buildings and thatched houses. Stop for scones in a tea room, or a cake from the honesty rack outside the house opposite the village pub. You'll be charmed by a vision of England unchanged for centuries. From here, head north through the heart of the Cotswolds until you arrive at Stroud – the 'capital of the Cotswolds'. Tour the small, independent Stroud brewery and sample organic beers served with wood-fired pizza before heading home for the night. Stay in the smooth stone B&B at Hammonds Farm.
Day 2 – As one of the best road trips in the UK, you'll get to explore every part of the beautiful Cotswolds region. Broadway is your first stop on day two, and here you'll find a charming seleciton of art & craft shops, delis, cafés and independent restaurants. The Cotswold Way is easy to pick up from the village, just follow the footpath 6 miles to Chipping Campden and you'll be rewarded with brilliant views. You'll pass the 17th-century Almshouses and viewpoints overlooking Evesham and Broadway tower, which has ties to the great William Morris. End the day with sundowners on the roof terrace of your grand stop for the night – The Lygon Arms Hotel. 
Day 3 –  Drop a last gem into the trip with a stop at Burford on your way back to London. Burford is full of honey-coloured cottages sprawled along the banks of the River Windrush, with a lovely blend of medieval and modern charm. It's also a great place to pick up an antique or two. If you've got the time and the appetite, stop off for a Sunday lunch at The Swan, close to Burford's shops. Inside, all is comfort and calm. A log burner warms the generous hearth, there are beautiful old beams in most rooms and the menu is simple yet delicious.
View all of places to stay in the Cotswolds >
The Lake District loop
Perfect for: wild-swimmers
Duration: 3 nights, 4 days
As best road trips in the UK go, you can't get much better then exploring the Lake District. Not only is it one of the most loved national parks, it has also been awarded UNESCO heritage site status. With more than 200 fells (known as hills) and 16 lakes, it's a real paradise for outdoor enthusiasts. There's also a vibrant community of local artisans, a brilliant selection of pubs and a strong tie to literature.
Day 1 – We'd recommend making Ambleside your starting point in the Lakes as it is one of the most central spots. From here, head south along the north shore of pretty Windermere before heading north to Glenridding. Windermere offers fantastic waters for wild-swimming, or you can keep going further along the Kirkstone Pass until you reach Ullswater. It's England's largest lake, so prepared to be in awe of the stunning scenery. For those who prefer to walk, the Ullswater Way, which runs all the way round the lake, is a gorgeous ridge walk providing all the height and drama you'd expect from the Lake District, but without the crowds. You won't want to drive any further after a long swim or walk, so we'd recommend checking in at the lovely Another Place hotel.
Day 2 – After a hearty breakfast, pack up your car and head towards Keswick – but do stop off at Castlerigg Stone Circle, one of Britain's most impressive prehistoric monuments, en route. After taking in the historic sites, trudge on to Derwentwater and pick up the woodland path close to Friar's Craig for an invigorating walk with views. There's a bench set in front of a beautiful view of the lake's islands and forestland – you'll feel miles away from anything here. On the walk you'll stumble across a small wooden jetty where you can pick up a boat and chug gently out onto the water. Nothing tops the day off like a hearty pub meal, so head to The Royal Oak and settle in for the night.
Day 3 – It's not often you get to experience a UK road trip that blends walks in the mountains with time by the coastline. Your final route takes you first to Drigg Sand Dunes, one of the least crowded and picturesque beaches in the UK. History lovers will also love exploring Ravenglass' ancient Roman ruins. After a few hours relaxing head to Wasterwater, England's deepest lake, which is perfect for a wild swim. Nearby, you'll find crystal clear pools and a cathedral tavern also over at Hardknott Pass. A walk starts by the old phone booth at the base of the Pass and goes up the valley for several miles. After 40 minutes it leads to Tongue Pot, a beautiful, wooded wild swimming spot, but there are other pools along the way. After a busy day, head to Coachman's House for a relaxing evening infront of the fire.
Day 4 – It's easy to spend a whole week or more exploring the Lakes by road as there is so much on offer. The final day of our itinerary takes you to Hawkshead, a quintessential village that has been fully pedestrianised. Park up, wander around and see what inspired Beatrix Potter and Wordsworth, before heading to Potter's House to admire stunning views. After a stroll around the gardens, it's time to head back – your legs will be sore, but oh it'll certainly be worth it!
View all places to stay in Lake District >
More inspiration…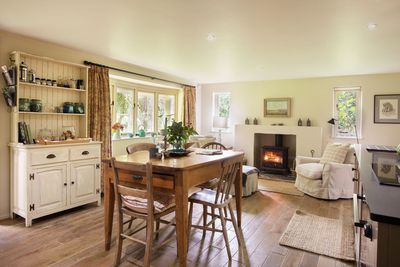 Holiday cottages in the UK
View our collection of special places to stay in the UK; from cosy country cottages to design-led barns.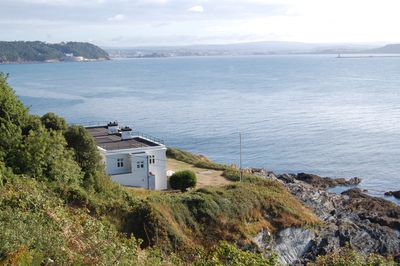 Coastal retreats
We've got over 250 special places to stay all within three miles of the coast. Discover them here.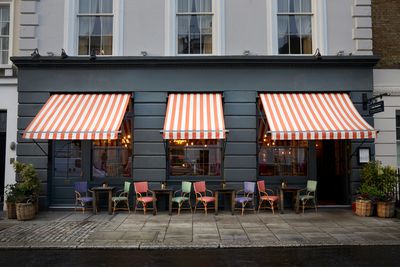 Five places where city and countryside meet
There's no need to be torn between a cultural city break and a refreshing dose of countryside. Find five spots where you can go from wandering quaint side streets and independent shops to stomping up hills, through forests and beside lakes all in the same trip.