Le Marche – six day walking itinerary
The Marche is a fabulous place for hiking; with minimal traffic along country roads and spectacular trails through the hills and along the coast. We sent walking duo What if we Walked to the Marche to hike from village to village, stopping along the way in family-run B&Bs or Agriturismi. What they sent back was a brilliant six day walking itinerary that will take you through some of Italy's most beautiful countryside.

What to know before you go
Our suggested itinerary begins in Ancona, which is the easiest airport to reach in the Le Marche region. If you would like to explore this region by car, you can still use this itinerary to help you discover. However, you may want to explore further afield. As well as Monte Sibilla, there are trails around Monte Vettore and nearby Lake Fiastra.
We would recommend walking the trail in spring or autumn, as the summer in Le Marche can reach highs of 35 degrees.
Walking trail start: Montelparo
Finish: Ascoli Piceno
Distance: 30 miles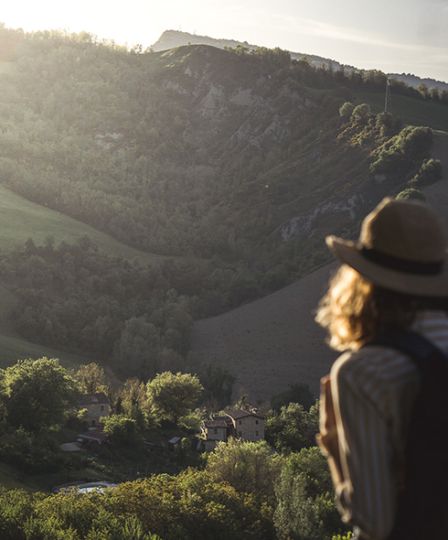 Day 1
We recommend flying into Ancona airport as there are direct flights from London Stansted. You can also fly to Rome or Bologna and catch a train from there, should you wish you explore this areas during your trip. Take a taxi to Montelparo in the foothills of the Marche Appennines.
Where to stay: Palazzo Leone in Montelparo is a lovely hotel with unbeatable views over the Marchegiana countryside to the Adriatic Sea. Dinners are a highlight; ingredients are fresh and local, recipes are too – along with a few far-flung eastern numbers.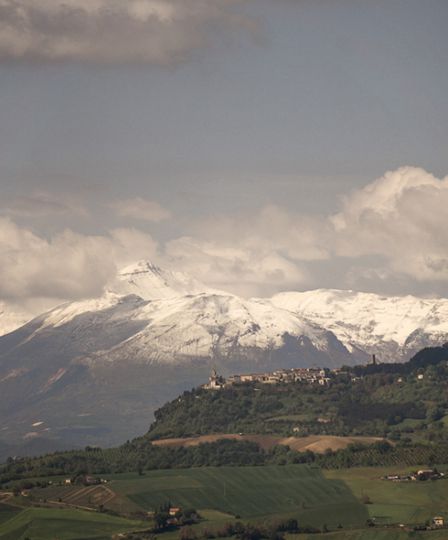 Day 2
Montelparo to Smerillo
Distance: 11 miles
After exploring Montelparo and seeing the dramatic Apennines for the first time, head off towards the mountains on small lanes. The walking trail will take you out of the village and west, so ensure that you begin on the SP61 road. This road leads onto the Contrada S. Giovanni, which takes you up through the hills and past meadows. The villages you will pass through en route to Smerillo are Santa Vittoria in Matenano and Montefalcone Appennino.
There's an option to catch the bus from Santa Vittoria in Matenano to Montefalcone Appennino and shorten the day by 7km. It's a nice option especially after having a drink and some lunch in Santa Vittoria in Matenano. The bus goes everyday except Sundays at 14:25 from outside the Alimentari on the "main road" in the village. Fare: €1.50 per person.
Where to stay: once you reach Smerillo, head through the woods to Agriturismo Contrada Durano. The hillside farm was built in the late 18th century as a refuge for monks, and has been lovingly restored by its English owner Jimmy who has ensured that many original features have survived.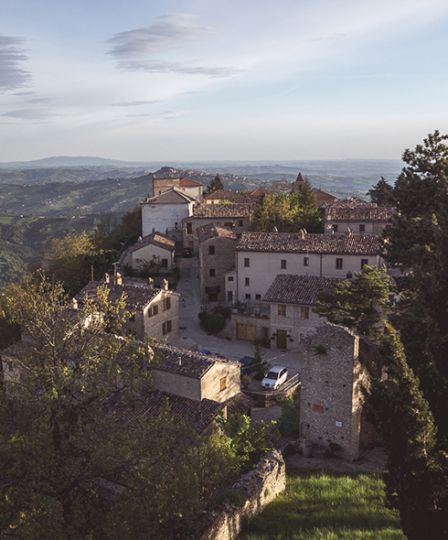 Day 3
Whilst walking each day is a wonderful activitiy in itself, it would be a shame to miss out on exploring the local area. We enjoyed walking the strade biance around Smerillo and back up to Montefalcone Appennino if you wish. There's fascinating geography and geology in this area, as well as spectacular mountain views. You can see our additional route for this area here.
For lunch and coffee stops, we recommend Le Logge in Smerillo. Jimmy, your host, also offers to take you up to Monte Sibilla for dramatic hikes in the Apennines should you wish.
Where to stay: a second night at Agriturismo Contrada Durano will allow you to embrace their full experience.
Day 4
Smerillo to Agriturismo Ramuse
Distance: 11.25 miles
Before leaving it's worth asking if a packed lunch can be arranged for your day, as you don't go through anywhere established. There are lunch options in Force at a slight detour, but only guaranteed on Friday, Saturday and Sunday.
Where to stay: Agriturismo Ramuse is beautifully rural and secluded so all meals are catered for and to a very high standard. Everything here is produced locally or on the farm, and your hosts are extremely passionate about the region.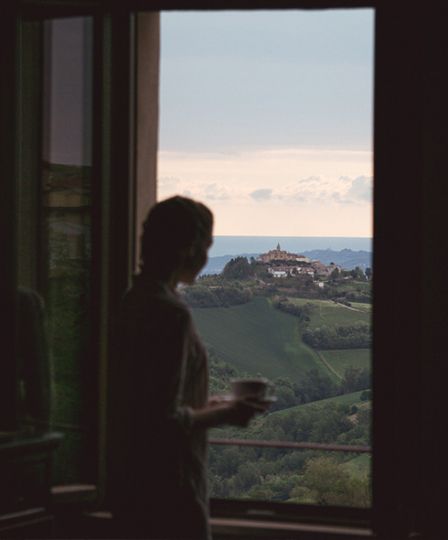 Day 5
We would recommend staying close to Paolo's place for your fifth day. There's no need to stray far; in summer you can laze by the pool or in the hammock. In autumn, Paolo can take you truffle hunting in the valley with his two hounds.We also found a fantastic little walk up the opposite ridge. We have provided you a GPX file, and Paolo will point you up a track in the right direction.
Where to stay: a second night at Agriturismo Ramuse
Day 6
Take a taxi back to Ancona airport for your flight home – or just stay indefinitely.
SEE ALL OUR PLACES IN THE MARCHE >
More places to explore the Marche…
Sambuco
Bring your friends, rejoice in the lovely garden and infinity pool overlooking glorious Marche, the classy rooms and Noemi's great breakfast.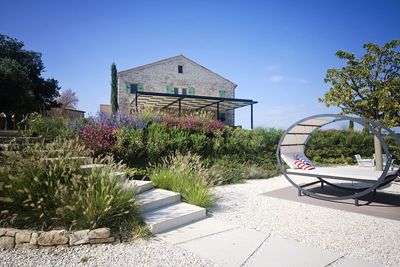 Borgo della Spiga
Tranquillity and comfort in a guesthouse in the Marche countryside – airy rooms for couples with huge windows onto good views.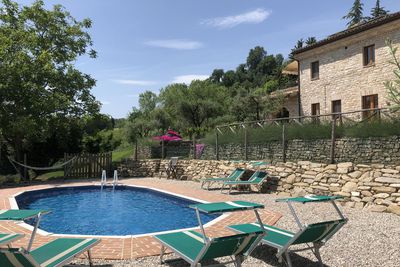 Villa in the Vineyard
Delightful ground-floor apartment of eco villa with fine valley views, down the winding road from Montelparo. Wine tasting nearby!