Five of our favourite pubs with purpose
It's no secret that we all need to support each other now more than ever. As we look forward to better times ahead, we're revisiting the stories of pubs that have gone above and beyond to help their communities over the last few months. From delivery services to NHS fundraisers and 'Sombrero Sundays', read on for our roundup of five pubs with purpose.
Zigzag through Bristol's boatyards to find this former Victorian pumping station and now much-loved pub. With its spacious terrace and views of the Floating Harbour, it's a local favourite for sipping some of the region's best beers and gins and watching the boats bob past.
Nationwide pub closures earlier this year saw the owners get creative about ways to support their community, and the Pump House Deli was born. Selling everything from fruit and vegetables, to fresh fish, homemade pastries and even gardening supplies, the deli provided a haven of local produce for the locked-down residents of the Harbourside, Hotwells and beyond. Following the most recent announcements they're now closed for the time being, but are already planning great things for their return in December.
This charming village pub appeals to dog-walkers and foodies alike, with its friendly welcome and simple but delicious menu. Knowing how much regulars would miss the fantastic food and hospitality, the owners gave back to their community with meal deliveries, including a Sunday 'roast on wheels', and a weekly virtual pub quiz (tickets included food delivery for the full experience!).
When the team got the green light to reopen the pub back in July, they launched Sombrero Sundays – encouraging pub goers to don their favourite Mexican headwear and adding a touch of fun to the one-metre rule. Due to popular demand, the Ring of Bells are continuing their delivery service throughout November while the pub is temporarily closed.
This 14th-century inn is beautiful inside and out, with its soft brick walls, oak panelling, walls adorned with owner Sylvia's art and a serene herb-filled garden. When the pandemic hit, the chefs volunteered to create dishes for the Food Share Project, using food that would have ended up in landfill to make over 4,000 nutritious meals that were distributed to the needy and vulnerable. In addition to this, they sold over 2,000 flowers from their garden to raise money for the NHS, and teamed up with other local businesses to support their community with everything from promotion to food parcels.
All of these efforts made The Hundred House Hotel a deserving winner of 'Best community pub' in this year's Telegraph Pub Awards. The pub has worked hard to adapt to the changing times, with extra precautions in place and a socially distanced outdoor marquee. We're looking forward to seeing them open again when it's safe to do so.
This historic town pub is almost 600 years old, and one of the oldest in Bury St Edmunds. The interiors are contemporary yet rustic, and the menu features modern British dishes with a focus on seasonal produce. It's always been a real community hub, so during lockdown the owners were determined to continue this in a different way. When pubs were ordered to close, Roxanne and David converted the pub into a wine shop (Vino Gusto) offering free local delivery. They also ran a pop-up brewery, The Brewshed, that was open three days a week, selling 75,000 pints. They were very careful to keep their community safe, and encouraged customers to bring their own containers, which would then be sterilised on arrival.
The feedback from local residents has been extremely positive, so the owners have decided to keep Vino Gusto running as an online shop. This will allow them to safely provide great wines, plus Brewshed cans and kegs, until normal business resumes.
A homespun inn in the rural village of Allanton, near the river Tweed and surrounded by patchwork fields and rolling hills. It's loved by locals for its hearty food and huge garden that backs onto views of open countryside.
During lockdown the inn stayed open to provide rooms for key workers, and ran a takeaway meal service for locals. An outpouring of support and glowing feedback on the pub's social media shows just how much the residents of Allanton appreciated their efforts, and they came runner up for 'Best community pub' in this year's Telegraph Pub Awards.
More inspiration…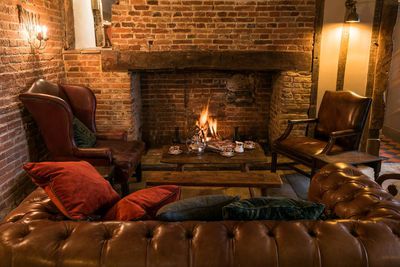 Sawday's Pub Awards 2020
See the winners of our 2020 pub awards in partnership with the Telegraph, with categories including Pub of the Year, Best for Food, Best Dog-Friendly Pub and more.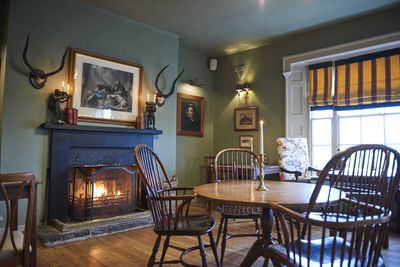 Six of our favourite fireside pubs
Read our roundup of six of our favourite fireside pubs, great for snuggling up on cosy winter evenings with a pint of dark stout.
Best pubs after a long walk
Browse our collection of pubs located near beautiful walking routes, perfect for resting weary legs and relaxing with pints and hearty meals.