How to embark on a modern day pilgrimage
The British Pilgrimage Trust guides us through what makes a modern day pilgrimage and how you can do one yourself. Take off into Britain's landscapes on foot to reconnect with nature's glorious sights.
What is a modern pilgrimage?
At its simplest, purest and most ancient, pilgrimage is an unbroken journey on foot to holy places. And holy places are everywhere.
Some folk say "It's out of date! – It's pointless!" But a pilgrimage is never pointless – that's the whole point. It is not cloud-like wandering, nor a hike to distant car-park signposts. You are walking to somewhere special, where you really want to arrive. The simplicity of a modern pilgrimage may be hard to fathom in our fast-paced, modern lives, but attempt deep connection with your surroundings on this walking tradition. Seek natural beauty and places of indisputably glorious creation on your route.
Be stripped of domestic insulation and convenience, and put one foot in front of the other on a journey toward unknown outcomes. The pilgrimage will go beyond the shallow waters of tourism and will dive deep, challenging those who walk to encounter holy places and seek a more real connection – with themselves and something greater.
The religious question
To talk of higher truth, we need a better language than words. For people throughout history, this language has been pilgrimage.
Some folk still say: "It's too religious/the wrong religion".
But British pilgrimage is neither non-religious nor religious. It is simply pilgrimage. Journeying to holy places doesn't imply devout religious intention as holiness can take many forms – cathedrals, rivers, ancient woodland etc – and the broad path of pilgrimage can welcome people of all faiths or no faiths. It's open to all. Bring your own beliefs.
Holy places are special places – compelling places – toward which you feel summoned to walk. It is up to you how to engage with them. Sing or dance, be still or silent – feel the urge to connect and act accordingly. No one's watching and there are no instructions.
The journey
Pilgrimage is intensely moderate exercise. And walking is our species' defining upgrade, a form of movement we seem made to do.
It provides time and space to process thoughts and emotions, and to encounter self without convenient distractions.
It also helps us to connect with others – companions and strangers. The journey takes us into communities we otherwise may not encounter and will teach us more about the companions we walk besides.
Pilgrims follow secret green passages – the bridleways, footpaths, green lanes and hollow tracks of old Britain, which carry you car-free almost anywhere.
Pilgrimage is the off-road pursuit of wholeness. It's an opportunity to meet the land, and dispel the idea of separation from nature. And walking as transport is one of the lowest-impact eco-activities possible. See some of the great routes that we've walked. 
Do try this at home
If you want to try pilgrimage, this journey from London to Sussex to celebrate 'Jerusalem' is a leap into the deep end. It is a pilgrimage to sing a song on a hilltop, and a journey deep into the dream of England.
For something closer to home, simply choose a special place and plot a route there by footpath using OS maps – paper or digital. Always choose the most beautiful path, and avoid roads. Go slowly, and walk it in one go. And that's it.
See you on the path.
Find out more about The British Pilgrimage Trust and explore the Modern Pilgrimage to Sussex walking route.   
More inspiration…
Places to stay in Britain
Browse our collection of self-catering places, hotels, B&Bs and inns in Britain, famous for its fascinating history, national parks, cosmopolitan cities, and cosy pubs.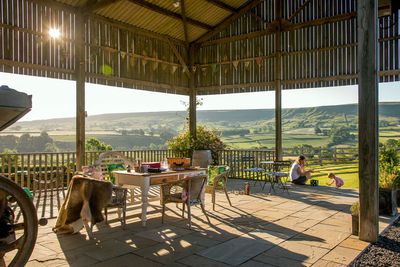 UK National Parks
Browse our collection of places in the heart of the UK's National Parks, including remote bothies, cosy barns and grand old mansions.
The Pilgrimage of La Peña
Daisy from Finca el Moro tells us about prepping the horses and the drinks, then setting off into a colourful, musical romería.