Five best walks in Dorset
Dorset has to be one of our favourite counties for amazing walks. Take rolling green countryside, charming old towns and the Jurassic Coast's dramatic scenery and you've got a winning recipe. We've rounded up five of the best walks in Dorset to have on your radar for spring and beyond.
Golden Cap from Seatown
A challenging but stunning coastal walk that rewards your efforts with three beautiful hills and some of the best views of the Jurassic Coast you're likely to find. This route is around a mile long and takes about 40 minutes in total. You'll start at the car park at Seatown and head north towards Chideok, before following the South West Coast Path through fields, copses and open heathland. There's a bit of a steep climb to the top, but this route can be adapted by taking the Langdon Hill path. Either direction will provide spectacular views as you get closer to Golden Cap, and the latter is particularly lovely in spring, taking in dense woodland and carpets of bluebells.
Various species of songbird provide an enchanting soundtrack. While you make your way to the summit, look out for yellowhammers darting between the bushes and buzzards hunting overhead. As with any climbing walk, the best part of the route is reaching the top of the cliff, and once you've managed the ascent to Golden Cap you'll enjoy breathtaking coastal landscapes, with views towards Portland Bill in one direction and Start Point to the other. See the full route here.
Stay at: Little Boutique Club, Bridport. Elegant apartments for couples in the heart of buzzing Bridport, just a mile and a half from West Bay Beach.
Godlingston Heath
One for the nature lovers, this gorgeous walk passes through the sand spit of Studland – the only place in Britain where all six native reptile species may be seen. It's a gentle, three-mile route that takes about an hour and a half, beginning at Middle Beach car park in Studland. You'll pass through a narrow path lined with snowdrops, past an ancient pear tree and the remains of an old stone cottage. Keep an eye (and ear) out for Dartford warblers, and of course reptiles – including sand lizards and grass snakes.
The middle part of the route passes through some lovely orchards, whose apples are used to make Dorset's own Old Volunteer Cider. Once you've made it uphill to Black Down Mound, take in the beautiful views across the heath to the coastline, with Agglestone on the horizon. As you head towards Agglestone, an acidic freshwater lake called Little Sea can be spotted in the distance – aptly named as it was cut off from the ocean many years ago. Once you've finished your walk, stay awhile in lovely Studland and seek out one of many scenic picnic spots, or explore one of the area's many beaches. See the full route here.
Stay at: The Old Post Office, Billet Doux, Swanage. A lovely cottage annexe for couples on a private estate two minutes from North Swanage Beach.
Lyme Regis to Seaton Undercliff
A long, seven-mile walk with a few challenging climbs and heaps of wonderful scenery, perfect if you're up for an adventure. You'll set off from the seafront in Lyme Regis and join the South West Coast Path, heading west past the famous Cobb. Make the climb up to the Ware Cliffs via Chimney Rock, and take a moment to admire the dense vegetation and dramatic old cliffs. You'll eventually pass Pinhay Bay – another good point to stop and drink in the views, this time of beautiful blue seas.
Towards the end of the route, there are some fantastic birdwatching opportunities in the Axe Estuary Nature Reserve, home to numerous different types of wildfowl and wading birds. Once you reach Seaton, there are plenty of places to refuel, including a microbrewery for a lovely cold pint. See the full route here.
Stay at: The Old Watch House, Lyme Regis. A beautiful apartment with the window seat of dreams looking out at the harbour.
Ratty's Trail
A picturesque, gentle walk designed to encourage Dorchester locals and visitors to explore the surrounding Dorset countryside. The area is teeming with wildlife, and the route itself is so called because of the water voles that can be found along the riverbank. This walk will have a special appeal for children, but adults and wildlife lovers are bound to love it too. You'll cover about 1.5 miles and will need about an hour for this one. Starting from the town car park, you'll pass a charming old cottage and a weeping willow, before coming to Blue Bridge, where you might spot swans and their cygnets. Shoals of brown trout can also be seen in the water.
As you delve further into the countryside, views of Dorchester start to fade into the distance and become replaced with fields of grazing sheep. Listen out for the chilling cries of buzzards hovering above, and keep your eyes peeled for deer. Once you meet up with the river again, you might spot the vivid hues of Himalayan Balsam along its banks. This circular walk finishes back near the old cottage, and there are plenty of benches if you'd like to take in the scenery for a bit longer. If you've worked up an appetite, lovely Dorchester is full of fantastic pubs and restaurants for refuelling. See the full route here.
Stay at: West Cottage, Dorchester. A cosy cottage with wild gardens and a pool, within walking distance to a great country pub.
Heaven's Gate at Kimmeridge Bay
When it comes to Dorset coastal walks, this one is particularly impressive for its dramatic scenery and incredible views of both coast and countryside. It's just over 5 miles long and of moderate difficulty. It's a dog-friendly route, so feel free to bring your pooch along. Starting at the quarry car park at Kimmeridge, a climb up Smedmore Hill will treat you to stunning views early on in the walk – drink in the vivid greens and blues of land and sea before setting off for the next stretch.
The walk passes through several gates, and the final one is aptly named Heaven's Gate. You'll understand why when you see the spectacular views that stretch out in all directions – inland to the Purbeck Hills, towards Corfe Castle and out to sea over the Jurassic Coast. This route is also dense with interesting vegetation, so look out for samphire and wild cabbage at your feet. Pass the historic Clavell Tower, and finish the walk back at the car park before heading into pretty Kimmeridge village for a mooch around or a pint at the local. See the full route here.
Stay at: Lulworth House, Lulworth. A lovely B&B in picturesque Lulworth, with breathtaking views and the coastal path nearby.
More inspiration…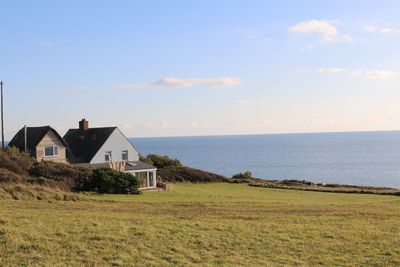 Places to stay in Dorset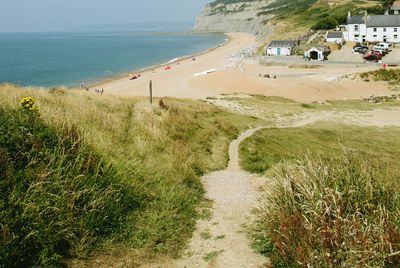 Slow Guide to Dorset
Famed for its stunning stretches of Jurassic coast, Dorset is as an idyll of rolling countryside, quintessential villages, towering cliffs and quiet coves. During our trip, we also learned that it's a place where creative and spirited communities thrive. Read on for our guide to the region.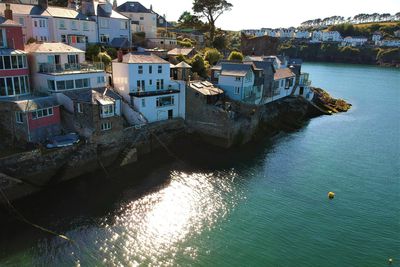 Coastal retreats
Browse our collection of self-catering homes, hotels and B&Bs across the UK & Europe, all within three miles of the coast.