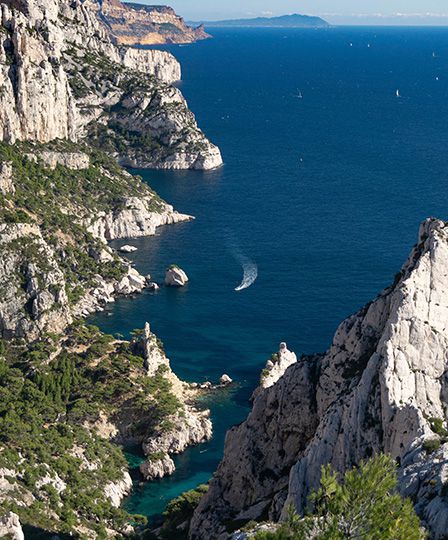 Calanque d'en Vau, Marseille
If you like a challenge, this one's for you. The wild and remote Calanque d'en Vau beach is one of the best beaches in France for stunning scenery, and the journey here is part of the adventure. From Cassis, it's a scenic two-hour hike, so wear appropriate footwear and be prepared for a few steep climbs. Once you reach the beach, you'll be rewarded with crystal clear turquoise waters, dramatic white cliffs and beautiful coves. The area is lush with vegetation and pine trees, wild asparagus and juniper line the cliff edges. You'll be more than ready for a dip in the sea after the long hike you braved to get here. It's also a kayaker's dream – the calm waters are perfect for having a paddle. 
Stay at: Mas des Sources, a lovely apartment above St-Rémy with a spacious garden and swimming pool.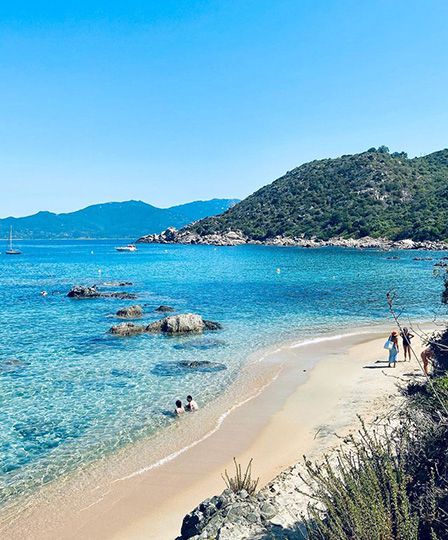 Campomoro, Corsica
This Corsican gem on the Gulf of Valinco is one of our best beaches in France for warm waters and pristine golden sands. The stretch of coastline spans over 750 metres and is one the island's less travelled beaches, so come here if you're craving peace and plenty of space to roam. Mountains rise rapidly in the distance, and there's a lovely walking trail that picks up nearby and winds around beautiful unspoilt coastline, pretty coves and striking rock formations. Splash around in the warm, calm seas or kick back with a book and enjoy the scenery. If you work up an appetite, Belvédère-Campomoro is a short stroll away for bars, restaurants and shops. 
Stay at: Casa del Sole, a welcoming B&B with a lush garden and passionate foodie hosts. 
Parlementia, Guéthary
When seeking out the best beaches in France the Basque region is sometimes overlooked, so we're making sure this stunning beach is firmly on your radar. This long sandy stretch straddles Guéthary to the south and Bidart to the north, and remains peaceful even in summer due to its discrete location. Dramatic waves make this a popular surfing spot, but bear in mind it's not for beginners. Grab a drink from one of the kiosks and sunbathe, or visit the beach as a detour when walking one of the area's amazing coastal trails. It's also worth making time to visit the charming harbour town of Guéthary for bustling markets, street festivals and vibrant Basque culture. 
Stay at: Villa etcheBri, a secluded villa fringed by pines and close to fantastic beaches.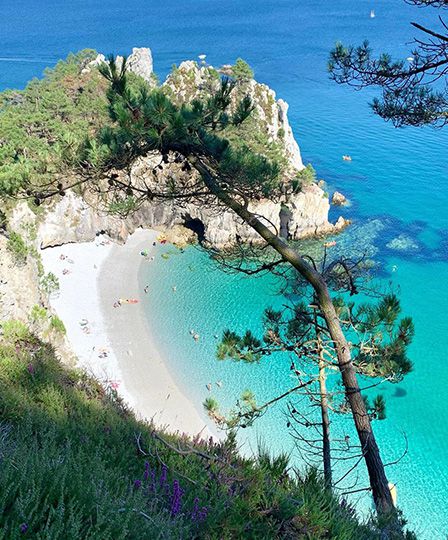 Île Vierge, Brittany
This beach has won awards for its beauty, and it's not hard to see why – the spectacular scenery and glittering waters at this Finistère islet have earned it a place on our best beaches in France. Set to the east of the Crozon Peninsula, this mostly pebble beach is framed by high white cliffs and pine trees and feels incredibly wild and remote. Its turquoise seas mean it wouldn't look out of place in the Mediterranean, but it's worth noting the water is a little cooler here! The beach is accessible via a hiking trail and disappears at high tide, so you'll need to plan your visit – leave your car in St. Hernot and walk 20 minutes along the coastal path to get here. 
 Stay at: Ty Anna, a rustic retreat by a river in peaceful protected woodland.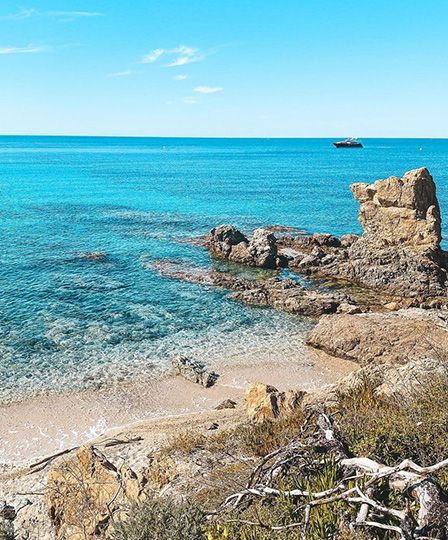 Plage de la Bastide Blanche and Cap Taillat
Tucked away near the quiet village of Ramatuelle, this lesser-known paradise is close to Saint Tropez but has a fraction of the crowds. It's one of our best beaches in France for escaping the tourist track, and like a lot of wild beaches, finding it takes a bit of effort. Once you've parked the car in l'Escalet you can travel by land or sea, so put your hiking boots on or rent a kayak – it takes about an hour either way. The beautiful nature reserve of Cap Taillat features a gorgeous Mediterranean colour palette and glistening clear waters. Once you reach the headland and find Bastide Blanche beach, you'll be rewarded with a stretch of golden sand that looks straight out of a postcard or a glitzy French film. Bask in the sunshine, listen to the waves and bathe in the warm sea – pure bliss. 
Stay at: La Maison du Prince, a charming 16th-century house close to the Riviera. 
This article was written as part of our Re-bonjour campaign. See more here.
More inspiration…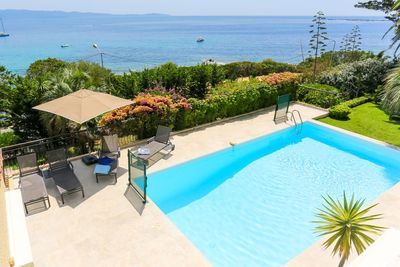 Beach houses in France
Stroll out into the sea breeze or curl up on the sofa and watch the waves from our collection of beautiful beach houses in France.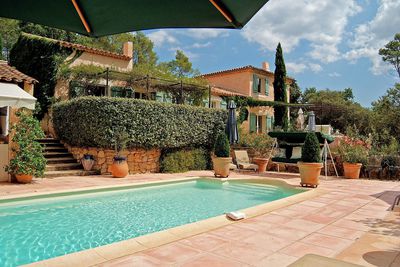 Villas in South of France
Coastal villas where you can find your own place in the sun, some with pools for cooling off or olive groves for afternoon naps in the shade.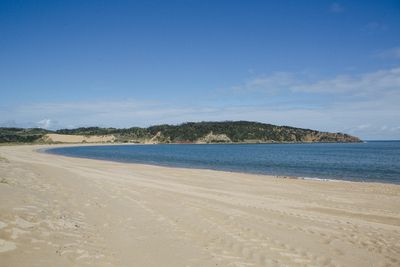 Europe's best secret beaches
In search of places to swap swimming pool cacophony for whispering surf, we asked our owners and the team here at Sawday's for their secret beach recommendations.