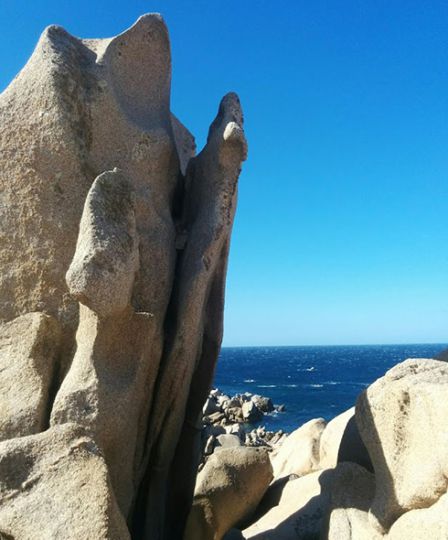 The bizarre landscapes of Capo Testa
Capo Testa is the farthest point of Northeastern Sardinia, in the province of Olbia, famous for its beaches, coves and beautiful sunsets. It's strewn with huge, wind-formed granite rock formations smoothed into other-worldly shapes. Hikes here take you through a landscape that feels crafted for a Jurassic Park film.
Stay at: Tancamelis, the cool summer house of Antonio and Deb, designed by Antonio and built by his father. Breakfast on homemade ricotta, bask on a cool white lounger, swim in the cove below, kayak to uninhabited islands, take the ferry to Corsica, snorkel, surf, watch the sun go down at Capo Testa.
The market and artists community at San Pantaleo
San Pantaleo must be one of Italy's most beautiful villages and is home to a thriving artist community. Mountains backdrop the village square, overlooked by a honey-gold church. There are a couple of cool bars and a bustling market each Thursday. Tucked amongst the low-lying homes are cool little craft shops and galleries.
Stay at: Ca' La Somara Agriturismo. A short drive to stunning bays, a far cry from the fleshpots of Costa Smeralda, Ca' La Somara's white buildings stand out against the wooded hills and crags of Gallura. Welcome to a serene, Moroccan oasis around a lovely central courtyard smothered in bougainvillea, it's all deliciously restful and undemanding – and there's a fabulous pool.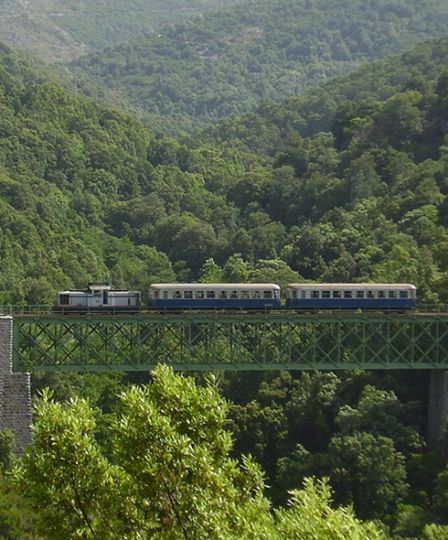 The Little Green Train
"At the end of a long climb, we reach a station after a stretch of solitude. Each time, it seems that nothing lies ahead, nothing is inhabited. And every time, we pull into a station." D H Lawrence, Sea and Sardinia
Sardinia's ancient Trenino Verde (it's run for 130 years) takes you to a remote world little changed in centuries. It runs from Arbatax to Mandas through some of the greenest, most sparsely populated parts of the island.
Stay at: Antica Locanda Lunetta. Breakfast, a feast of breads, cheeses, cakes and jams (prepared by Barbara and her charming brother) is brought to the dining room or to tables under the lemon trees. In the evening the candles are lit, accenting the courtyard's old stone walls.
The roots of the Slow Food movement in Santu Lussurgiu
You'd be forgiven for thinking you discovered Santu Lussurgiu yourself – its winding, medieval streets are quiet and enchanting. It lies inside the largest extinct volcano in Sardinia in a Natural Reserve called Sinis-Montiferru. Climb the mountain of Montiferru for breathtaking views, swim in the Cascata di Sos Molinos (waterfall).
Stay at: Albergo Diffuso Antica Dimora del Gruccione. Gabriella, a founder of the Slow Food movement in Sardinia, and her daughter Lucilla warmly welcome guests to their 16th-century palazzo, which has been in their family for six generations. Delicious and unpretentious dinners are the highlight, served under lemon trees in the courtyard on warm evenings. Dishes are created using ingredients only from the region, explained by the passionate and knowledgeable Lucilla and served with wines matched by her sommelier husband, Marco.  All are based on the Slow Food concept.