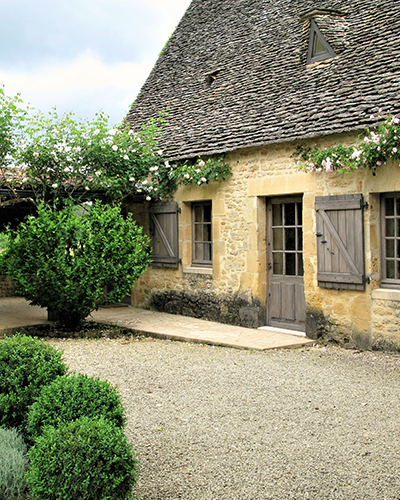 In the summer of 1996, I fell unexpectedly, helplessly in love with a small farm in the Dordogne. For years I had dreamed of one day returning from California to France, where I had been a student, and perhaps finding a house there.  That day arrived when I visited friends in the Dordogne region, historically known as the Périgord. I immediately felt the palpable connection to history in this region that has been inhabited since Neolithic times. I was taken in by the slow pace of country life, the relaxed friendly exchanges that happened spontaneously with local residents, and of course by the wonderful food. The Périgord is known as one of the gastronomic centres of France.
Gaurenne, the small farm with which I fell in love, was definitely not the village house I had imagined, however I realized that having several buildings grouped around a courtyard offered the possibility of restoring the largest one as a vacation rental and of sharing the special character of this region with travellers. The farm itself was of amazing authenticity, built of the local golden stone with limestone roofs hundreds of years old. Over the years, I've tried, with each stage of restoration, to preserve the original character of Gaurenne while updating it with modern comforts. In this little ridgetop farm, a number of families feel such peace that they return to Gaurenne year after year as their children grow, and they feel it's their home as well, which gives me great pleasure.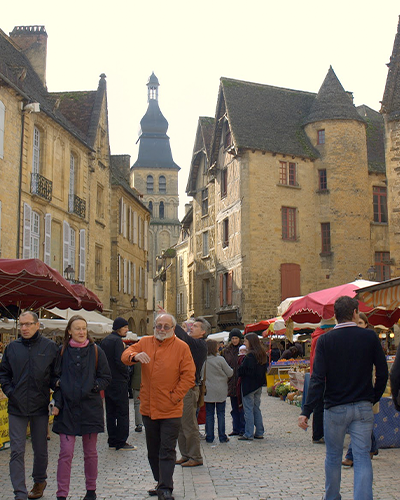 One of the greatest joys of staying in a home in Périgord is going to the outdoor markets. Here one feels the fullness of each season, strawberries and asparagus in spring, a full array of vegetables and fruit in summer, chestnuts, walnuts, truffles, ceps mushrooms and wild game in fall and winter, and, of course in Périgord, duck and foie gras all year round!
Nearby Sarlat has a spectacular market twice a week that winds through medieval streets. In addition to local produce, cheeses, fresh fish, sausage, honey etc., you can take home a stuffed roast chicken, and delicious pommes de terre sarladaises (sinfully delicious potatoes cooked in goose fat).
The smaller markets are equally wonderful. My favorite ones are in Saint Geniès and in Saint Cyprien, where you can relax at a sidewalk café and people watch. Eating in restaurants is a wonderful treat and there are many in this region, but best of all is going to markets, talking with farmers who explain about their produce and often suggest recipes, and then returning home to prepare beautiful meals eaten at the long farm table in the shade of the blossom-covered arbor.
In the countryside, you can chat with neighbours as you go to pick up the morning's bread in the nearby village or stop to talk with a farmer just leaving his freshly ploughed field. Settling into a house, one becomes a "resident" of a place in a more intimate way; experiencing its tempo, weather, food and culture more deeply. Visitors leave having experienced a different way of living and perhaps carrying with them a small piece of the Périgord. Along with bottles of the region's famous walnut and hazelnut oils and distilled peach liquor.
More inspiration…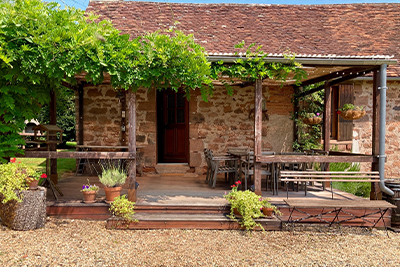 What is a gîte?
Our very own Nicky de Bouille writes from the banks of the Loire on the origins, pleasures and definition of the humble gîte.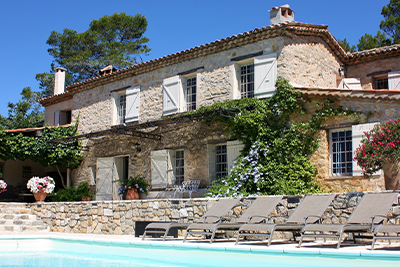 Browse our French gîtes collection
Every one of our gîtes is as unique as the region it lies in, whether it's a romantic gîte lost in the hills and valleys of Auvergne or a family escape on the banks of the Loire.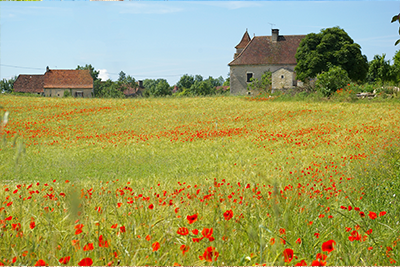 Bad French, wonderful France - my first ever gîte holiday
Chris, from our very own team, recalls eventually finding then instantly falling in love with, his first ever gîte.