Prussia Cove, Marazion recommended by Christen, owner Middle Colenso Farm, Penzance
'Tucked away on the south coast not far from Marazion, Prussia Cove is a glorious swimming spot. It's picturesque, sheltered and there's plenty to explore. The area also has a fascinating history.
The cove is name after John Carter, one half of a notorious pair of smuggling brothers who plied their trade in the area during the 18th century. Nicknamed the King of Prussia, he ran such a successful business that in 1780 it was said that half of all the brandy in Britain had smuggled in via Prussia Cove.
These days this stretch of coastline is privately owned but there's a small car park from where it's about a five-minute walk to the beach. Prussia Cove actually comprises four coves but its easiest to enter the water from Bessy's Cove where there's a shingle beach at low tide.
Although sheltered, it can get choppy and is best when the wind is in a northerly direction. It's busy during the summer months but is often very quiet out of season and there's no lifeguard so, as always, it's best to swim with a buddy.'
Gyllyngvase Beach, Falmouth recommended by Lydia, member of  Wild Swimming Cornwall
'A popular location with both dippers and open water swimmers, Gyllyngvase beach is a great place to access the water regardless of experience level. The sand gently shelves into the ocean and the beach is wide, meaning you can cover long distances without straying far from the shoreline or out of your depth. Reef systems provide a haven for fish and other aquatic wildlife, so a pair of goggles near enough guarantee you to spot something interesting. If you're looking for something more vigorous, buoys provide the perfect marker for swimming further into the ocean and back. Remember to check the tide times, as the distance between the beach and the buoys varies depending on the time of day and whether it's a spring or neap tide.
Gyllyngvase is easy to access via public transport, making it more accessible than some of Cornwall's other locations. Check out trains to Falmouth Town from which the beach is a fifteen minute walk along the seafront, or local bus schedules.'
Find out more about Wild Swimming Cornwall on their website or Instagram page.
Penlee Point, Rame recommended by Siri, Sawday's Marketing Executive
'For me, wild swimming doesn't consist of murky waters, sudden plunging, and mud-filled toes but crystal waters, gradual temperature adjustment and white sands. Cornish beaches differ depending on the coast, cove and wind cover. South East Cornwall with its vast stretch of coast, quaint fishing villages and a tranquil peninsula is one of my favourite spots. Penlee Point, a rocky outstretch on the South West Coast Path, does well to hide one of my favourite swimming spots. Often only discoverable by locals or the curious, the beach is covered at hightide, but all is not lost. Large concrete steps leading down the sand, provide the perfect swimming platform for hightide days. And the grassy hillside still gives you space to lounge and each your post-swim snacks. However, if you're lucky enough to venture there at low tide, climb down the rocks, and spend hours swanning in and out of the water, with maybe only the birds, and local or three as company.'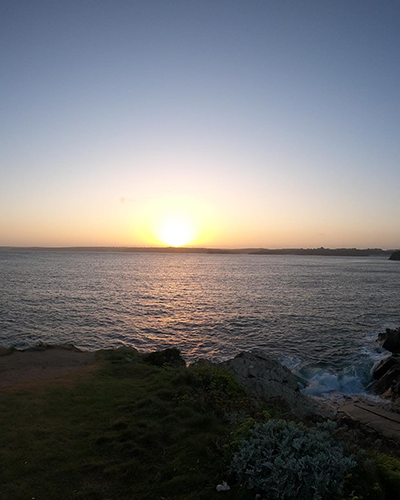 The Gazzle, Newquay recommended by Katie, member of Swimmin Wimmin
'On a flat calm day we head to The Gazzle, we access the water here via the old lifeboat slip or from the worn path down the rocks at the small cove to the left. The sun rises above the cliffs of the town in the distance so it's a beautiful place for an early morning swim. Heading straight into deep water this is a wonderful starting point for a longer swim, it teems with sea life and beautiful seaweeds and consequently is the perfect snorkelling location too, though it's just as lovely to walk down the slip into the water and simply lie on your back feeling like you're far away from the hustle and bustle of the town while still being within easy walking distance.'
Mounts Bay, Penzance recommended by Naomi, Sawday's inspector and Coastguard Cliff Rescue team member
'I have been wild swimming all year round in the sea in Cornwall for most of my 45 years. It is probably still one of my favourite pastimes and vital to my health and wellbeing both mentally and physically. When it is too rough to swim at one of the beautiful beaches that I am lucky enough be surrounded by I often find a little rock pool tucked away and dip in that instead.
Whilst I would encourage everyone to get out into the great outdoors and the sea to experience the benefits that I do, I would also emphasise the dangers of swimming in very remote places here.  My advice to anyone wanting to experience the joy of this amazing activity for the first time would be to find a reputable guide such as the brilliant and sign up for an adventure with them. Wild Edge Swim organise trips along the breath-taking coves and beaches of the southwest coastline and coaching sessions in Mounts Bay, Penzance.'
Find out more about our special places in Cornwall here. 
More inspiration…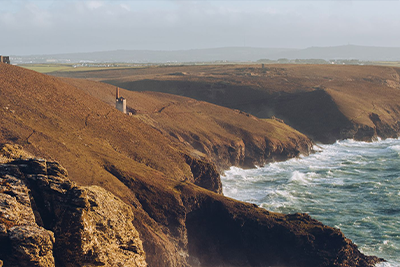 Our Slow Guide to Cornwall
Discover grey seals, towering cliffs and seafood tapas as we uncover the best places to visit, walk, eat, drink and stay.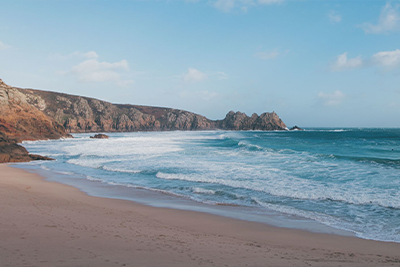 The science of water
We all know the feeling of tranquillity water brings, but we explore the science behind our deep relationship with water.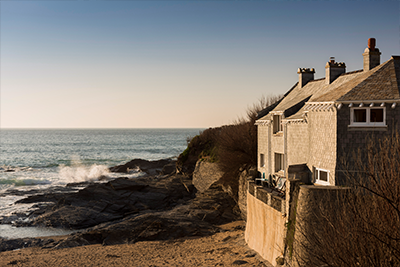 Five best self-catering cottages in Cornwall
Explore Cornwall's incredible coastline, wild moors, foodie pubs and picturesque fishing villages from one of our favourite Cornish cottages.