Frozen food: the chilly life of a scallop farmer

It's early March in the Scottish Highlands and the water is the same slate grey as the sky. A man is wading into a loch.
Dave had always wanted to work underwater and, after years as a diver in civil engineering he decided, along with his son Ben, to indulge his other passion – farming the sea. After experimenting with various techniques, he hit upon the method that makes his the only "twice-dived" scallops in the world.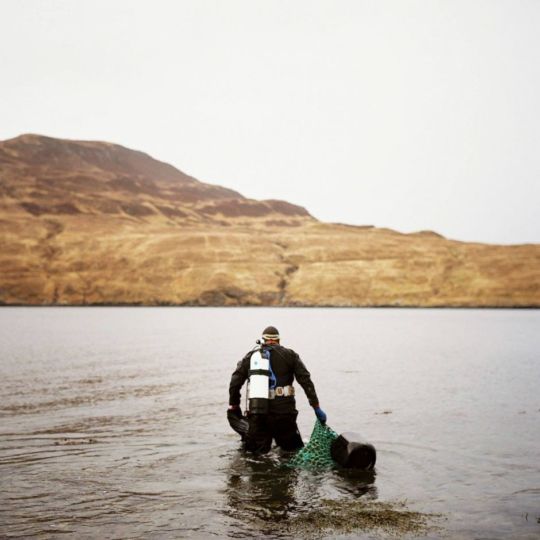 Apparently, the key lies in fishing for baby scallops in deeper water during the calmer summer months and homing them in a shallower part of the loch, where they'll be safer from predators and stormy seas. In their sheltered location, Dave lets them grow until they're seven years old, refusing to harvest any that weigh less than 250g. The only way to tell when they're ready of course, is to get into the freezing water and give them a careful fondle. Which is what he's doing now.
Meanwhile, Ben explains the history and method of their unique Scallop farm. I'm trying to take notes but distracted, wondering if I'll ever feel my feet again and longing for Sou'esters. When Dave resurfaces, I try not to look cold and ask if there's ever a time when he just doesn't feel like a dip in the near-glacial waters to check on his herd? Standing on the shore in the driving rain with a dripping collection bag full of fresh scallops he grins and replies, "I love it. I love what I've achieved…" then, "just never have a hangover".
Dave's farming technique means that his scallop population is booming, and so is demand for his produce. We drop him home to warm up and follow Ben (and the contents of the collection bag) to one of the many restaurants that use his harvest-to-order service. In the beautiful (and mercifully well-heated) surroundings of the Dulse & Brose restaurant at the Bosville Hotel in Portree, head chef Peter Cullen shucks, cooks and serves us the fresh, juicy scallops along with a lesson on scallop anatomy and a good line in bivalve jokes. The taste was amazing, undoubtedly enhanced by knowing exactly how recently they met their flash-fried end and how much love had gone into their production.
Tessa is the marketing manager at Sawday's. She was in Scotland to research Sawday's Guide to the West Highlands.