Best UK hikes for celebrating spring
Spring is a time to come out of that post-Christmas hibernation and get back out into nature. Flowers begin popping up again, animals start to re-emerge from their slumber and you may even get the odd t-shirt day too. We pick the best hikes in the UK to welcome spring; discover everything from idyllic coastal walks to rugged mountain hikes and pretty bluebell woods.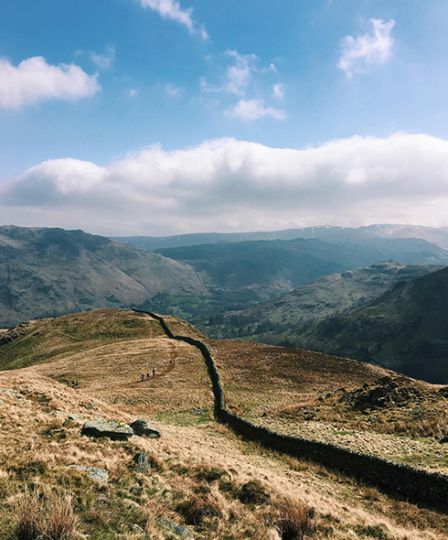 Helvellyn Walk, Lake District
Our Designer, Megan, revealed that this is her favourite walk in the UK, as it offers an off-the-beaten-track alternative to nearby Scafell Pike. The five-mile walk starts from the village of Glenridding on Ullswater and takes around three hours in total. You climb up through Birkhouse Moor, where the landscape is raw and rugged, but has beautiful views back over Ullswater. The next ascent, onto Striding Edge, is a knife-edge scramble, and not for the faint-hearted, but the views over Red Tarn Lake at the top make it all worth it. Even in spring, you'll see snow-capped mountains and feel the crisp cool air.
If you didn't pack enough water, don't worry – Megan told us the Red Tarn Lake makes for great drinking water or even wild-swimming, if you can brave it! Either walk back the way you came, or if you're up for something longer, carry on around Red Tarn Lake and towards Catstye Cam, bringing views of Ullswater directly in front of you. This circular route will take you back through Birkhouse Moor (on the opposite side to the way you came) and eventually to Glenridding. On your return, head to one of the village pubs for a well-earned pint in front of the fire.
Stay at: Another Place – The Lake, a family-friendly hotel on Ullswater with stylish rooms and super food. Or Hart Barn – a contemporary barn conversion in the Lake District National Park.
View all our places to stay in the Lake District >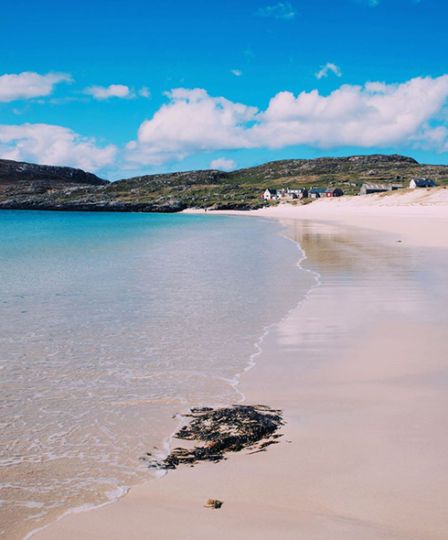 Crabhadail Beach Walk, Isle of Harris, Scotland
Scotland is an old favourite of our Managing Director Mike, and last year he visited the beautiful Isle of Harris. While there is a direct flight between Stornoway and London, the longer road and boat trip is a more sustainable and beautiful way to get north. The Crabhadail beach walk is one of Mike's favourite coastal walks in Scotland as it passes some of the UK's best secret beaches without another person in sight.
Begin the walk from the parking area at Huisinish and follow the rocky wall with the island of Scarp to your left. You should see another path before the cliff heads up to the right – this is an ancient route that runs all the way to Traigh Mheilein along the base of Huiseabhal Beag. Continuing along this path will take you past Loch na Cleabhaig and back south to the bay of Crabhadail. Its remoteness, soft white sand and stunning views make the bay a perfect spot for whiling away an afternoon before heading back. The walk is very wild in some parts and there aren't set paths the whole way, so we would advise taking a map and checking it often! See here for more details of the route.
Stay at: Scarista House – a quaint country-house hotel with magnificent views or Brove Lodge Estate – two snug, eco builds designed to blend seamlessly with the landscape.
View all our places to stay in the Western Isles >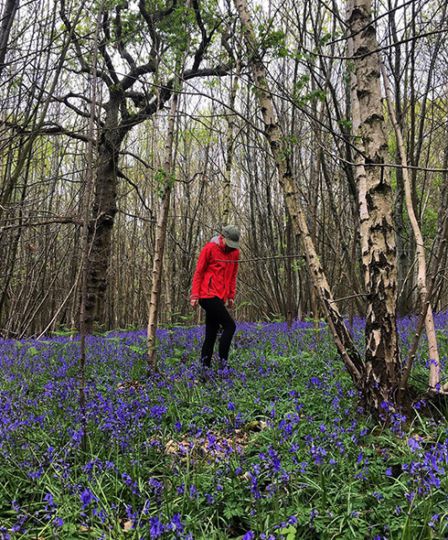 Brede High Woods, Sussex
Nothing says spring in England like a big blanket of bluebells, and Brede High Woods is the perfect place to enjoy them. Home to rare wildlife, plants, flowers and long-forgotten iron works, this is a varied walk that's perfect for a crisp, sunny day. Not only does the five-mile path take you through ancient woodland, but past sandy heaths in the High Weald Area of Outstanding Natural Beauty.
Start your walk in the Woodland Trust Car Park and head into Brede High Woods where you'll immediately spot the bluebells. Following the path south, you'll see Powdermill Reservoir on your right and eventually reach Lower Jacobs Farm. In spring, wood anemones cover the ground, as do fragrant pignuts and primroses. Continuing on this path will take you over to the other side of the reservoir and through Cryalls Wood, Ward's Wood and Streetfield Wood. Make sure you look up at the Scots pines, where you may see buzzards, woodcocks, nightingales and warblers, as well as orange tip butterflies. Fallow deer, badgers and wild boar also call this wood home. Take a moment to pause at Brede High Heath before you reach your end point, to take in the stunning view over the reservoir and out across the Sussex countryside.
Stay at: Boxwood – a contemporary, architect-designed home surrounded by a leafy Wildlife Trust reserve. Or, Castlemans Stables – dog-friendly cottages with colourful interiors and log-burners.
View all our places to stay in Sussex >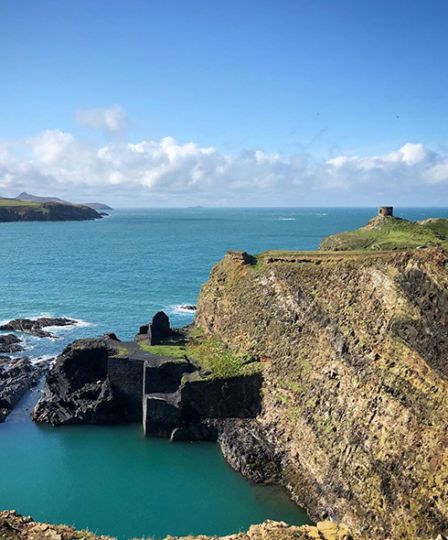 Porthgain to Abereiddi, Pembrokeshire, Wales
Pembrokeshire is home to the UK's only coastal National Park and has some of the best walks in Wales. The Porthgain to Abereiddi path is a four-mile circular route along the west coast, showcasing some of the region's finest scenery. You'll not only pass a number of coves and deserted beaches but rugged caves and a shimmering lagoon to boot.
Begin your walk at Porthgain Harbour, following the signposted path down towards Pen Porth Egr. This will take you past dramatic cliffs and varied wildlife. Keep your eyes peeled for steps down to the remote beach of Traeth Llyfn if you fancy a break and a paddle. A highlight of the route is a little further south at the Blue Lagoon in Abereiddi. The water is crystal clear, the views are spectacular and, if you've got a wetsuit to hand, we recommend taking a dip. From here, head across the grassland and back up towards Porthgain – turning around every so often to take in those endless sea views.
Stay at: Crug Glas – a country hotel with stylish bedrooms, big bath-tubs and plenty of land to explore. Or The Manor Town House – a friendly B&B in Fishguard with unbeatable sea views.
View all our places to stay in Pembrokeshire >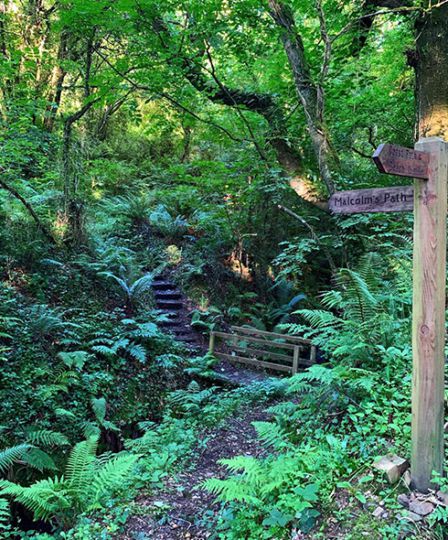 Buck's Mills to Peppercombe, Devon
The South West Coast Path is one of the most famous walking routes in the UK, running from Somerset all the way to Dorset. Here at Sawday's HQ, the Buck's Mills walk is one of our favourite stretches as it takes you along picturesque coastal cliffs and offers access to two remote beaches.
The walk begins at the village car park in Buck's Mills, from which a path takes you down to the coast. It takes a slight U-turn back inland and you'll find yourself walking adjacent to the beach up on the cliffs as you head towards Peppercombe. The woodland you pass is part of a Site of Special Scientific Interest as it supports a diversity of wildlife in the scrub, grassland and marsh. In spring, keep an eye out in the wildflowers as the purple orchid and marsh orchid attract plenty of butterflies. Once you have reached Peppercombe Bothy, you will see a series of steps leading you down to the beach. This is a wonderful place to stop for an hour or two – soak up the sun or delve into your book with the red sandstone cliffs behind you. The circular route from here takes you inland towards Horns Cross and back to Buck's Mills – stay for sunset if you can, it's a real treat.
Stay at: The Old Shippen, Kerswell Farm or The Old Piggery, Kerswell Farm – two cosy cottages with caring hosts, tasteful interiors and wildlife-rich meadows.
View all our places to stay in Devon >
More inspiration…
UK National Parks
Stay right in the heart of the UK's National Parks, with our collection of hotels, B&Bs and self-catering places.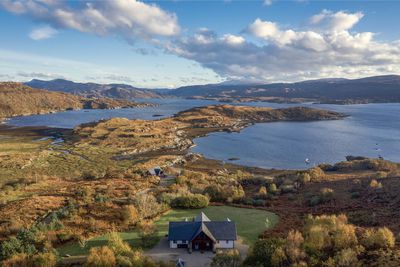 Amazing spring walks
Find our collection of beautiful places to stay with amazing spring walks straight from the door.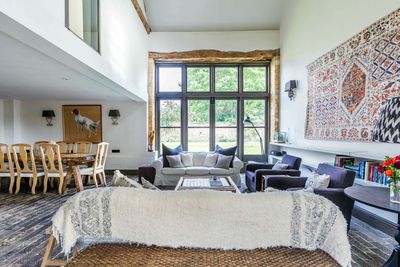 Places to stay in Britain
Browse our collection of self-catering places, hotels, B&Bs and inns in Britain, a country famous for its fascinating history, national parks, cosmopolitan cities, and cosy pubs.