Five beautiful and bracing winter walks
Nothing beats those crisp winter days: the sun's shining, you're wrapped up warm and there's a peaceful stillness to the frosty landscape. Whether you're looking for a short Sunday loop or a post-lunch hike – we've got five best winter walks from around the UK that have been chosen by our team.
1. St David's Head, Pembrokeshire, Wales
Length: 1.5 miles
Duration: 1 hour
Perfect for: a healthy hit of sea air
Pembrokeshire really does come into its own in winter as the busy crowds disappear and the coastline becomes teeming with wildlife. The best way to enjoy it is by foot and you could spend weeks exploring the famous Pembrokeshire Coast Path, which spans 186 miles from St Dogmaels in the north to Amroth in the south. One of our favourite weekend trails is the St David's circular which starts at Whitesands Bay and is just over 3 miles long.
Whitesands Bay is dog-friendly after 30 September, so once you've parked up you'll be met with the happy sounds of dogs playing. The coastal path bears off to the right from the beach and ascends up onto the cliffs – you'll spot St David's Head in the distance, which is forged of rocks that date back almost 500 million years. The path continues past hidden coves where seals and their pups rest, rocky outcrops and wild ponies all before reaching Coetan Arthur – a 4000-year-old Neolithic burial chamber with spectacular views. Time it right and you could be back at the beach for sunset – it really is a magical spot for it!
View places to stay in Pembrokeshire >
2. Uath Lochans, Cairngorms, Scotland
Length: 4 miles
Duration: 2 hours
Perfect for: feeling totally off-grid
As the largest national park in the UK, you'd expect to find a plethora of best winter walks and you'd be right. The wild mountain landscape of granite and heather provides routes for every level, but our go-to is always the Uath Lochans. It showcases some of the prettiest woodland and lake views of the Cairngorms, some of which dates back to the Ice Age.
The four-mile walk should only take you a couple of hours and starts at the Uath Lochans car park. From here, follow the waymarked hiking trails through the forest towards Farleitter Crag. The small clearing, with its rocky outcrop, offers gorgeous views and do make sure you keep an eye out for the occasional red squirrel running around! As you continue around the route, you'll pass a wild hide where birds and ducks nest throughout the year. 
View places to stay in Cairngorms >
3. Beacon Batch, Somerset
Length: 6 miles
Duration: 3 hours
Perfect for: endless views
If you like your winter walks with a good dose of views then look no further as Beacon Batch is the highest point in the Mendips. A circular walk, starting at Burrington Combe car park, takes you through Black Down, up to Beacon point and back past Cheddar Gorge in seven miles. It will take you a couple of hours to complete, perfect if you want to walk up an appetite before Sunday Lunch.
The path begins at Burrington Ham Car Park and heads into Rowberrow Warren Wood where you will spot wild horses, brooks and pine forest. As you begin to ascend Beacon Batch the terrain changes and you'll come onto open pastures with stunning views towards the Severn, Wales and Bristol. Dogs will love running free range or jumping in and out of the streams – be aware in autumn, it can get a little muddy so we'd recommend walking shoes or wellies.
View places to stay in Somerset>
4. Lymington and Keyhaven Marshes, New Forest
Length: 4 miles
Duration: 2 hours
Perfect for: wildlife lovers
It's not just coastal paths and mountain views that make the best winter walks, wildlife reserves are utterly mesmerising in the cooler months. Keyhaven Marshes Nature Reserve is nestled on the New Forest's beautiful coast and offers incredible bird watching opportunities. Birds are to be seen throughout the year, but particularly in winter when there are large numbers of Brent Geese making their travels.
The best way to enjoy the Marsh is with a gentle four-mile walk from Lymington. The trail goes along a section of the Solent Way, and you'll be greeted with superb views across the Solent to the Isle of Wight and the Needles on a clear day. The path cuts inland to follow an ancient highway behind the reserve before returning to Keyhaven, a lovely little coastal village. History-lovers should make a detour to Hurst Castle on the way back, which you can reach either via ferry or by walking. It's just over a couple miles, and when the tide's out you can enjoy a lovely stretch of Hurst Beach.
View places to stay in New Forest>
5. Loughrigg Fell, Lake District
Length: 4.4 miles
Duration: 2 hours
Perfect for: snow-capped vistas
There isn't a prettier sight than that of snow-covered mountains and The Lakes certainly aren't short of them. Loughrigg Fell may be on the smaller end of the region's summits, but it's central position means it offers unparalleled views. On a clear winter's day, you'll spot Windermere and Langdale Pikes to the south and the Vale of Glasmere and Fairfield Range to the north.
There are plenty of routes you can follow to the top, but our favourite is the loop from Grasmere village that's just over four miles. The trail follows the peaceful shores of Grasmere and Rydal Water and passes the dramatic caves along Loughrigg Terrace. Once you're back, nothing beats a post-hike pint at a traditional Lakes watering hole and luckily Lancrigg is just down the road.
View places to stay in Lake District >
More inspiration…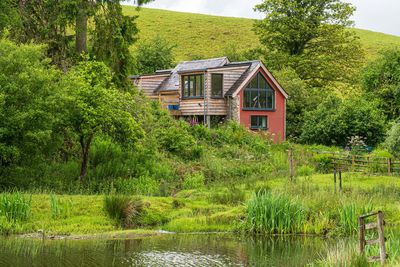 Walking holidays
View our collection of special places to stay where there are beautiful, scenic walks right from your doorstep.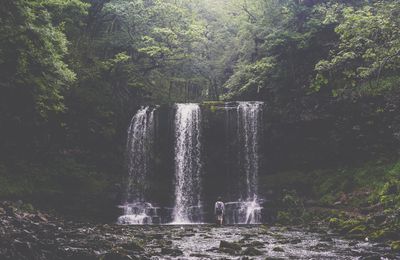 Five of the best waterfall walks in Brecon Beacons
Known as Waterfall Country, the Brecon Beacons has some of our favourite walks with an abundance of gorgeous cascades.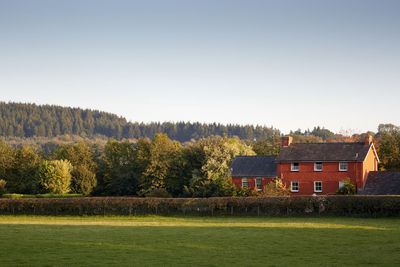 10 of our favourite pubs for walks
With the cooler months approaching, we've hand-picked 10 of our favourite pubs from our collection that all have walks right from the door.