We may have wandered outside the strict confines of the National Park on occasion, but our few days in the New Forest turned up more than we'd ever expected and left us with plenty of reasons to return again and again. If you love scenic walks, wildlife and getting out on the water, it might just be the perfect place to visit.
North & West – Ponies and trees, but no pigs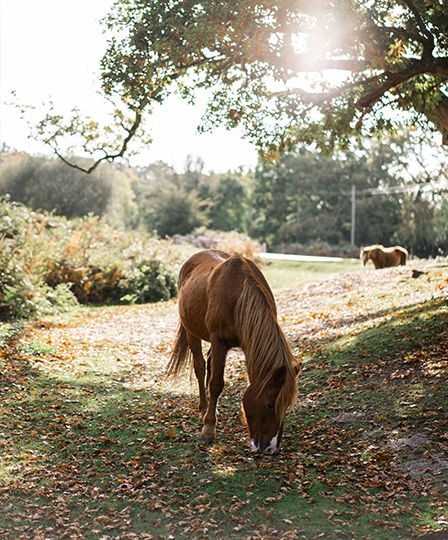 We thought it fitting to start our New Forest adventure with a walk in the woods, so we headed for Rockford Common to take in part of the trail to the Huff Duff, an old listening post named for the High Frequency Direction Finding (HFDF) equipment that was operated there during WWII. It's a leisurely stroll through landscapes straight from a painting, where stands of trees and patches of waving fern break up gentle plains. The last vestiges of the purple New Forest Heather were still visible and we could imagine the colourful carpet we'd have seen on a mid-August visit. Almost immediately, we got our first introduction to some of the many animals that roam freely here, bumping into a group of wild ponies grazing in the shade. The New Forest, established by William the Conqueror, is governed by a centuries-old system of Commoners, Verderers and Agisters, who hold, manage and regulate the right to graze on the land. We had read that ponies, donkeys, mules and cattle were part of this ancient arrangement, but a sign reading "caution, pigs" was an eye-opener. We soon learned that pannage was an autumnal practice of allowing pigs out to feed on fallen acorns, which are poisonous to the other animals. We had, purely by chance, timed our visit perfectly for it. The search for our first pannage porker was on.
Not only did we fail to spot one of the foraging pigs, we also had to cut short the walk to the Huff Duff, although we could have spent many happy days exploring the numerous trails. Our next stop would ideally have been Braemore House, but the stunning Elizabethan mansion with its perfectly manicured grounds, normally open Tuesdays, Wednesdays, Thursdays and Sundays in summer, was closed. It became the first of many items we'd end up putting on the "next time" list, alongside the much-recommended Hale Purlieu, a three-mile figure-of-eight walk said to be a fabulous way to experience the autumn colours.
VIEW ALL OUR PLACES IN THE AREA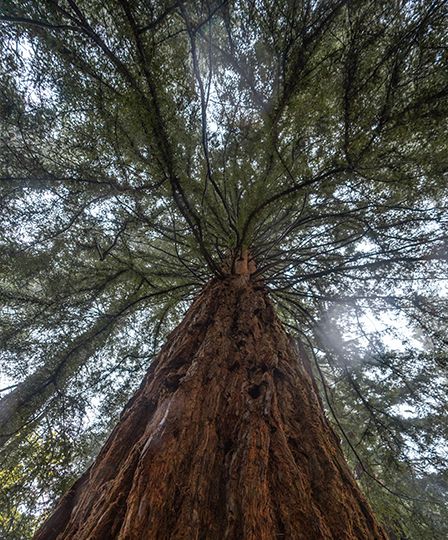 Central – Giant redwoods and literary monuments
At the centre of the New Forest you find the village of Brockenhurst and Blackwater Arboretum with its wonderful Tall Trees Trail. The trail is breathtaking, even in heavy rain, as the huge trunks seem to disappear into the misty haze. It's an absolute must for forest lovers and also nicely accessible thanks to the gravelled path that runs for its mile and a half length, winding through the massive trees and past England's tallest redwood. Many of the trees date back to the reign of Queen Victoria and the arboretum holds some fine examples of non-native species. It's more of an open park than a regimented collection, with walking and cycling routes and a sensory sculpture trail all designed to get you into the woods and immersed in nature.  We were told that you often see livestock wandering through the village, but our continued pig vigil again went unrewarded. 
Heading north from Brockenhurst you pass through Lyndhurst (Hurst is an old English word for a wooded hill, which perfectly explains its prominence in New Forest place names). Lyndhurst's centrality makes it a great spot to explore from, but it has a couple of interesting features for architecture and literature fans. The church has windows designed by William Morris and it's the resting place of Alice Pleasance Liddell, the inspiration behind Lewis Carroll's most famous character. There's another literary landmark just down the road in Minstead, where Arthur Conan Doyle is buried. We found his grave at the back of the churchyard, under a large tree, complete with a pipe laid on the headstone.   
Our night's stay was appropriately historical, as we were welcomed into The Master Builder's House Hotel. It's sited at the end of two rows of Georgian houses leading down to the estuary at Buckler's Hard, and was home of Master Builder Henry Adams and the site where over fifty ships for Nelson's fleet were built from the forest's mighty oaks. After a beautiful night's sleep and breakfast in the spacious dining room, we took a stroll around the terrace and down to the water before pushing on. Sadly the museum that occupies a dedicated building as well as some of the houses was closed first thing in the morning, but just being there felt like a step back in time. 
East – Chocolate, gardens and grandeur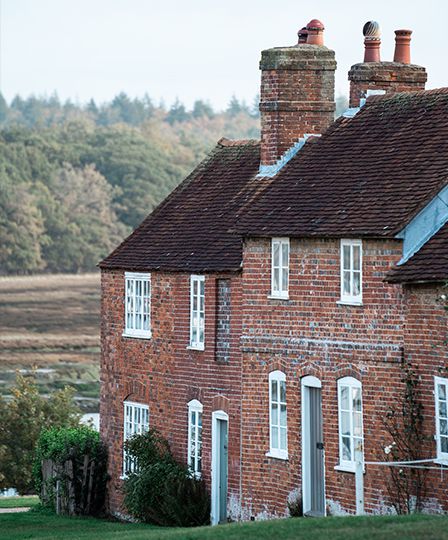 Over in the east is probably the most famous place in the New Forest, Beaulieu. Although known for the estate and motoring museum, the village itself is lovely and well worth stopping in. All the shops are independent and interesting, although with a hot chocolate addict on the trip, we gravitated towards Pallets coffee house, which served us incredibly gooey brownies and a fabulous cup of what seemed to be simply melted dark chocolate. There's an artisan chocolate maker, a fine arts gallery and we popped into Fairweather's Garden Centre, run by the Fairweather family for over 60 years. The eatery there, Steff's Kitchen, is enormously popular with locals and draws supplies from Patrick's Patch across the road, a garden cared for by local volunteers and school children.  
Beaulieu's main draw will always be the estate and we thought it might be good place to walk off some of our spare chocolate energy. It's well organised for families, with a dedicated area for kids and entry passes that allow you to visit again within the year, but there's a little something here for everyone. The old abbey, magnificent house and grounds, Victorian kitchen garden, gallery space and the National Motor Museum mean it's the sort of place where you can all split up and wander for an hour or two, then meet up and head to the nearby small but well-stocked farm shop to pick up even more fabulous food. During our visit an exhibition was in place, telling the story of the Special Operations Executive in WWII and the role that the New Forest's historical homes played in their "finishing school", so it's worth seeing if anything's on, even if you've been before.   
Just outside Hythe, to the north east of Beaulieu, we met Simon Noble, of The Noble Bee at Furzedown Farm. Simon and his five siblings inherited the farm and are in the process of transforming it into a host of separate enterprises, from education spaces and workshops to glamping sites and beekeeping, on which Simon lectures at the local college. The Noble Bee honey has won several Great Taste awards and as we toured a couple of his apiaries we got our first lesson in terminology – the site is called an apiary, several hives can be at each site. Then we headed over to the tasting room.  Our resident hot chocolate fiend was convinced that honey was just honey but came away admiring its wine-like complexity. Simon has an agreement to move some of his hives into the New Forest heather in summer and the resulting flavour carried a clear hint of the fragrant purple blossom. Our last stop of the day was another grand institution, Exbury Gardens. Its fairytale landscapes of water and flowers, and a steam railway are ready to rattle you back in time. We had the place almost to ourselves and it was a lovely spot for strolling through crunching leaves and taking in a little more autumn colour. We could only imagine what a riot of hues it must be in spring and although admission is more expensive then, it still went straight on the "next time" list, alongside the pigs. 
VIEW ALL OUR PLACES IN THE AREA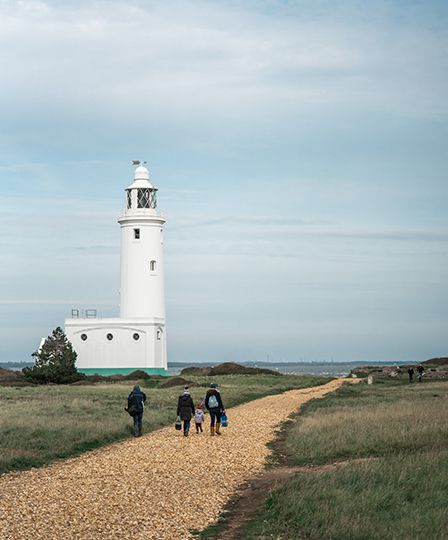 South – The sea, salvage and sculpture
Heading south reminds you of a surprising feature of the New Forest – it stretches right down to the sea. In the charming town of Lymington, scattered among smaller branches of high street chains, we found some lovely independent shops, including one which took a new spin on the term by selling powerboats. Sitting nearby on a jutting sweep of coast is Milford on Sea, which should unquestionably be the first stop if you're after an interesting souvenir. A small but heaving salvage yard is packed with treasure and interesting finds, La Perle deli can furnish you with some fine local produce and No 64 is fabulous for something to brighten up your home with a memory of your New Forest adventure. There was a timeless feel to the place, with its multi-coloured beach huts watching the waves, a lovely old bookshop, a butcher's, a greengrocer, and a fine fishmonger with a little restaurant out the back.  
A great walk for birders leads out through the Keyhaven salt marshes to Hurst Castle, and we were glad that we listened to locals who told us to take the ferry out and walk back. It's a scenic but potentially slippery couple of miles, with a lot of the path on shingle, but the walls of the fort, originally built by Henry VIII to defend against the French, give you a great view of the coast and the wetlands you've either crossed or dodged on the boat. We idled on the shore and got a glimpse of the famous Needles, then headed back on foot. Just outside town in the tiny hamlet of East End, the divine East End Arms made the perfect place to rest our shingle-shaken knees. Lunches here are fantastic, with varied vegetarian and vegan menus alongside pub classics and the interior uniquely decorated with black and white photos of British musicians and actors, in a nod to the pub's owner, Dire Straits bassist John Illsley. 
As a final stop on our way home, we dropped in on a community of local artists and artisans near the village of Boldre, a little way inland. We met a jewellery designer, a French polisher, a photographer and had a good chat with Michael Turner, a steel sculptor and artist who makes everything from small figures to the large-scale pieces sold in a private gallery in Heathrow's Terminal Five. We saw an 80cm-high gorilla in progress and were disappointed to learn we'd just missed a large metal crocodile. Living in the New Forest since the age of seven, Michael has a deep love of the place and the huge variety of inspiring landscapes it offers. He added even more things to our next time list – biking along the disused railway line from Brockenhurst to Ringwood and joining him for his annual Poppy Appeal treasure hunt, in which he hides 11 metal poppies in the area and posts clues to their locations on his social media channels. He also recommended the Rhinefield Ornamental Drive as a good place to see the elusive pigs, adding the caveat that this year was first time in his life he'd ever spotted one. We thanked him for his time and made our way home, making only a slight detour to drive the scenic road and give ourselves one more chance of catching pannage in action. And there it was. A great grey beast by the side of the road, snuffling in the bushes and rounding off our New Forest trip with a snorter of an encounter.   
VIEW ALL OUR PLACES IN THE AREA
The next time list
With so much to choose from, we had to make some tough choices. Among the things we missed was a visit to Eling Tide Mill. It was an extremely rare chance to see a working watermill and a great place to keep in your back pocket for a rainy day, but we took advantage of a rare bit of sunshine in our few days to get outdoors a bit more. There was also a delicious-sounding stop we couldn't find time for in Mudeford, where The Noisy Lobster serves legendary breakfasts and can also be the well-earned lunch break in another walk from Keyhaven. 
VIEW ALL OUR PLACES IN THE NEW FOREST
Where to stay…
Places to stay in The New Forest
Discover our collection of beautiful cottages, traditional farmhouses and stylish stately homes in this stunning part of the UK.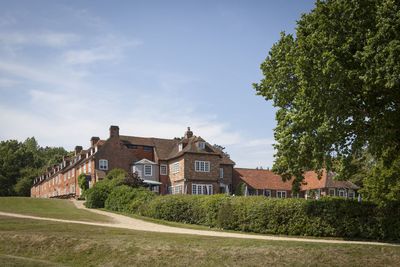 The Master Builder's House Hotel
Quirky hotel lost in the forest – you'll find deep peace, yachts on the river, birdsong in the air and good food in the restaurant.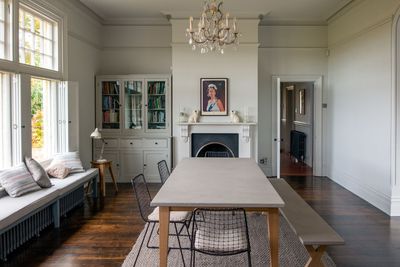 Brockenhurst House
A lovely big old house with stone mullions and loads of space surrounded by a mature garden, with the New Forest pressing in from all sides.