We sent chef Alexandra Dudley to Florence and she sent us back a foodie's dream 48 hours. Here, she rounds up the best spots to eat the weekend away in Italy's quintessential city. Alexandra was based at Torre di Bellosguardo – a beautiful hotel within walking distance and with fabulous views of the city.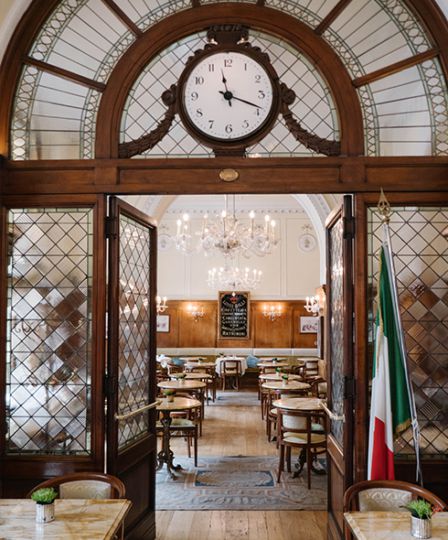 Get your coffee fix
If you're planning to make the most of Florence's food and wine (and you'd be foolish not to), there's no better way to start than with coffee. The Italians are renowned for their sweet espresso pick-me-up, and the country has had its very own coffee culture since the 50s.
Ditta Artigianale
Head to Ditta Artigianale for smooth coffee and very good tunes. Enjoy their single origin beans whilst tapping your foot to the likes of Lou Reid and the Beatles. They serve brunch and sweet treats too including wickedly rich double chocolate cookies. For those who prefer something softer than coffee try their hot chocolate or golden latte.
Caffè Gilli
No trip to Florence is complete without a trip to Caffè Gilli – the oldest coffee shop in Florence. Originally a bakery it is now famous for its strong espresso and slick service. Drink your coffee like a true Italian – standing at the bar. Place your order at the till and hand your receipt over to the barista. I recommend a slice of the Napoleon cake to go with it: sheets of buttery crisp puff pastry layered between whipped mascarpone cream.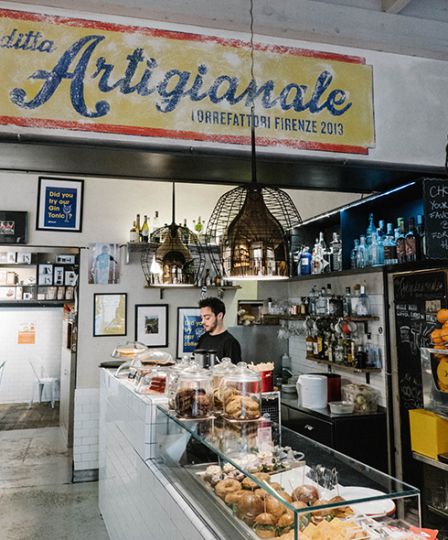 Try traditional Tuscan food
Il Coccolo
Don't miss Il Coccolo, which serves traditional Florentine specialty fried food with a smile. Using a secret batter they fry squid, meatballs, macaroni and even fish and chips. Their vegetable fritti was a favourite, most notably the aubergine. The team are wonderfully friendly and can also cook you simple Italian dishes such as lasagna, aubergine parmigiana and simple Tuscan pastas.
Teatro del sale
For something a little different dine at the Teatro del sale; sister to the Cibreo restaurant serving Tuscan buffets followed by live shows. Come hungry as the food is plentiful. Chef shouts from the kitchen when it's ready inviting you to pile your plate high. Enjoy traditional dishes of polenta with butter and Parmesan, asparagus risotto, slow cooked carrots with sweet onion, roasted meats and their famous clam soup. Mop up the juices with their fresh focaccia and wash it down with house wine – all included in your entry.
Osteria All'antico Vinaio
Fondly referred to the best panini maker in Florence and arguably the best I've ever tried. Enjoy Tuscan ham with truffle, mozzarella and black olive tapenade or for fellow vegetarians charred aubergine, tomato, rocket, pecorino and artichoke cream. They'll happily make one to your request and can cater for vegans too. Try and get there for an early or late lunch to avoid queues but even if you hit the lunch rush the line moves quickly. And believe me when I say it's worth it.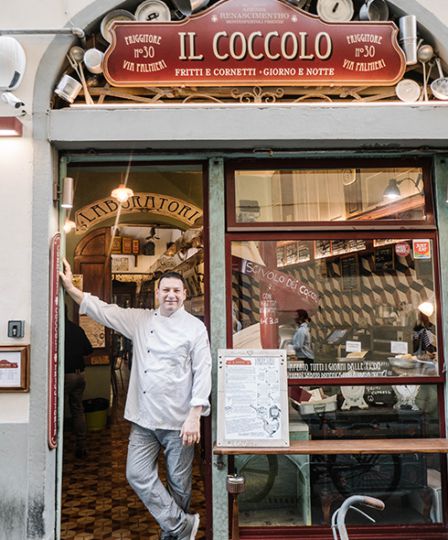 For delicious pizza
Caffè Italiano
Caffè Italiano is the cosy pizzeria which sits next door to Osteria del Caffè Italiano. Low lit with small wooden tables there are around five pizzas to choose from. Each are delicious and made in the classic Neapolitan style and the chef is meticulous about ingredients; all are locally sourced and the freshest around. Their classic margherita is a must. Next door at the Osteria you'll find an extended menu. Think fresh tagliatelle and stuffed courgette flowers. But if it's pizza you want head to Caffe Italiano.
Fermento 1889
Fermento 1889 are famed for their traditional and specialist pizza doughs. Their classic doughy Neapolitan abides to all the Italian Neapolitan culinary rules but their crispier Palafermento uses a mix of ancient grains resulting in a slightly crispier base. My advice is to go for one of each.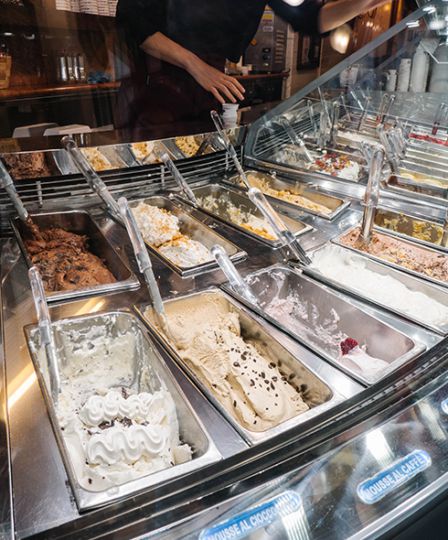 Where to find gelato
You won't struggle to find gelato in Florence but the best spots are the smaller gelaterias. Head to Vivoli and Perché no! for their chocolate, pistachio and nocciola (hazelnut) and if there's still room don't miss Gelateria della Passera for their ricotta and almond.
Sample local wine
Il santo Bevitore
Il santo Bevitore is a traditional Florentine restaurant serving good cheese, meats and simple pastas. With an extensive wine list including many low intervention and organic wines it is the place to go for wine, bread and cheese. Bread baskets come laden with crisp thin crackers, olive studded ciabatta and bouncy focaccia. All of it is baked at their very own bakery just round the corner – Santo Forno (also worth a visit). 
Volpi e l'uva
A small neighbourhood wine bar which you'll usually find filled with locals, Volpi e l'uva serve many wines by the glass as well as small plates of cured meats, cheese and fresh tomatoes. A great spot for supper if you've had a late lunch or one to hit for a night cap on the way home.
SEE ALL OUR PLACES IN AND AROUND FLORENCE
More inspiration…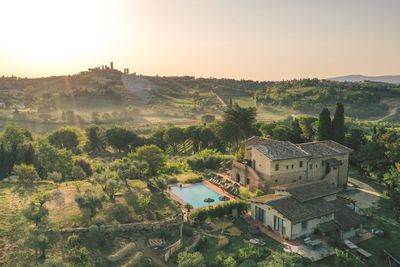 Italy Holidays
Our collection of places in Italy have been carefully chosen to immerse you in the country's wildly varying regions, from Sicily to the Alps.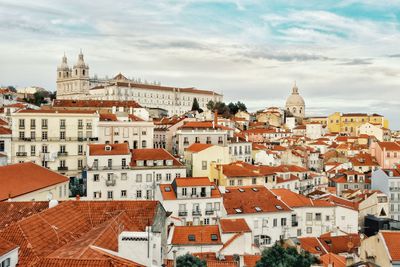 City Breaks
Discover our favourite city break destinations in Europe, why we love them and where you can stay while you're in town.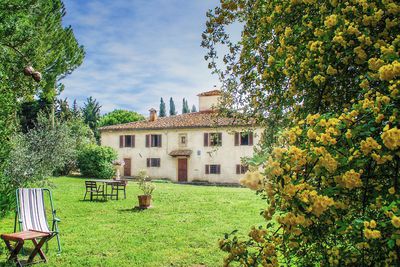 Places to stay in Tuscany
Come to explore the Slow Food movement, which thrives here thanks to white truffle farmers, world-famous wines and abundant artisan produce.