Ross-on-Wye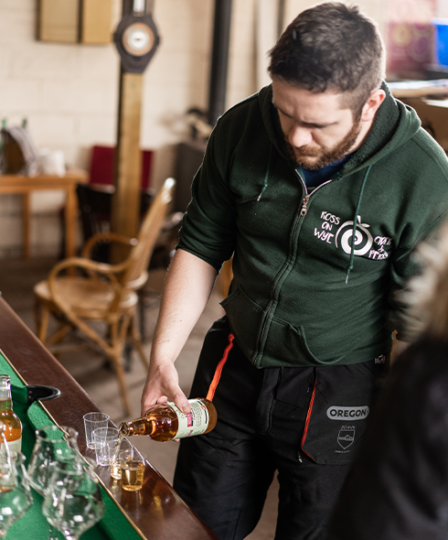 Herefordshire has become a thriving centre of UK cider, not just for the level of its production (it's now the third biggest producer in the world) but for an innovative approach to the craft. The Ross-on-Wye Cider and Perry Company is run by a family of fourth-generation farmers who set out to change the way people think about cider. We wandered round the farm in the company of Albert, who talked us through the process and aims of their cider and perry production, and his two lovely collies who were as enthusiastic as Albert was informative. He told us how the family had stopped supplying cider to major brands and decided to explore a smaller-scale but more varied production.
The farm now has over 100 varieties of apples and 40 types of pears, all grown completely free of herbicides and pesticides, each of which can take 5 to 8 years from planting to their first viable crop. They have their own distinct characteristics, which gives the range of flavours that Albert hopes will help cider, "to be seen in a different light –  something that's easy to drink and that can be paired with food, a bit like wine's cousin."  Visitors are always welcome and you can get involved in talks, tastings, the cider club and even a cider festival, which usually takes place in August. One Japanese guest stayed at the farm for six months, learning the craft before heading home to open her own cider bar in Tokyo. 
Heading in the direction of Hay gave us the chance to stop in at another local legend, Sally Bailey's wonderful homeware and craft shop. Sally has been creating and sourcing local arts and crafts for 30 years and moved into the beautiful barn in 2006. It's a treasure trove of amazing things, made with values as solid as the cast-iron cookware. Recently, the Tin Tabernacle Tea Shop was opened on site, adding cakes and coffee to the joy of dropping by. We eventually dragged ourselves away and headed on down the road towards unmissable Hay, where our first dash over the border found a surprising African connection.
"We want cider to be seen in a different light –  something that's easy to drink and that can be paired with food, a bit like wine's cousin." – Albert, Ross-on-Wye Cider and Perry Company
SEE ALL OUR PLACES NEAR ROSS-ON-WYE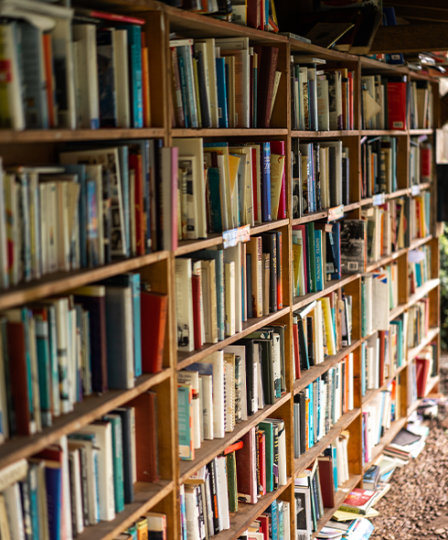 Hay-on-Wye
Being Bristol-based, many of our team have a long history of visits to Hay and they advised us to let enjoyment triumph over geography and include it on our Herefordshire trip even though it's in Wales. Its annual literary festival and brilliant array of bookshops are legendary, but we were about to learn that was more to Hay than the rustle of turning pages.
Local gallery owner Val whisked us round town on a whistle stop tour, which involved a friendly greeting and a chat with anyone and everyone we passed, all of whom Val knew by name. Among many highlights was a trip to a co-operative called Hay Makers, which has been running for 30 years, importing jewellery from Hay's twin town of Timbuktu and using the profits to build communities there. We were wowed by the textile crafts and innovative work-sharing of The Welsh Girl studio and dazzled by the beautiful lighting on show in Goosey Ganders, a unique store dripping with a constellation of chandeliers that had to be seen to be believed. The store added a bit of colour to a grey day in Hay and owner Simon revelled in our delight, telling us that, "everyone thinks of Hay as being all about books, but it's also about art." We believed him, but we also made the mandatory pilgrimage to a few bookshops, browsing 40-year old Booth's and braving the rain to get a look at the famous honesty shop – outdoor shelves where visitors can help themselves to books and put money in a donation box. 
If you're coming into Hay or heading out past it, take the chance, as we did, to drop into Glanwye Farm, a 14-acre smallholding that's the site of 100% Hay, run by Joe and Sein, passionate market gardeners and fresh food producers. Joe showed us around the farm where they grow and sell fruit, vegetables, eggs, goat's cheese and even kimchi. Produce can be collected from their farm or found at Hay Market on Thursdays and Saturdays. Heading back to town, we bedded down and got ready for an early morning hike up The Cat's Back, a fabulous hiking route that rewarded us for the steep climbs with marvellous views towards Shropshire and the Malverns.
"Everyone thinks of Hay as being all about books, but it's also about art." – Simon, owner of Goosey Ganders
SEE ALL OUR PLACES NEAR HAY-ON-WYE
Ledbury
We had been told that Ledbury was the place to see the quintessential black and white timber-framed houses that Herefordshire towns are known for and while it didn't disappoint, we found a little more than historical sightseeing. We discovered a hidden gem of a coffee shop upstairs in Handley Organics, which we'd wandered into to check out its superbly stocked downstairs deli. Up Church Lane, a cobbled alley well-known for its independent shops, we came across a charming tea room, a pub and a couple of galleries including the Malt House, where the owners told us about H Art, the nine-day Herefordshire art trail that takes place every September and showcases independent artists. We thought back to what Simon from Goosey Ganders had said about the importance of art in the region and made a mental note to return when the trail next ran.
SEE ALL OUR PLACES NEAR LEDBURY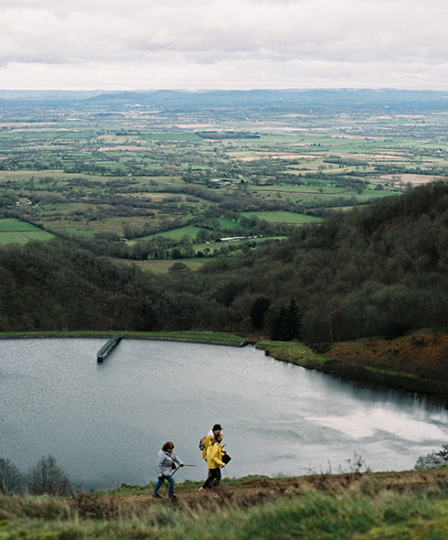 The Malverns
Taking advantage of a kinder few hours from the unpredictable weather, we headed to the Malverns, an AONB on the border with Worcestershire, for the second walk of our trip. From the enormous number of routes on offer, we opted for Herefordshire Beacon from British Camp and began our ascent up the hill. It's clearly signposted from the carpark and as we climbed, far-reaching views of the Malverns and British Camp reservoir stretched out beneath us. The great thing about this walk is that there are dozens of paths, so you can pick your own route and just trundle up. Thanks to its designated paths and moderate gradient, this is an easier walk than others in the region, and although you're out on the exposed beacon, it's less exposed than the Cat's Back or routes in the nearby Black Mountains and Brecon Beacons. It's less of a hike, more of a walk – but that doesn't take away from the beauty of its views across three counties.
SEE ALL OUR PLACES NEAR THE MALVERNS
The Wye Valley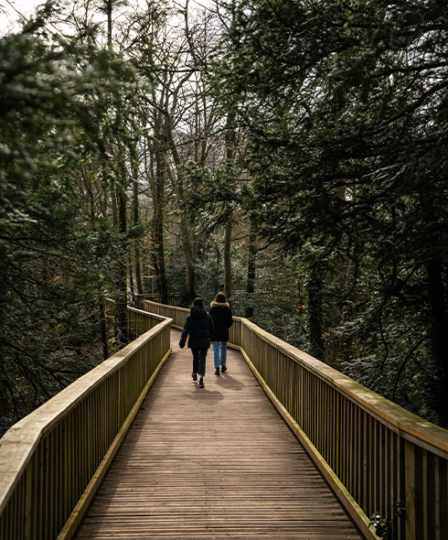 The river Wye twists its way through Herefordshire, Worcestershire and Monmouthshire, charting a path between acres of ancient forest and hilltops scattered with historic ruins, one of which was our destination. We caught Goodrich Castle in a rare burst of sunshine. William Wordsworth described it as 'the noblest ruin in Herefordshire' and after exploring the nooks and crannies of this impressive, beautifully preserved castle we could see his point. Its location overlooking the Wye Valley was chosen for its strategic views of the border and now meant that we were rewarded with stunning scenery in both directions. Walking into the castle's former chapel was haunting, with its bright stained glass windows and stone altar remarkably intact. From there we pushed on to Symonds Yat, an area known for its spectacular views and varied walks. We didn't have time for a hike, but found plenty of routes from easy 1-mile strolls to challenging 5-milers on offer, before heading to a viewpoint and spending a few lovely minutes watching a patch of sun tracking across the enormous vista of the valley.
Many of the team argue that the best way to explore the Wye is by water and there are ample opportunities to canoe or kayak. There are some brilliant organisations that will take you on old wooden or tin canoes – dropping you off at one spot and picking you up at another. Even better, you usually canoe down the Wye, which gives you the chance to stop off at some of the many waterside pubs to fuel up for lunch and keep going! You can expect to see lots of wildlife – otters, kingfishers, herons – and although it was too cold for us to canoe this time, we came home dreaming of spending a warm day, drifting quietly on the water.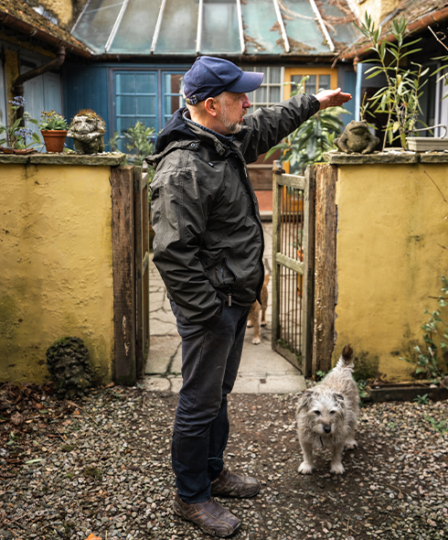 Presteigne
Following a local tip, we made a last-minute alteration to our plans and headed over the border again to Presteigne to visit something that even our extensive research had missed, Bryan's Ground Gardens. The house at Bryan's Ground is over 100 years old, and current owner Simon and his family have been here for 26 years. Simon and his two sassy terriers showed us around the 30-acre gardens, where each area has a story. In one area, trees planted when they were 2ft tall have been shaped over years into three arches that look out in different directions. In another a statue and a bone-shaped pool commemorate a family dog, although the pool's original population of koi carp have all been taken by a visiting otter. Although our March trip was too early for us to see the garden in full bloom, we could appreciate the spectacularly colourful place it must be. Simon told us that maintaining it was a full time job, but that it was definitely appreciated by visitors, many of whom simply find a quiet spot and linger there, looking down on the lovely views of the River Lugg. Without too much time to smell the roses, or try the delicious homemade cake, we headed for Presteigne itself, where Simon had told us to check out The Workhouse, an independently owned workshop, art space and cafe combo. Inside you'll find everything from toys and tools to textiles and teacups, while the cafe bustles with chat and laughter. It was the perfect, eclectic place to end our dip in Herefordshire's melting pot.
We were lucky enough to visit Bryan's Ground back in spring, but please note it is now closed to the public for 2020 due to the coronavirus pandemic.
SEE ALL OUR PLACES NEAR PRESTEIGNE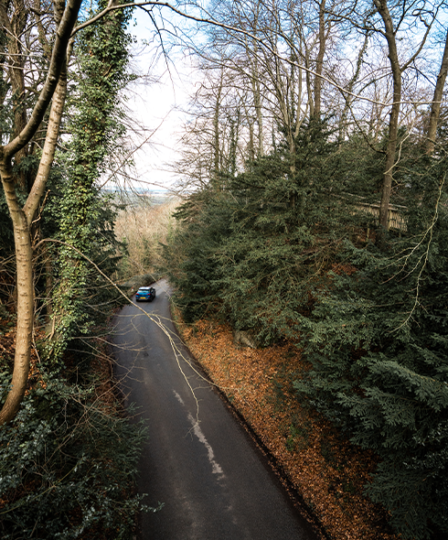 Much more to see
Among the recommended stops we were unable to make were Symonds Yat village, which we had to avoid as it was badly affected by flooding, and Hereford and its beautiful cathedral. Many public gardens in the region don't open until the warmer months of April and May, so visiting in March we had to give these a miss.
SEE ALL OUR PLACES IN HEREFORDSHIRE
SEE ALL OUR PLACES IN HEREFORDSHIRE
Where to stay…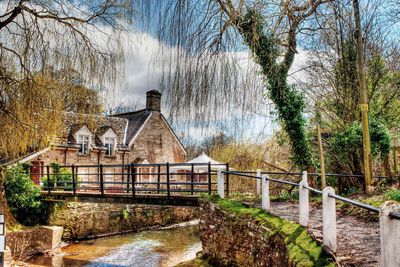 The Bridge Inn
A charming riverside inn with delicious local food, country bedrooms and the warmest of welcomes.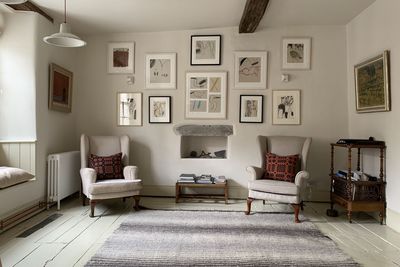 Atelier Hay
A cosy self-catering retreat above an art gallery in the centre of Hay-on-Wye, with brilliant restaurants and pubs a short stroll away.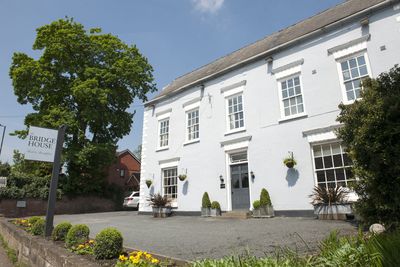 The Bridge House
An elegant B&B with river views, comfortable bedrooms and a well-stocked honesty bar in the cosy sitting room.