We've picked out five European cities that, with a little pre-planning and a thoughtful approach, should be top of your list to return to.
Rome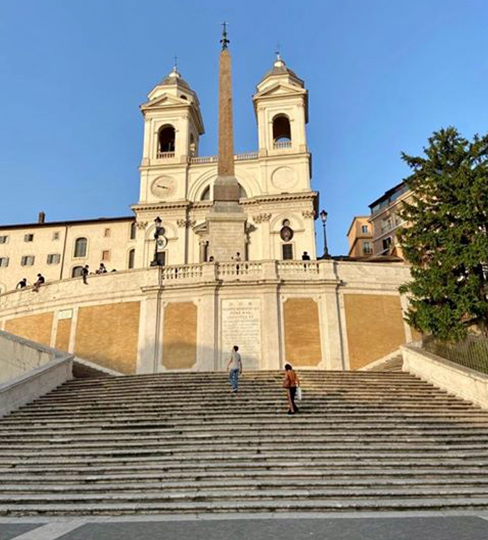 Our lady on the ground in Rome, Nicole Franchini, shares her top tips for a summer visit:
Vatican City & The Sistine Chapel – Even if you have seen the Sistine Chapel, you certainly haven't seen it like this. Normally elbow to elbow with tourists, you can currently visit Michelangelo's masterpiece in relative peace. Instead of the usual queues winding round the Vatican City walls, entrance is almost immediate with an online ticket from the official website. Book during the week around lunchtime, or Friday or Saturday evening for the best access. Masks to be worn and temperature check at the entrance.
Extended Raphael Exhibition – Don't miss the Scuderie del Quirinale gallery with extended dates for the celebrated Raphael Exhibition, now on until the end of August. This is the largest show ever with 120 works. Tickets still available here. Those who can't make it to Rome can still see the exhibition online.
Take advantage of this triple hitter – Visit the Colosseum, Forum and Palatine Hill, with a choice of four themed itineraries and a joint entrance fee for all three sites, reduced by 40% after 2pm. Head there late afternoon into the early evening, open until 7.15pm. Book tickets here.
Walk, sit and take it all in – Rome is a walking museum – visitors will enjoy leisurely strolls through the famous piazzas without the sea of tourists. From the Spanish steps to Trevi Fountain, Pantheon and Navona square, enjoy the quiet and open space. Most restaurants and cafes have reopened and outdoor seating has increased across the city. Masks to be worn inside until you are seated at your table.
Enjoying galleries & museums – Advance online booking is mandatory, and visits are timed so punctuality is essential. Expect thermal scanners at the entrance and downloadable audio guides for smartphones. Some places are running extended hours so check websites for specific days and timings.
Where to stay: 
Buonanotte Garibaldi in less-crowded Trastevere is an artistic home with a divine courtyard of magnolia and orange trees, the perfect place to shade from the summer heat.
Quod Libet is just 5 minutes from the Vatican in a tall palazzo above the British school. Owners share local tips, serve bakery-fresh breakfasts on the terrace; an affordable B&B close to the sights.
"Rome is a walking museum – visitors will enjoy leisurely strolls through the famous piazzas without the sea of tourists." – Nicole Franchini, Sawday's
Venice
"Stupenda!" is how local tour guide and native Venetian, Alvise Zanchi, describes his city in its more natural, calmer state. Here are his tips for a visit:
A leisurely trip on the Grand Canal – Now is the time to take to the water. With the delivery boats on pause, fewer water taxis and public boats, there are no more traffic jams and sea life has returned. For the first time I can remember, you can watch the fish swim by in the blue waters.
St Mark's Square – St. Mark's Square is once again a place that Venetians can stroll through, stopping for coffee or a chat, sociable and civilised, the way it should be.
The Duke's Palace and the Guggenheim – Both have just reopened their doors; visit on weekends only until the end of July. For updates on opening times and tickets, keep an eye on the official Venice museums site.
Burano without the crowds – A stroll around colourful Burano island will give you a glimpse of the more authentic local side of Venice and a choice of excellent local osteria.  With such little traffic on the water, taking a boat to the islands of the lagoon is a definite must.
Check before you visit and take it slow – Some museums and churches have reduced visiting hours, some are closed, like St Mark's Basilica which is undergoing restoration. Masks are required indoors, and trains and Vaporetto are running as normal. Take the time to see the city at a slower pace and appreciate the nature and culture.
Where to stay: 
La Villeggiatura –  Gracious hosts, a mix of 17th-century style and contemporary design with comfort in spades, just minutes from the Rialto Bridge.
Aquamare – An elegant B&B tucked down a quiet alleyway close to St Mark's Square, with friendly hosts and a rooftop offering spectacular views of the city.
"For the first time I can remember, you can watch the fish swim by in the blue waters." – Alvise Zanchi, local tour guide
Paris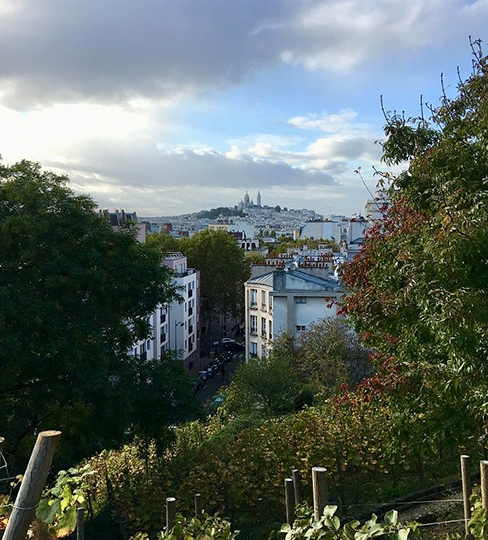 Lighting designer and owner of Les3chambres, Laurent Rougier, is a walking encyclopaedia on Paris. Here he shares his places to visit in these quieter times:
Space to take it all in – All the museums are worth a visit but particularly the Louvre at this time, so crowded normally but now is really the best opportunity you'll get to visit the painting rooms in serenity, allowing you to stop and appreciate the art in the way it was meant to be.
Savour the Seine – There is no more gentle way to see the city than from the water. For a cruise on the Seine, I would recommend small boats of Les Vedettes de Paris; catch them from the foot of the Eiffel Tower and slowly meander counting the bridges to Notre Dame.
Paris's most romantic bench – A very unknown spot that I highly recommend to my guests, particularly in late summer. You can find, in my opinion, the most romantic bench in Paris in the garden of the Butte Bergeyre, which has its own vineyard. Sit and watch the sun go down on Paris and the Sacré Cœur in Montmartre.
A hidden garden – The beautiful and vibrant garden Franc Bourgeois Rosiers in le Marais is a real hidden gem. Enter through the 17th-century Hotel Particulier de Coulanges and find the most wonderful hidden space.
Roof with a view – Visit the 19th-century big department stores of Galeries Lafayette and Le Printemps on Boulevard Haussmann. There are half the people you would normally find,  a chance to browse in relative peace and appreciate the intricate cupola above the tearoom and a rooftop with views to rival those from the Eiffel Tower.
Where to stay: 
Les3chambres near Montmartre and the Opera, a B&B with artistic owner Laurent who serves you an elegant breakfast and knows Paris inside out. Walk to Boulevard Haussmann and the Louvre.
Hôtel du Jeu de Paume has designer sleek furniture, beautiful beams and a spa in the vaulted cellars – a sweet surprise on the lively, exclusive Ile Saint Louis.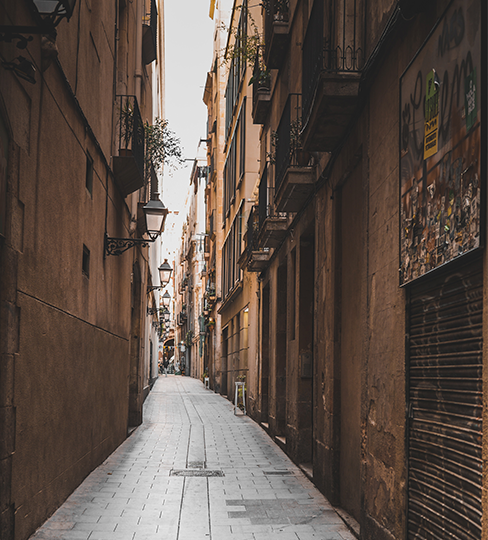 Barcelona
David Barros is a mine of local information for guests staying at the sophisticated Hotel Duquesa de Cardona; here is what he recommends for a break in Barcelona:
Take an unguided walking tour – Barcelona is a city to discover walking, and now you have a rare chance to walk through the city without crowds. The crowds can be part of the charm of areas like Las Ramblas or La Barceloneta quarter, but for once visitors have the chance to really see the area, to stop and discover the small shops and the treasures hidden in the streets themselves – mosaics, plaques and colourful street art.
Art & architecture up close – Most monuments are opening their doors, and like in other popular tourist cities, now you can see the most famous sites in a much more intimate way. Don't miss the Sagrada Familia, Parc Well and Gaudi houses, but stop off at some of the less well-known sites too like the Hospital de la Santa Creu i Sant Pau. Buy tickets and tour the inside, but stop and discover them outside too. Usually the queues stop you getting too close to the intricate architecture of Sagrada Familia so take the time to see each of the statues, the materials used, the composition…
Meet the locals – People in Barcelona are friendly and welcoming, but most summer months you can't find many locals in the city – they're all at the beach! Now that people who live in Barcelona have rediscovered the city, find us on terraces, shopping or walking in the streets, ask us for recommendations and you will discover amazing places that don't appear in any guides, and also learn about our culture and lifestyle. We promise you'll love it.
Enjoy the greenery – Barcelona has lots of green and natural areas in the city and its surroundings, and the sunny weather means nearly every day is good for a picnic, sunbathing or relaxing with a book. The most famous green space is Parc de la Ciutadella but there are places that only locals frequent and they will give you a real taste of the city, like the Parc del Laberint d'Horta or Parc de la Oreneta, especially good for families as there is a playground.
Where to stay:
Hotel Duquesa de Cardona – aristocratic sophistication abounds at this wonderful hotel near Las Ramblas. Elegant bedrooms, stunning bathrooms and excellent service.
Arianella Bed & Breakfast Penedes – the best of both worlds, city and country, at this authentic Catalan getaway in wine-soaked Penedés: pool, fire, mountain views and Barcelona close by.
SEE ALL OUR PLACES IN AND NEAR BARCELONA
"Ask us for recommendations and you will discover amazing places that don't appear in any guides, and also learn about our culture and lifestyle. We promise you'll love it" – David Barros
Lisbon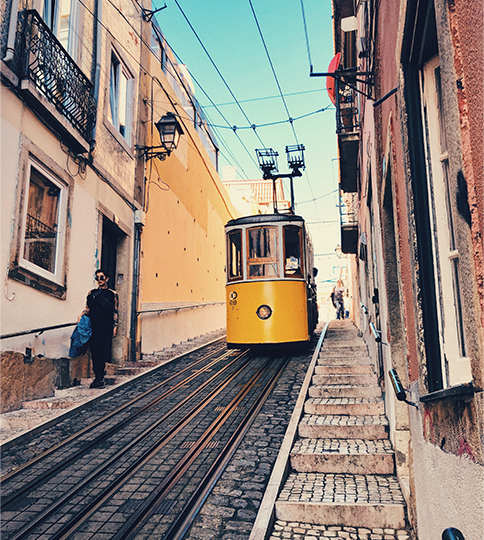 Ingrid Koeck from the excellent Torel Palace Lisbon offers her tips on where to go and what to see in Lisbon, for a more relaxing and spontaneous experience while the city is yours:
Eating out at Lisbon's most celebrated restaurants – Now is the time to bag your table at Lisbon's "usual suspects", popular with good reason. My favourites are Ramiro, a great fish place just a few minutes from Torel Palace Lisbon; A Brasileira, the famous café that Fernando Pessoa used to frequent, and whose statue is outside; and Atira-te ao rio, which literally means 'throw yourself into the river', a charming fish restaurant on the other side of the river Tejo – the perfect spot for a sundowner and a great fish plate.
City strolls and miradouros – A 'must do' in any city, but especially now in Lisbon, stroll around discovering the small alleys and shops. Turn a corner and be greeted by one of the city's famous sunny miradouros (viewpoints), which literally means 'to see the gold'. I love Miradouro da Senhora do Monte, a golden view of the city – the 25 April bridge and the statue of Jesus on the other side of the river lie at your feet.
A hidden palace – One of Lisbon's hidden secrets is the Casa do Alentejo, a Moorish palace that seems to belong to another era. In the heart of Lisbon, it's a place to find calm and tranquility or on other evenings dancing or a buzzing restaurant.
Beach days – If you want beach – and if you're in Lisbon, you WANT beach – go to Costa da Caparica for a day trip; buses run from Lisbon. For more remote beaches, take the Costa da Caparica mini train, a service which runs from the town to the more remote beaches down the coast. In total there are 21 stops between Costa da Caparica and Fonte da Telha at the far end. Stop for dinner at the popular Bar Borda D'agua, holiday feeling guaranteed.
For culture vultures or garden lovers – For music lovers, the Gulbenkian museum is running its annual summer open-air jazz festival and the new drive-in concerts in the Fabrica Braco de Prata, The Gardens of Lisbon have been running events in the summer and are always worth a visit, especially in autumn, from the huge Monsanto forest to the tiny parks.
Where to stay:
Torel Palace Lisbon – Central Lisbon with panoramic views over the city. Easy atmosphere, richly decorated romantic rooms, cosy bar, wonderfully friendly staff.
Casa das Merceeiras – Two city hideaways, cosy and discreet, tucked behind Lisbon Cathedral and in the heart of everything. Owner Teresa is a great tour guide.
"One of Lisbon's hidden secrets is the Casa do Alentejo, a Moorish palace that seems to belong to another era." – Ingrid Koeck