Breakfast o'clock at the Corral de Esquivel, and I'm starting to feel a bit Sevilliano. Sitting outside this bar – favourite of Nick, owner of my traditional townhouse-stay in the city – I eat tostada and watch the day begin on Alameda de Hércules. The square was once the hangout of addicts and prostitutes; now, Nick tells me, it's one of Seville's trendiest neighbourhoods.
"When we came to buy, this place was cheap – the square was a car park; there was a methadone clinic at one end," he says. "Then they started regenerating. Now everyone wants to live here."
It feels completely untouristy. Locals are reading El País and tapping laptops; dog-walkers stroll beneath the poplars, LGBT flags flap above boho cafés and friends catch up over espressos. I spread out my maps and plan my day of discovery. Yes, discovery. A theme with which Seville is familiar. During the 'golden age' of exploration, when European sailors started exploring the globe, Seville was commercial capital of the Spanish Empire. In 1519, Ferdinand Magellan's Armada de Molucca set off from here, down the Guadalquivir River, on a mission to reach the Spice Islands; it inadvertently became the first expedition to circumnavigate the globe. Five hundred years on, I decide Magellan is just the man to lead me around southwest Andalucía.
"I spread out my maps and plan my day of discovery. Yes, discovery. A theme with which Seville is familiar."
First stop Triana, historically the district of seafarers, potters and gitanos (gypsies). I stroll there over the Puente de Triana, which spans the Guadalquivir, and try to imagine these riverbanks alive and a-stink with medieval sailors. The site of Las Muelas, the pier from which Magellan sailed, is now a trendy bar of bright chairs and palm trees.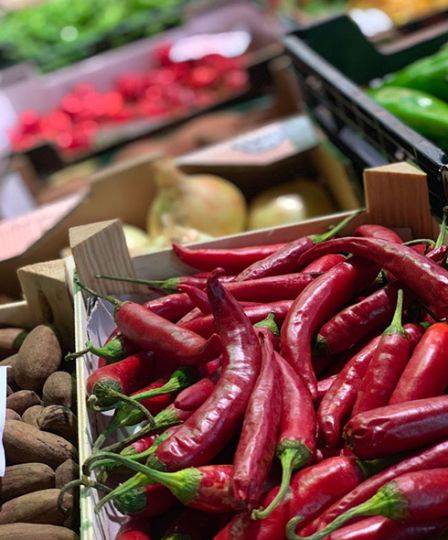 This is an intriguing district. I delve into Triana Market to nose amid the dangling hams and sacks of chillies, and then browse the ceramics workshops, where tiles – made from the clay of the Guadalquivir – are crafted much as they have been for centuries.
Triana tiles can be found everywhere in Seville – I admired them equally on the monumental Plaza de España and the floors of splendidly spit-n-sawdust tapas bars. But they reach their zenith in the Real Alcázar, Seville's Mudéjar-style royal palace. I was overwhelmed by the place, by its size and flamboyance, its vast gardens and architectural curlicues.
Just opposite the Alcázar is the grand Archivo General de Indias, the repository of records of the golden age, and home to a new exhibition, The Longest Journey: The First Round the World Voyage (which runs to February 2020). It's a fascinating, and terrifying, potted history of the Armada de Molucca. I was gripped by the delicate documents detailing the horrors, from mutiny, storms and scurvy to starving crew eating leather and rats. There were also crew lists and inventories of provisions, not least a lot of local wine: 253 kegs and 417 skins of the stuff. Which makes sherry the first wine to travel around the globe.
Without a quartermaster to provision me, I travelled in search of the sherry instead, taking the train ride to Jerez de la Frontera, where there are so many bodegas within the city limits that the air itself intoxicates and to drink anything other than a copita of dry fino would be sacrilege.
"I was overwhelmed by the place, by its size and flamboyance, its vast gardens and architectural curlicues"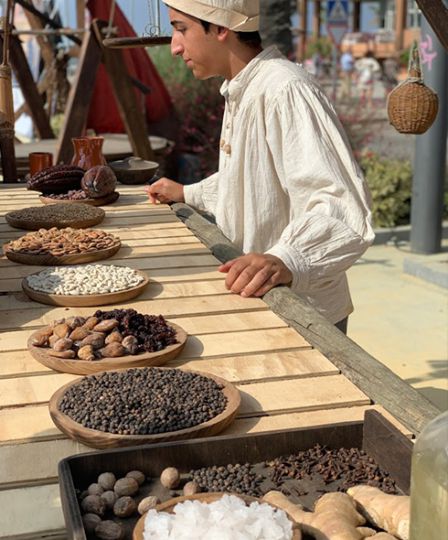 I like Jerez immediately. It's like a mini-Seville, but less ostentatious: there's a Moorish Alcázar, fine cathedral, lovely squares and over-spilling tapas bars, all on a smaller scale. Staying in a converted palacio, right in the centre, I'm perfectly placed for Jerez's highlights: sightseeing, sherry-tasting, eating and flamenco. And fortunately my hostess Timea points me to a good restaurant (the fish at Albores is excellent) and to Tabanco El Pasaje, where the fino is cheap and the flamenco free and fierce.
However, to gain a deeper appreciation of sherry, I visit a bodega. At award-winning Lustau, Juan guides me through the cavernous old cellars, with their earthy-sweet scent, darting bats and row upon row of American oak barrels, quietly fortifying away. Dark and atmospheric, it feels like a church of wine; I certainly take abundant communion, tasting everything from smoky amontillados to nutty olorosos.
I also taste a salty manzanilla, a type of sherry specific to Sanlúcar de Barrameda. Magellan's five ships left Sanlúcar, at the mouth of the Guadalquivir, in September 1519; in September 1522, only one – the Nao Victoria – returned. When I visit the next day, the tri-masted caravel is there again. This replica of the Victoria is in town to celebrate the 500th anniversary – and I can't believe how small she is. How did this little wooden ship get around the globe? She's barely bigger than the surrounding fishing boats casting their nets for camarones (shrimps), and certainly smaller than the cruiser I board for my own river journey, from the city across to Doñana National Park.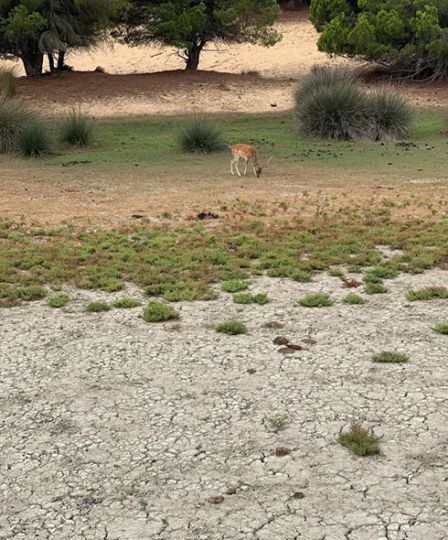 Established as a nature reserve in 1969, the Doñana National Park is one of the country's most important wildlife habitats, providing a safe haven for some of the last remaining Iberian lynx plus huge numbers of birds. As we putter upriver, the old city of Sanlúcar receding on the left bank, the wilderness of Doñana beckoning on the right, I spot deer grazing on the shore and herons posing on fallen pines.
We dock and transfer into safari jeeps to get deeper into this strange realm of clay pans, forest and shifting sands. We bump between juniper and palmito, and surge along huge, empty beaches that, anywhere else in Spain, would be prime real estate but here are home to only oystercatchers and terns.
Across the river sits Sanlúcar. I can see its 15th-century castle, the townhouse rooftops and the old fishing quarter of Bajo de Guía, from which the Armada de Molucca set sail. I can also see the Victoria, handsomely afloat. So I try to squint out the modern, and imagine Magellan's last view of mainland Spain before he made the journey that changed the world.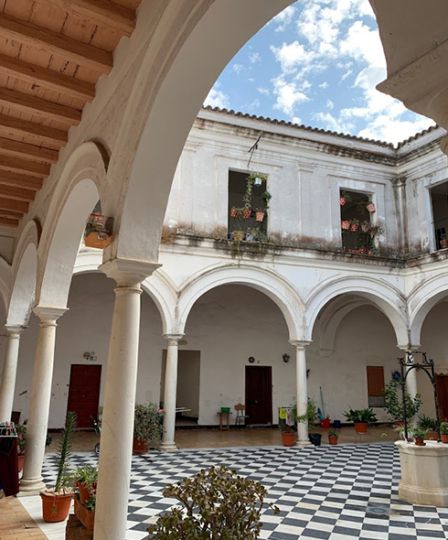 Take the trip
Sarah flew to Seville, where she stayed at Casa 109 – a traditional townhouse off the Alameda de Hércules.
She took the train to Jerez de la Frontera and stayed in an apartment at Palacio Torneria.
From here, Sarah took day-trips to Sanlúcar de Barrameda (including a boat-and-jeep tour of Doñana National Park) and Chiclana de la Frontera, to tour the salt farm and try out the quirky spa at Salinas de Chiclana.
She flew home from Seville.
More inspiration…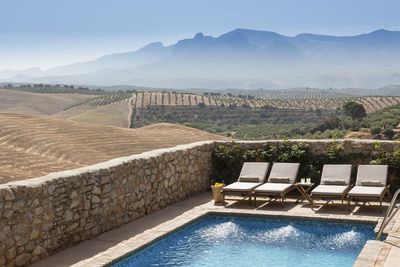 Spain Guide
Our team travel from the Pyrenees to the south coast, seeking out the best places to stay in Spain. Our collection includes grand castles, rural fincas and converted manor houses, all run by passionate owners ready to help you discover their remarkable country.
Places to stay in Andalucia
Choose the feel of your Andalucian escape: a remote holiday home among olive groves and vineyards, a cool white cortijo with stunning mountain views from the pool, an impressive hotel in a hilltop castle, or a family-run B&B in a colourful finca.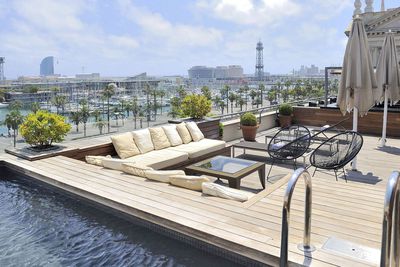 City Breaks Collection
Europe is bursting with romantic city break locations. Our hotels, B&Bs and self-catering places take you straight to Seville's orange blossom streets, Barcelona's mazy gothic quarter, ancient Rome, the cafés of Montmartre and all over the continent.