Five alternatives to Christmas markets
With Christmas fast approaching, it's uncertain if the usual craft markets will run this year. We've pulled together a list of our favourite places to visit, where you can pick up some beautifully made gifts for loved ones and wrap your hands around a mug of delicious mulled wine.
Whitstable, Kent
Recently named the most independent town in the UK, Whistable is the place to go to if you like the English seaside, oysters and quirky independent shops. You will find everything from traditional tea rooms to funky cafés, local art galleries, boutique clothes shops, eclectic homeware stores and cosy pubs. Pick up some green treats from Jane at Graham Greener, a small florist and plant shop on iconic Harbour Street. Just down the road is The Writing Post, the perfect place to find vintage presents for the antique lover in your life, whilst Flory and Black, Indie Whitstable and Harbour Books are also brimming with unique gifts.
Every Christmas market trip is filled with a healthy dose of mulled wine or cider, so if you're looking for your fix, head to the Neptune Pub. With brilliant views of the water and plenty of cosy fires to cuddle up in front of, this is a brilliant watering hole to ease your feet and finish off the day.
Stay at: Heron House, a townhouse perfectly placed between the high street and the sea.
Bruton, Somerset
Bruton is often trumped by Frome as Somerset's most picturesque town, but it has plenty to offer over its neighbours and with a fraction of the crowds. Thanks to a healthy influx of London expats, the town has been revived with a handful of trendy homeware boutiques, an Art Factory and a new café and event space, opened up by Chef Melissa Hemsley, all contributing to its new nickname "the Notting Hill of the West".
Despite only having a small high street, Bruton doesn't lack high-quality restaurants, pubs and shops. Caro is a refreshing homeware shop selling eco goods, clothes, jewellery and more. Just down the road is Rose and Lyons, which is a celebration of all things independent. Plus, you won't want to miss out on visiting The Hole & Corner; a design shop showcasing handmade craft products and furniture made by skilled local craftsmen.
Stay at: Kingswood Cottage, an artistically designed and furnished cottage with inspiring, uninterrupted views.
Totnes, Devon
This bohemian town will always be one of our favourite spots in the UK, as it flies the flag for the sustainable, organic and independent shops that we are craving now more than ever. It prides itself on being a Fairtrade town with an overall ethical ethos where most products are handmade, local or fairly sourced. Discover jewellery, clothing, fresh food and organic skincare, plus traditional butchers, modern art and glassware.
Head to the main high street to find a selection of the best shops. Fifty5a has a great selection of clothes and homewares, as does Busby & Fox and Love Frankie. A little further out of town you will find Me and East handmade homewares and the buzzing Bull Inn, a rambling mid-19th century pub with eco credentials. Owner Geetie opened the first organic pub in the world over 20 years ago and still continues to fly the flag today. Discover freshly cooked food that's always made from scratch and a menu with a big emphasis on veggie dishes.
Stay at: Wildflower Cottage, a bright space with a belting wood-burner, a sofa for loafing and cider from the orchard.
Ludlow, Shropshire
This idyllic market town is nestled in the Shropshire Hills AONB with stunning views all around. Georgian architecture lines the quaint cobbled streets, and there's a lovely stroll from the town down to the river. Usually the town hosts a Christmas Fayre every year, and despite this year's being postponed there's an unmissable cosy winter vibe here that makes it the perfect winter retreat.
The Only in Ludlow project has been set up to promote local, independent businesses in the area. From the Deli, to Black Bough shop (which showcases local artists' work and vintage watches) you'll find anything and everything. Head to Eclectica for unique clothing, where the owners have created a collection of beautiful, hard-to-find brands from the UK and around the world. Or there's Oska – a women's designer shop and The Silver Pear, an independent department store full of beauty, homeware, children's gifts and more. Known for being a foodie town, you can't miss the many speciality stores selling local produce; from butchers to delis, and bakeries to cheese specialists. There's also a local brewery to be discovered next to the station, based in a Victorian railway shed.
Stay at: The Ludlow Holiday Cottage, a dapper bolthole for two with an eco conscience.
Bakewell, Derbyshire
A place known for its iconic tarts, Bakewell is a quintessential market town in the heart of the beautiful Peak District. Wandering through the streets, you'll find picture-book houses built of honey coloured stone that climb up from the pretty river Rye. There's a delightful mix of countryside and town here, with the rolling hills a backdrop to the numerous medieval courtyards.
Whilst there is usually a bustling weekday market, you'll still find ample produce and presents in the many local shops. Jolly Pots is a cosy shop hidden off the beaten path, Birdsong showcases beautiful handmade jewellery, whilst Bon Voyage stocks ample goods for both the house and home. One of our favourite spots, The Derbyshire Emporium, sells an array of original work from artisans, craftspeople, artists, makers and food and drink producers from across Derbyshire. After a busy day out navigating the streets, head to the Peacock at Rowsley for a delicious Sunday Lunch and a cosy wintry afternoon by the fire.
Stay at: Wisteria Cottage, a handsome 19th-century cottage swathed in wisteria.
More inspiration…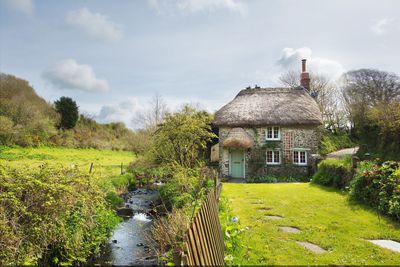 Short breaks in the UK
Discover farmhouse holiday cottages in the countryside, elegant hotels in vibrant cities and welcoming bed and breakfasts for all the family.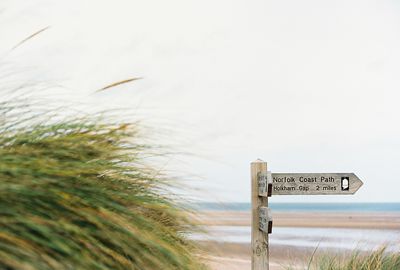 Slow Guides
Read our collection of Slow Guides over on Detour, and find out all you need to know about Devon, Cornwall, Dorset, The Cotswolds, Yorkshire and the Lakes.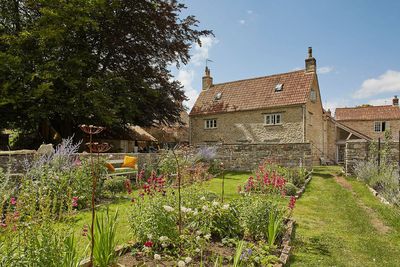 Perfect weekend breaks
Places to make your precious weekends away into great travel memories. Eat your way round Suffolk, indulge in Cornish spas, hike the Lake District and explore unmistakable Edinburgh.