We never regret hiking anywhere. It's just the best way to really experience a place – low on environmental impact and high on the kind of chance encounters that make travel great. We were certain that Marche, a mostly-forgotten region in the middle of Italy, would be perfectly suited to slow exploration. Marche is squidged between Tuscany and Umbria on one side and the Adriatic on the other, with the Apennines flanking its western edge – meaning hills, coast and mountains all in one. It's beautifully unbothered by mass tourism and continues much as it always has done. Slowly and simply. Not the mass tourism types, we were here to fall in with its unchanged rhythms, mapping out a walking route between three Sawday's places. You can find the route logistics here.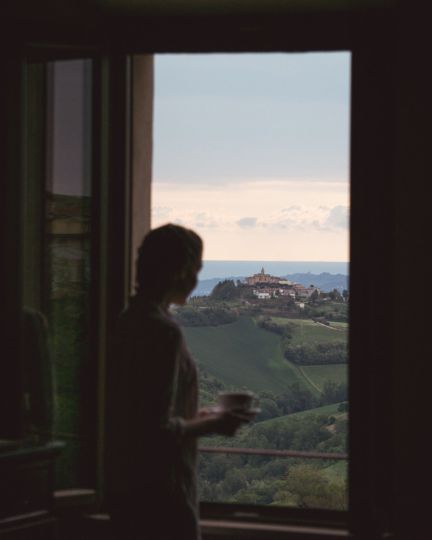 The hilltop town of Montelparo, staying with Madeline and Tim at Palazzo Leone, was our starting point. The Palazzo lies on the outskirts of the town and hangs with elegant ease right above the valley below. From its terrace we caught our first clear glimpse of the Apennines, still snow-capped even in May.
Over dinner, Tim unpacked a treasure trove of knowledge. He showed us some local hiking routes he'd mapped out, and sketched the geographical features of the whole area. It's limestone, once at the bottom of a giant prehistoric sea. Fossils strew the footpaths, and giant chasms open up deep in the soft rock – big enough to walk through.
He told stories that lent Marche an aura of ancient wilderness: giant drifts of snow that hit in the winter from Russia, and wolves living high up in the mountains.
Following Tim's route the next day, we tottered along the Marchegiana limestone ridges through the little medieval villages of Santa Vittoria and Montefalcone Appennino; the latter had breathtaking views of the mountains and we saw the villages we'd already been through, standing out on their respective promontories. How long had this view remained unchanged?
We slipped silently off the lane onto an ancient path down the wooded valley, not seeing a soul. So silently in fact that we ended up bursting into the garden of Agriturismo Contrada Durano by surprise. This wasn't surprising to us particularly – arriving unexpectedly via some long-hidden route is something of an occupational hazard for hikers – but there was a chance it would have taken the residents aback. Fortunately, British owner Jimmy is pretty unflappable and he promptly showed us round his 17th-century converted priest's house. It was an agriturismo quite literally constructed of the past: the fossils in the local rock are visible in the very bricks of the house.
It was here Jimmy introduced us to a couple of Marche delicacies. Firstly, olives stuffed with three types of meat, rolled in breadcrumbs and fried into neat balls, that made the most delicious aperitivo. Then the Pecorino wine – a word we'd only ever associated with sheep's cheese, but here used as the name of a crisp local white: given apparently because the sheep like to eat the grapes. Well, it is rustic.
"It's beautifully unbothered by mass tourism and continues much as it always has done. Slowly and simply"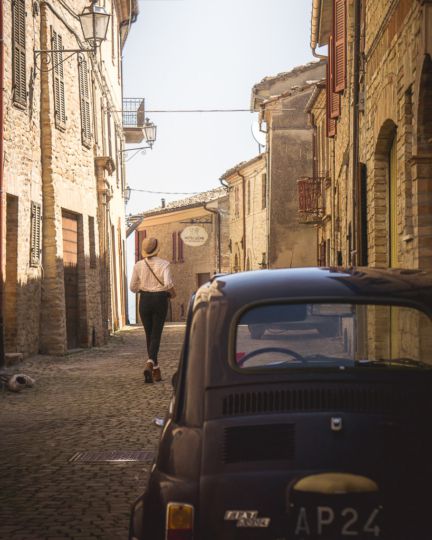 Jimmy's agriturismo is in the valley below the beautiful village of Smerillo, which we hiked leisurely up to the next day, walking through La Fessa – one of the narrow rock ravines we'd heard so much about.
We had lunch in Le Logge restaurant which had been warmly recommended, and were rewarded by giant portions of delicious pasta before the waitress snuck us – unbidden – some sweet Vin Santo, biscotti and tiny liqueurs in chocolate cups.
Back on the route and ambling through the countryside along the classic strada bianca, we had a sense of two things: the gentle hum of village life whenever we came through them, and the absolute quiet of a countryside undisturbed. We could dip into a village café for a €5 lunch then walk the day entirely alone but for birdsong and the odd distant donkey bray.
At the end of our trip, we stood in Agriturismo Ramusé and studied owner Paolo's collection of sepia-toned pictures of the very same building in fascination. How different was it then to now? The same handsome farmhouse with rough stone walls, the same dramatic rolling countryside beyond it, lit by that same glow that just emanates from those places that are perpetually sunny. The same place, but another time: over 70 years ago. The Italy of yesteryear, but still alive in Marche.
We continued our musings while taking one final walk up the opposite ridge to look back on the farmhouse of Agriturismo Ramusè. It was like it had grown there, tucked deep in the landscape. 
We were back down in time to watch the fresh pasta being made. Paolo's aunt was in the kitchen, expertly stretching and manoeuvring the pasta dough, her hands rolling out in a routine clearly done countless times before.
"The same place, but another time: over 70 years ago. The Italy of yesteryear, but still alive in Marche"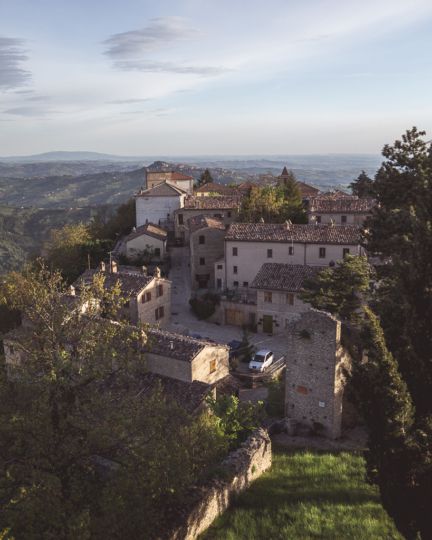 We would have it for dinner tonight, served with local olive oil and passata made by Paolo himself. Paolo now has famous London chefs visiting his agriturismo, cooking here with the truffles he grows in the valley.
We noticed a few new photographs on the walls – Heston Blumenthal, Gennaro Contaldo and others. It made us smile to see a place of such beautifully preserved tradition still teaching the modern world a thing or two.
More inspiration…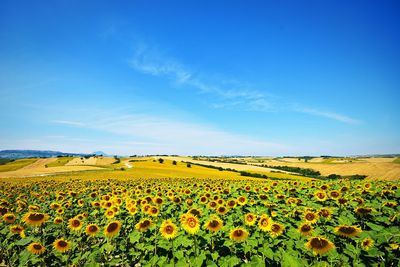 Marche Guide
The Marche lets you experience an Italy where art and agriculture haven't been left behind by tourism. We found everything on offer in neighbouring Tuscany or Umbria – fine wines at scenic hillside vineyards, alpine meadows, clear water, music and ancient history.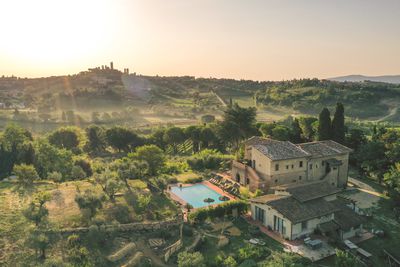 Places in Italy
Browse our collection of self-catering places, hotels and B&Bs in Italy, a country famous for the ancient capital, delicious cuisine, stunning architecture and literature.
Eco Holidays
Find rustic family-owned B&Bs who grow their own produce, eco barns with plant insulation and wood-burning stoves, and farmhouse cottages where energy is powered by solar panels and geothermal underfloor heating.